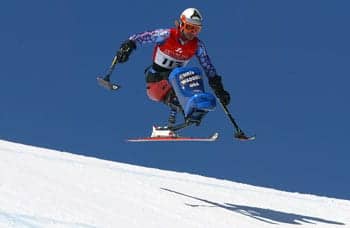 The Kelly Brush Foundation announces that its September 7 Kelly Brush Century Ride will feature Chris Waddell, Paralympic medalist. Waddell, former US Adaptive Team member, has won 13 Paralympic medals.
According to Kelly Brush, the decorated Paralympian skier also medaled in both the summer and winter games. Waddell is also reportedly the first paraplegic to summit Mount Kilimanjaro unassisted and is a member of both Paralympic Hall of Fame and US Ski and Snowboard Hall of Fame.
Charlie Brush, Kelly Brush Foundation president, articulates the honor in having Waddell accompany, "dozens of handcyclists and hundreds of bicyclists in the Kelly Brush Century Ride. Through his own foundation, One Revolution, Chris has done so much to break down barriers and change perceptions of the disabled."
In a recent news release, the foundation reports that the Kelly Brush Century Ride Powered by VBT Bicycle and Walking Vacations is now in its eighth year. The ride has also raised more than $1 million for adaptive athletes and ski racing safety. The release also notes that the event is the region's largest for adaptive athletes using handcycles, with more than two dozen participants last year. Online registration for the event closes on September 4, at midnight. The foundation states that day-of-ride registration is also available.
"I am 100% behind the Kelly Brush Foundation's mission to provide specialized gear to adaptive athletes and improve ski racing safety. I know first-hand the beneficial role sports play for those living with spinal cord injury," Waddell says.
Funds raised through the ride support Kelly Brush Foundation's goal to conquer the challenges of paralysis through the love of sport, assisting athletes with spinal cord injuries (SCIs) in purchasing specialized sports equipment.
The release states that last year, 650 riders participated, supported by 100 volunteers, raising more than $250,000 for the Kelly Brush Foundation. Participants in the Kelly Brush Century Ride have helped the foundation award more than 60 grants in adaptive equipment and put more than 400 miles of safety netting onto race courses nationwide.
Source: Kelly Brush Foundation