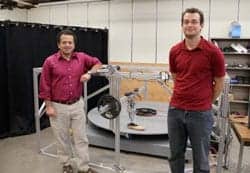 A Mayo Clinic scientist and researchers at Michigan Technological University are working to develop a microprocessor-controlled ankle-foot prosthesis that mirrors a natural gait. According to a news release from the university, Mo Rastgaar, PhD, assistant professor of mechanical engineering-engineering mechanics, and Evandro Ficanha, PhD student, are working on the device.
Kenton R. Kaufman, director of the Biomechanics/Motion Analysis Laboratory at the Mayo Clinic, Rochester, Minn, is also collaborating in the effort. The aim is to refine the prosthesis and make it accessible to amputees.
The release notes that the computerized legs feature pressure-sensitive sensors on the bottom of the foot, engineered to detect how the amputee is walking. The sensors are designed to instantaneously send signals to a microprocessor, which adjusts the prosthesis to allow a more natural gait.
The ankle-foot device, the researchers note, can move on two axes, blending a side-to-side roll as well as raising the toe up and down. The release reports that the researchers moved the power and control mechanism up and away from the leg using a cable-driven mechanism. The cable that moves the device runs from the control box to the ankle mechanism and can reportedly turn the foot in almost any direction.
During their study, the release states that the team built a large circular treadmill to allow the robotic foot to "walk" in circles. According to the results, the prosthetic was able to mirror the angles of a human ankle walking in straight line and turning.
Kaufman emphasizes that with 64% of above-the-knee amputees falling every year compared to 33% of older adults, "the advantage of Mo's foot is that it is biomimetric—it mimics biology—so it allows a more natural walking pattern to occur, which should results in a better gait and fewer falls."
According to the release, the researchers anticipate that they will begin refining the device's design at the Mayo Clinic in summer 2014.
[Photo Caption: Assistant professor Mo Rastgaar, left, and PhD student Evandro Ficanha with their new computer-controlled foot. The ankle can mimic a natural walk, allowing the foot to walk on the circular treadmill, shown.]
[Photo Credit: Emil Groth/Michigan Technological University]
[Source: Michigan Technological University]