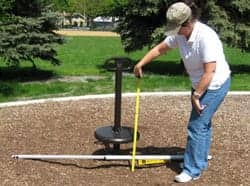 A recent 5-year study emphasizes the importance of proper installation and regular maintenance of accessible play surfaces, particularly for children with disabilities. The results indicate that neglect in either area can impact play, learning, and development for children with disabilities and can also limit the assistance and involvement of parents with mobility impairments.
A news release from Indiana University reports that during the study, the National Center on Accessibility, part of its School of Public Health-Bloomington, evaluated the accessibility of various playground surfaces, including poured-in-place rubber, engineered wood fiber, rubber tiles, and hybrid surface systems. In order to allow the National Center on Accessibility to complete the study and provide guidance to public playground owners, the federal US Access Board awarded the organization $60,000 to support its research.
Jennifer Skulski, (pictured above, right) principal investigator for the study, states that the study's findings, "clearly demonstrate that proper installation and maintenance are critical for accessibility." The information, Skulski says, will enable public playground owners to make purchasing and long-term maintenance decisions appropriate to their facilities, budgets, personnel resources, and the expectations of their citizens.
The researchers expected many of the findings, Skulski adds, particularly results that indicated even within 12 months of installation, each type of surface was found to have accessibility, safety, or maintenance issues. Poured-in-place rubber installed at the site was not resilient enough to meet safety standards for impact attenuation, researchers point out.
Additionally, surface tiles installed at another site exhibited puncture holes, causing them to buckle and separate seams ultimately creating openings and changes in level on accessible routes. Skulski notes that it is key for public playground owners to understand the issues that may exist between different types of surfaces, from design to installation, and on through seasonal and weekly maintenance.
To view the full report, click here
Photo Credit: National Center on Accessibility
Source: Indiana University