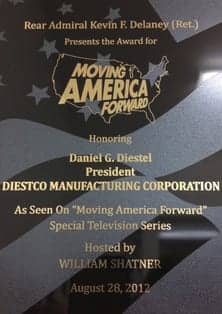 DIESTCO Manufacturing Corporation's Dan Diestel, president and founder, recently appeared on the national television show "Moving Forward," hosted by William Shatner, announces a news release from the wheelchair and scooter accessory manufacturer. Shatner and Doug Llewelyn of "People's Court" interviewed Diestel during the broadcast, in which Diestel outlined the range of mobility accessories marketed by DIESTCO, including wheelchair canopies, cupholders, trays, and armrest bags.
Diestel also emphasized how DIESTCO works to "Move America Forward," noting that in the feature that, "What we do is bring those using wheelchairs, scooters, and walkers a better way of life. We go to great lengths to solve all the obstacles that disabled people face everyday, and that is what we do to 'Move America Forward'."
The release notes that the televised feature also depicts the presentation of the Moving Forward Award, which was awarded to Diestel in recognition of the company's contributions in manufacturing goods geared toward individuals with disabilities in the US and creating a wide range of jobs. Retired Rear Admiral Kevin Delaney announced the presentation of the award to Diestel and DIESTCO MANUFACTURING CORP.
To watch the broadcast in its entirety, visit www.diestco.com
Source: Diestco