FACILITY-BASED EQUIPMENT
Aquatic Access
Put water workouts in reach for everyone with a water-powered pool lift from Aquatic Access. We manufacture 12 standard models that provide access to pools, spas, boats, and docks for physically challenged people. Several models meet all of the ADA and ABA guidelines for pools in public facilities. Using the environmentally friendly and readily available power of water, Aquatic Access lifts are easy to install and safe to operate, and include all necessary parts for a complete installation in the base price. Choose one of the lifts selected by Extreme Makeover-Home Edition™. Details are available online at AquaticAccess.com.
Aquatic Access
1921 Production Dr
Louisville, KY 40229
502-425-5817
Fax: 502-425-9607

www.aquaticaccess.com
---
Lafayette Instrument
Model 01163 Lafayette Manual Muscle Test System (MMT). A revolutionary, handheld strength measurement system … The Lafayette MMT combines precision and accuracy with a new ergonomic design to provide you with accurate, objective, and reliable results. The three interchangeable padded stirrups enable you to employ established protocols with efficiency and confidence while ensuring patient comfort. It features innovations not employed by any other manual muscle test system on the market. The interactive menus allow the user to select a wide range of options, such as data storage and test times (1 to 10 seconds), and also offer the choice of high- and low-threshold settings (to accommodate large muscles or digits). The large, easy-to-read LCD screen displays all information clearly, reducing the possibility of reading errors or selecting unwanted options. You can now purchase online at www.lafayetteevaluation.com.
Lafayette Instrument Company Inc
3700 Sagamore Pkwy N, PO Box 5729 Lafayette, IN 47903
765-423-1505
Fax: 765-423-4111

www.lafayetteinstrument.com
---
Mettler Electronics
The Auto*Therm® 391 is Mettler Electronics' shortwave diathermy for the future. With continuous and pulsed modes, therapists can provide the gentle warming from shortwave diathermy to their patients. This deep heat helps relieve pain, reduce muscle spasm, and increase local blood flow. There are two different forms of application—the deep penetration of inductive coil diathermy or the more superficial effect of capacitive plates.
The Auto*Therm 391 features a sturdy cart with an arm designed to position the inductive drum on the patient's body. The cart also provides space for supplies and accessories. Large wheels make it easy to move the Auto*Therm around the clinic or to the patient's room. Call us to receive a free color brochure.
Mettler Electronics Corp
1333 S Claudina St
Anaheim, CA 92805
800-854-9305
Fax: 714-635-7539

www.mettlerelectronics.com
---
PREFERRED Therapy
For over 15 years, PREFERRED Therapy Providers Inc (PREFERRED) has been a resource for practitioners in need of expertise for managed care contracting, marketing, and claims resolution. As the largest centrally managed therapy network in the country, PREFERRED contracts with health care payors representing over 60 million subscribers. In addition, PREFERRED's network members are entitled to numerous value add-services and products that help them in the day-to-day operations of their clinics.
Our core values and commitment to the profession have made PREFERRED the network of choice for more than 1,100 quality practices in 36 states.
PREFERRED Therapy Providers Inc
CenterPointe Deer Valley
23460 N 19th Ave, Ste 250
Phoenix, AZ 85027
800-664-5240
Fax: 623-869-9102

www.preferredtherapy.com
---
TherAssist Software
With thirteen years' experience, TherAssist has the tools and expertise to help you easily convert to a digitally paperless clinic. TherAssist provides a user-friendly software package featuring customizable scheduling, documentation, and our seamlessly integrated billing program designed to maximize efficiency for both administrative and clinical staff. TherAssist applications are perfect to centralize multisite clinics, streamline operations, and increase reimbursements. TherAssist is an ideal solution for multidisciplinary health care facilities of any size with applications available for use in LAN/WAN and Enterprise configurations or via the Internet through our ASP delivery model. TherAssist can also export demographic and billing data into all hospital systems via an HL-7 interface. Call (800) 596-3646 to set up a demo, or for more information.
TherAssist Software
791 Marion Ave
Highland Park, IL 60035
800-596-3646
Fax: 321-768-6894

www.therassist.com
---
Thought Technology
Thought Technology, a Montreal-based medical equipment manufacturer, introduces additions to its newest physical therapy product line: ProComp5, ProComp Infiniti, and FlexComp Infiniti. These devices can measure and provide biofeedback training on Surface Electromyography (SEMG), Range of Motion (ROM), Muscle Testing, Algometry, Respiration, Heart Rate Variability (HRV), Skin Conductance, and Peripheral Temperature.
The system includes BioGraph Infiniti software, Rehab Suite Add-on, and a comprehensive clinical guide, and offers several options:
Interface to isokinetic machines such as Biodex System
Wireless transmission with Tele-Infiniti CF Bluetooth Card
MyoScan-Z sensor, a unique EMG sensor with built-in impedance checking
Thought Technology Ltd
2180 Belgrave Ave
Montreal, QC H4A 2L8 Canada
800-361-3651
Fax: 514-489-8255

www.thoughttechnology.com
---
Vonco Medical
Vonco Medical buys, sells, and trades new and pre-owned rehabilitation and fitness equipment, including FCE, impairment testing and evaluation products. Brand names such as Biodex, Shuttle Systems, Swimex, Mettler, Cybex, Alter-G, Chattanooga, and many more reputable physical therapy manufacturers' products are available at competitive prices. Founded in 1992, Vonco has provided 17 years of excellence and service to the physical therapy and sports medicine community. Knowledgeable sales staff and skilled service have always been Vonco's number one priority.
Vonco's 50,000+ sq ft warehouse is filled with hundreds of products, both new and used, for physical therapists, occupational therapists, athletic trainers, and chiropractors. Vonco also has the capabilities to deliver products nationwide, regardless of how large or small your needs may be.
Vonco Medical, Rehab & Fitness
11480 Anaheim Dr
Dallas, TX 75229
800-972-6461
Fax: 972-247-1815

www.voncomed.com
---
WorkWell Systems
WorkWell Systems offers research-based occupational health programs. By training in WorkWell's Functional Capacity Evaluation, Functional Job Analysis, and Prework Screening, you can provide pre-employment, prevention/intervention, and postinjury services in your community. And you will have unparalleled support behind you! WorkWell's clinical and technical support is provided by a team of experts and available 5 days a week, 7 am to 5 pm CST. WorkWell also brings core business opportunities to its providers. WorkWell currently has contracts with over 30 corporate clients nationwide with services provided at over 5,250 locations. Services are delivered through WorkWell's provider network. Call WWS WORKS to find out how our National Referral Center can help grow your revenue and expand your occupational health business.
WorkWell Systems Inc
11 E Superior St, Ste 370
Duluth, MN 55802
866-WWS Works (866-997-9675)
Fax: 218-728-6454

www.workwell.com
FITNESS
STOTT PILATES®
Incorporate Pilates into your practice with the STOTT PILATES V2 Max Plus Rehab Reformer. With a carriage access height of 6 1/2 inches higher than our Professional Reformer, the V2 Max Plus Rehab Reformer offers easier mounts and dismounts for your mobility-challenged patients or those seeking exercise for sport injury. Instruct and perform core stability, peripheral mobility, and plyometric exercises with exceptional results, no matter what your need, on the V2 Max Plus Rehab Reformer. This multi-tasking unit provides maximum utility in a minimum amount of space, offering limitless exercise possibilities by facilitating core stability and peripheral mobility exercises through all stages of rehab and beyond.
STOTT PILATES®
2200 Yonge St, Ste 500
Toronto, ON M4S 2C6 Canada
800-910-0001 x264
Fax: 416-482-2742

www.stottpilates.com
MOBILITY AIDS
Bruno Independent Living Aids
Bruno Independent Living Aids has launched the Stow-Away, an innovative powered transfer seat, mounted on the outside, for most pickup trucks and higher SUVs. Designed to provide the easiest possible access to the driver's seat or front passenger seat for individuals who utilize personal mobility devices, the Stow-Away maintains all factory seat features. Housed in a compact, sealed container, the Stow-Away is normally affixed to the running board mounts under the vehicle. A single switch pendent operates the unit, opening the container and activating the seat. Using a proven actuator and scissors mechanism, the seat moves up to the desired transfer height, first from the wheelchair or scooter to the Stow-Away seat, then up to the vehicle seat height.
Bruno Independent Living Aids
1780 Executive Dr
PO Box 84
Oconomowoc, WI 53066
866-882-4990
Fax: 262-953-5501

www.bruno.com
---
DIESTCO Manufacturing
DIESTCO Manufacturing Corp has built its reputation on providing quality products our customers have been unable to find elsewhere. From bags to cup holders, canopies to covers, folding flags to ramps, we have assembled the most complete one-stop accessory shop. Responding to a growing market, our most recent product development has been in the expansion of styles and sizes of our scooter and power chair covers. NEW SPECIALTY COVERS:
• Four-corner slit power chair cover for platform lifts with four-corner tie-downs • 6-inch top-slit scooter or power chair covers for hoist-style lifts • Full back-slit scooter covers for docking arm-style lifts. We also offer a huge range of sizes to fit everything from the increasingly popular mini-scooters to the supersized power chairs. Most covers are available in either heavy-duty or lightweight material. Quality craftsmanship at great low prices—whatever your needs, DIESTCO Manufacturing has you covered! Proudly made in the USA.
DIESTCO Manufacturing Corp
PO Box 6504
Chico, CA 95927
800-795-2392

www.diestco.com
---
Prime Engineering
Prime Engineering proudly introduces the KidWalk, a new type of Dynamic Mobility System originally developed under a grant project funded through the US Department of Education by an occupational therapist, along with practitioners, physicians, engineers, and end users. The innovative KidWalk can be maneuvered more efficiently in small spaces; increases opportunities to explore hand free; promotes use of the upper extremities; provides weight shift during ambulation; and has many other unique patented features. KidWalk can be used during therapy to facilitate balance, equilibrium, weight shift, and developmental activities, such as reaching, jumping, and carrying objects during ambulation.
Prime Engineering
4202 W Sierra Madre Ave
Fresno, CA 93722
800-827-8263
Fax: 800-800-3355

www.primeengineering.com
---
Quantum Rehab®
Available exclusively on the advanced Q6000Z power base, Quantum Rehab®'s new Accu-Trac Motor Technology delivers an unmatched level of control, performance, and precision handling. Accu-Trac Motor Technology intuitively adjusts to uneven terrain to provide superior climbing stability and enhanced straight line tracking over obstacles, optimizing driving performance for individuals who utilize switch-input drive controls. In addition to Accu-Trac, the Q6000Z accepts a broad range of seating and electronics options including Quantum Rehab's exclusive TRU-Balance® Power Positioning Systems and Q-Logic Drive Controls for unmatched adaptability and rehab capability. The Q6000Z delivers exceptional code coverage making it an economically sound choice with features to meet patients' needs first.
Quantum Rehab®
182 Susquehanna Ave
Exeter, PA 18643
866-800-2002
Fax: 866-707-3422
www.quantumrehab.com
---
Quantum Rehab®
The Litestream® XF ultralight manual wheelchair uses a unique, innovative rigidizing double X folding frame that delivers the versatility and performance of a rigid frame while folding to a width of only 9 inches for easy transport. The Litestream® XF accepts a broad selection of accessories to meet a wide variety of needs and personal preferences while remaining an excellent overall value. Many new options are now available, including a depth-adjustable package featuring 4 inches of adjustment; folding back canes; height-adjustable, flip-up armrests; expanded wheel and tire selections; and a 350 lbs HD option.
Quantum Rehab®
182 Susquehanna Ave
Exeter, PA 18643
866-800-2002
Fax: 866-707-3422
www.quantumrehab.com
---
Quantum Rehab®
The Synergy® Spectrum® Air cushion utilizes a 4-inch multi-cell air insert and Quantum Rehab®'s exclusive Sil-Air silicone foam base to deliver unprecedented stability and positioning from an air cushion. This unique design allows for maximum airflow and moisture protection, allowing the Spectrum Air to deliver superb skin protection and comfort. A compact hand pump, which fits in an integrated carrying pouch, allows the user to make convenient on-the-go pressure adjustments. The Spectrum Air is also available with a contoured Sil-Air silicone foam base to provide additional support, stability, and positioning.
Quantum Rehab®
182 Susquehanna Ave
Exeter, PA 18643
866-800-2002
Fax: 866-707-3422
www.quantumrehab.com
---
Quantum Rehab®
TRU-Balance® Power Positioning Systems from Quantum Rehab® are designed for maximum function and versatility to deliver the most economically sound rehab solutions that keep patients first. TRU-Balance Power Tilt delivers 55º of pressure relieving tilt while maintaining low seat-to-floor heights. The innovative Lift & Tilt provides 10 inches of elevation for enhanced access to out-of-reach items combined with 50º of tilt. Power Recline features standard shear reduction and reclining armrests, and does not increase the seat-to-floor height when added to Power Tilt or the Lift & Tilt. Multiple power configurations equipped with Q-Logic feature a standard proportional attendant control. TRU-Balance Power Positioning Systems accept a broad selection of seating options including TRU-Comfort™ and Synergy® Cushions and Backs.
Quantum Rehab®
182 Susquehanna Ave
Exeter, PA 18643
866-800-2002
Fax: 866-707-3422
www.quantumrehab.com
PAIN MANAGEMENT
Ari-Med Pharmaceuticals
Discover the benefits of adding Flexall® topical pain-relieving gels to your clinical and training room settings. Flexall gels help increase patient compliance and enhance ultrasound, cryotherapy, TENS, and massage therapies. In a recent study, a 25:75 Flexall and ultrasound gel mixture provided results equal to 100% ultrasound gel with an added analgesic sensation of warmth. Flexall (7% menthol) and Maximum Strength Flexall (16% menthol) are unique aloe vera gel formulas that provide fast, long-lasting relief from arthritis, backache, bursitis, tendonitis, muscle strains and sprains, bruises, and cramps. Flexall gels absorb quickly and completely, and are greaseless, non-staining, and gentle on the skin. Professional sizes available.
Ari-Med Pharmaceuticals
1615 W University Dr, Ste 135
Tempe, AZ 85281
800-527-4923
Fax: 480-966-9806

www.ari-med.com
---
Sore No More
Sore No More is widely accepted by professionals and consumers alike because it works! For water therapy, arthritis, physical therapy, back pain, and much more. Sore No More is sold worldwide. Sore No More pain management applications are the first choice among most professionals. Even migraine headaches are relieved with small applications to the temples. More than 30 natural ingredients, carefully formulated to make a pain relieving topical gel used to help your clients exercise by reducing inflammation and sore joints and muscles!
Sore No More
PO Box 537
Moab, UT 84532
800-842-6622

www.sorenomore.com
PRODUCTS FOR THE HOME
PRODUCTS FOR THE HOME
Open Sesame
Simply the best door-operating system for home use! Open Sesame attaches onto an existing residential door and requires no special construction or electrical modification. The Open Sesame can be operated from a wheelchair-mounted remote control for easy entry or exit. Special activation devices are available to accommodate individuals with little or no hand functions. The door remains locked and secure. Attendants may enter using an exterior combination keypad or with existing keys. For unparalleled safety, it continues to operate even during a power outage.
Open Sesame Door System Inc
1933 Davis St, Ste 279
San Leandro, CA 94577
800-673-6911
Fax: 510-638-2445

www.opensesamedoor.com
SEATING AND POSITIONING
Ride Designs®
For wheelchair users, healthy skin and efficient mobility are essential! Ride Designs® provides a broad range of wheelchair seating solutions to meet those goals. Our custom and off-the-shelf products work by decreasing the forces of pressure and shear at high risk areas of the body, while selectively applying the same forces to areas more tolerant. Our products include the CorbacTM adjustable contour back and ForwardTM cushion. Both ship within 24 hours. For more unique and challenging postural and skin issues, the Ride Custom Cushion and Back offer the ultimate expression of our patented designs and are available through Ride certified providers. All Ride products are lightweight, breathable, and adjustable. All products are Medicare coded.
Ride Designs®, a branch of Aspen Seating LLC
4211-G S Natches Ct
Sheridan, CO 80110
866-781-1633
Fax: 303-781-1722

www.ridedesigns.com
---
Supracor
For people with sensitive skin, Supracor's Stimulite Contoured XS Cushion features a soft top layer of specially engineered honeycomb and provides Total Pressure Management®—pressure relief, reduced shearing, and ventilation to control heat and moisture—for pressure sore prevention.
Stimulite's perforated cellular matrix, consisting of alternating thick- and thin-walled cells that flex when compressed to relieve pressure, circulates air both horizontally and vertically to control heat and humidity.
While sitting, the compressed cells radiate outwards to surround and support the anatomy, self-adjusting to each individual while providing excellent stability. The "footprint" of the flexible cells stimulates capillary action to enhance circulation.
Naturally antifungal and antibacterial, Supracor's products are exclusively made in California's Silicon Valley from American-made, eco-friendly materials.
Supracor Inc
2050 Corporate Ct
San Jose, CA 95131-1753
800-787-7226
Fax: 888-329-7846

www.supracor.com
---
Symmetric Designs
Symmetric Designs is dedicated to the design and manufacture of innovative medical products that improve the lives of people with disabilities.
For the best in head control, our fine products include the popular Headmaster Collar; and the TOT Collar for effective management of torticollis. Our wheelchair headrest products include the Axion Rotary Interface, which allows headrests to rotate; and the unique Savant Headrest for total head control.
For serial extension of the elbow or knee, we manufacture innovative Elbow Orthoses and Knee Orthoses. Symmetric Designs wheelchair accessories include ADA Lap Solutions universal mount for trays, a lap desk, shopping basket, etc. Our Pro Forma Matrix Direct Backs provide custom-formed wheelchair seating. Check out www.symmetric-designs.com for these innovative products.
Symmetric Designs
125 Knott Place
Salt Spring Island, BC V8K 2M4 Canada
800-537-1724
Fax: 250-537-1998

www.symmetric-designs.com
---
VARILITE®
VARILITE®'s dual-chambered Meridian™ cushion prevents sacral sitting while providing exceptional skin protection and positioning stability. Dual-chambered, independently adjustable pelvic and thigh cushions create maximum pressure distribution. These two chambers work together to correct sacral sitting by creating a pre-ischial ridge, which prevents the ITs from sliding forward into a posterior pelvic tilt. The client can be positioned quickly and easily while seated. Air-Foam Floatation makes the Meridian ultra-lightweight without compromising skin protection and pelvic support.
VARILITE's Air-Foam Floatation technology combines the best characteristics of air and foam to provide excellent pressure distribution, postural support, and comfort. A comprehensive family of seating and positioning systems includes seat cushions, back systems, and seating accessories.
VARILITE®, A Division of Cascade Designs Inc
4000 1st Ave S Seattle, WA 98134-2301
800-827-4548
Fax: 206-343-5795

www.varilite.com
MISCELLANEOUS
Astra Tech
Astra Tech produces the LoFric® hydrophilic catheters and kits for intermittent catheterization. LoFric is the world's only catheter with Urotonic™ Surface Technology—a patented surface layer technology that makes catheterization more comfortable for the user. This special coating reduces the level of urethral friction up to 95% compared with other catheters, thereby reducing trauma and infections. LoFric is the only catheter in the world that is well documented in studies and clinical use.
See our new product releases—LoFric Primo, and the new and improved LoFric Ready-Kit.
All LoFric products are 100% latex-free.
Astra Tech Inc
21535 Hawthorne Blvd, Ste 525
Torrance, CA 90503
877-4-LOFRIC (456-3742)
Fax: 310-316-5296

www.lofric.us
---
The Joint-Jack Company
The Joint-Jack Company offers a wide range of therapeutic devices for the ultimate in postoperative hand care. Dystrophile—A scientific approach to tissue loading. A solution to the problem of reflex sympathetic dystrophy. Also from The Joint-Jack Company: *Joint-Jack Steady nonelastic force for the correction of flexion deformities of the fingers. *Joint-Spring Gentle finger splint providing early extension splinting or finger flexion exercises. *Joint-Cinch Steady nonelastic pressure for passive finger flexion. *Hand-Wrap Operative dressing providing constant, unchanging pressure.
The Joint-Jack Company
234 Broad St
Wetherfield, CT 06109
860-372-4546
Fax: 860-372-4547

www.jointjackcompany.com
WEB RESOURCES
Allard USA Inc
Allard USA Inc, Rockaway, NJ, is a wholly owned subsidiary of Camp Scandinavia AB, Helsingborg, Sweden, a manufacturer and supplier to the O&P industry established in 1954. Products include ToeOFF, Ypsilon, BlueRocker, CHECK, X-Lite, Kid-Dee-Lite, KiddieGAIT, SWASH, 3D-SAFE, and 3D-Lite. Allard offers educational programs, training, and marketing support to help O&P facilities increase their referrals. The Web site features product photos, user and professional instructions, downloadable brochures, sizing guides, clinical manuals, and fitting and customization manuals.
---
AMTI
Advanced Management Technology Inc (AMTI), Arlington, Va, provides state-of-the-art Multiaxis force platforms, Multiaxis test machines, and Multiaxis transducers. The site features applications for biomechanics, ergonomics, robotics, automation, material testing, vehicle testing, aerospace, manufacturing, and implant testing.
---
Aquatic Access
Aquatic Access, Louisville, Ky, manufactures water-powered lifts to provide access to pools, spas, boats, and docks for those who have difficulty climbing stairs and ladders. Accessories and options include customization for recessed spas with benches, opposite seat rotation, above-deck mounting, and seat heights. The Web site features product information; a comprehensive FAQ page; details on in-ground, above-ground, and custom lifts; an ADA-compliance advisory; and a video demo.
---
Ari-Med Pharmaceuticals
Ari-Med Pharmaceuticals, Tempe, Ariz, features Flexall topical pain-relieving gels and Ceres' Secret Aloe Vera Gel. Used in treatment regimens, Flexall gels help boost at-home patient compliance, enhance ultrasound and cryotherapy, calm pain between TENS, and intensify soft-tissue massage. Ceres' Secret, a cold-pressed, greaseless skin moisturizer made with 100% whole leaf aloe vera gel, is used topically to help relieve dry or chafed skin, and minor burns. The Web site provides detailed product information.
---
Astra Tech Inc
Astra Tech Inc, Torrance, Calif, develops, manufactures, and markets advanced medical devices within urology and surgery. The surface layer of its LoFric catheters has a hydrophilic coating that binds water. The wet, slippery surface is low friction when inserted, and Urotonic Surface Technology, a patented technology that makes catheterization more comfortable for users, ensures the friction is also low when it is removed. The Web site features detailed product information, a product catalog and brochures, patient education materials, information about insurance coverage, and resources such as a caregiver's guide.
---
Bruno Independent Living Aids
Bruno Independent Living Aids Inc, Oconomowoc, Wis, is a worldwide manufacturer of accessibility products that enhance the lives of those challenged by limited mobility. The Web site features a wide selection of stairlifts; vertical platform lifts; vehicle lifts for wheelchairs, power chairs, and scooters; and turning automotive seating. Web visitors can download brochures and view product videos.
---
Coloplast Corp
Coloplast Corp, Minneapolis, offers products for continence, ostonomy, wound, and skin care. The Web site features information for intermittent catheter users, clinical experts, advocacy organizations, reimbursement, and updates on policy affecting patients' quality of life. The site offers a Medicare reimbursement guide, infection risk reduction information, new prescription directions, continence care product information, and an order form for a free catheter sample. In addition, there are links to DME policy updates and a link to an Internet press kit.
www.us.coloplast.com/www.coloplastmedicare.com
---
Craig Hospital
Craig Hospital, Denver, which is among the top rehabilitation centers worldwide, focuses on specialty rehabilitation and research for patients with spinal cord injury and traumatic brain injury. The National Institute on Disability and Rehabilitation Research (NIDRR) has designated the spinal cord and traumatic brain injury rehabilitation programs as model systems centers. The facility is funded by NIDRR to be the National Data and Statistical Center for the Traumatic Brain Injury Model Systems 2006 to 2011.
---
Danmar Products Inc
Danmar Products Inc, Ann Arbor, Mich, furnishes therapeutic equipment for those who are physically and mentally challenged, and for athletes facing challenges. Products include a helmet line; cranial-shaping helmets for infants with positional head deformity; swimming aids; positioning products, such as chest supports and strap covers; and materials for building and repair, such as Formafoam, Vinylite tape, Fabricoat, and terry stretchcloth. The Web site features product information, a dealer locator, and a helpful FAQ page.
---
DIESTCO Manufacturing Corp
For 17 years, DIESTCO Manufacturing Corp, Chico, Calif, has offered a range of products and accessories for those who use wheelchairs, scooters, and walkers. The offerings include: armrest bags, canopies, covers, cup holders, flags, equipment holders, scooter tiller bags, seatback bags, threshold ramps, trays, under-the-seat bags, walker bags, weather chaps, and sleeve guards. The Web site features the products and parts catalog, offers mounting instructions, and lists dealers and resources.
---
Good Shepherd Penn Partners
Good Shepherd Penn Partners (GSPP) is a joint venture between Good Shepherd Rehabilitation Network, Allentown, Pa, and Penn Medicine, Philadelphia. The physicians and staff of GSPP provide comprehensive rehabilitation and specialty services, including rehabilitation services for brain injury, amputation, multi-trauma, spinal cord injury, stroke, and orthopedics in inpatient rehabilitation care, long-term acute care, and outpatient rehabilitation care environments. Patients benefit from rehabilitation care that is customized to meet their individual needs, throughout the rehab process.
---
Hands On Technology
Founded in 1999, Hands On Technology, Westmont, Ill, is among the leading providers of electronic medical record and practice management software, used by 900-plus clinical practices nationwide and worldwide. Offerings include TheraOffice, Clearing House Integration Services, Interface services, and custom reporting. Programming tools and customer-feature suggestions are implemented for user-friendly software, which helps increase revenue, cut costs, save time, improve clinical efficiency, and boost satisfaction of staff members. The site features live technical support, a customer-support center, and other resources.
---
The Joint-Jack Company
The Joint-Jack Company, Wetherfield, Conn, offers products for rehabilitation of the hand, including Joint Jack, which provides steady, nonelastic force for correction of flexion deformities of the fingers; Dystrophile, which provides a scientific approach to tissue loading and can help build up the upper extremity and return normal power/function following fracture, injuries, and surgery; Joint-Spring, a gentle finger splint; Joint-Cinch, for steady nonelastic pressure; and Hand-Wrap, a perioperative knitted bandage for constant pressure.
---
Kinesio USA LLC
Kinesio USA LLC, Albuquerque, NM, furnishes Kinesio Tex tape, a nonrestrictive, elastic, latex-free tape that helps retrain the neuromuscular system, promote lymphatic flow, reduce pain, and promote injury resolution. It is cotton, hypoallergenic, and air-permeable, and can be worn 24 hours a day. A roll typically provides 8 to 10 applications. The Kinesio Taping Method involves taping over and around muscles for support or to prevent overcontraction. The site contains extensive product, education, and application information.
---
Lafayette Instrument Co Inc
Since 1947, Lafayette Instrument Co Inc, Lafayette, Ind, has provided products in the areas of evaluation and assessment, life sciences, neuroscience, and polygraphing. Offerings include the Dexterity software package, Acumar inclinometers, and the Manual Muscle Test system. Evaluation categories include strength testing, range of motion, dexterity and coordination, reaction timing, timers and counters, physiological measures, anthropometrics, and charts and models. The Web site features product information and ample support services.
---
Mettler Electronics Corp
Since 1957, Mettler Electronics Corp, Anaheim, Calif, has been providing portable ultrasound and electrostimulation therapy equipment used in sports medicine, physical therapy, chiropractic, and podiatric health care. Categories include therapeutic ultrasound, neuromuscular stimulators, combination therapy, shortwave diathermy, hot and cold packs, Polar Frost gel and spray, light therapy, ultrasound couplants, electrodes, carts and travel bags, ultrasound and stimulator accessories, ultrasonic cleaners, and a line of accessories for the devices. The Web site features product and service information.
---
Micromedical Technologies Inc
Aiding in complete patient diagnosis, Micromedical Technologies Inc, Chatham, Ill, combines its VisualEyes, System 2000, and Balance Quest products to create a Vestibular Balance Center. The Center provides a complete system for patient testing and diagnosis to aid in the treatment of dizzy disorders. Each component is operated using the Micromedical Spectrum software. The site provides information and graphics detailing products' features, testing capabilities, options and applications, educational opportunities, CPT codes and billing information, links to the company's newsletter, and a nationwide list of dealers and representatives. Brochures can be easily downloaded.
---
Open Sesame Door System Inc
Open Sesame Door System Inc, San Leandro, Calif, designs and manufactures remote-control door-opening systems for home and public access. At the touch of a button, the system operator unlatches a locked door, opens, pauses, and closes it automatically. It operates with a wheelchair-mounted remote control and other environmental controls that are compatible with most types of disabilities. Accessories are offered, and battery backup provides power during a power outage. The site includes detailed product information, installation tips, and videos.
---
OPTP
OPTP (Orthopedic Physical Therapy Products), Minneapolis, is a leader in providing health care and fitness professionals with orthopedic, physical therapy, rehabilitation, and fitness products. For more than 25 years, the company has selected high-quality physical therapy products that reflect current and clinically effective rehabilitation techniques for its catalog. The professional catalog contains physical therapy and rehabilitation texts. Featured is the new Back Vitalizer, a 16-inch by 12-inch multifunctional air pillow that helps relieve back pain in several ways: it bridges the lumbar spine for decompression of the discs when users lie on it; it serves as a lumbar support when placed on a chair behind the back; like an exercise ball, it activates the deep, stabilizing muscles of the spine for core stability when users sit on it; it functions as a posture-positioning wedge on the seating surface; and it can be used for ankle rehab and balance training in standing.
---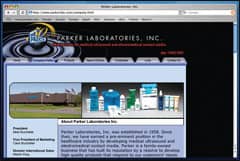 Parker Laboratories Inc
Parker Laboratories, Fairfield, NJ, an ISO certified company that was established in 1958, is known for developing medical ultrasound and electromedical contact media and for manufacturing accessories and supplies for the ultrasound and electromedical markets. The Web site offers detailed descriptions of products such as: ultrasound gels, gel pads, lotions, gel warmers, and probe covers; electrode gels, cream, and premoistened electrode pads; and electrolyte gel, cream, and paste. Product samples are provided on request.
---
PREFERRED Therapy Providers Inc
PREFERRED Therapy Providers Inc, Phoenix, is among the largest centrally managed physical therapy networks in the country, with more than 1,100 practices in 33 states. Since its inception in 1992, PREFERRED has been a resource to—and advocate of—private practice physical, occupational, and speech therapists. The company's goal is to continue providing exceptional customer service and practice growth opportunities to its private clients, and to continually seek the value-added benefits and features of the network.
---
Prime Engineering
Prime Engineering, Fresno, Calif, has been supplying innovation in standing technology since 1984 for people with physical and/or aging-related disabilities. Input from physicians, therapists, and end users has been incorporated in creating the line of personal and clinical standing devices. Design features deliver No Transfer—No Lift Technology, proper standing positioning, advanced adjustability, and multifunctional frames. Standing systems accommodate the therapeutic standing needs of adult and pediatric clients. The Web site features a detailed overview of products and options, and a list of dealers. Products include KidWalk, the Symmetry line, Superstand, Granstand III MSS, Kidstand III MSS, CindyLift, The Lift, Up-Rite, and the Coaster Handcycle.
---
PRM Inc
PRM Inc, North East, Pa, offers two distinct product lines: the custom-measured Precision-Fit, and the custom-molded Signature-Fit. Precision-Fit is a custom cushion based on specific client measurements, which meet the positioning and pressure relief requirements of each individual end user. The Signature-Fit cushion has two positioning foam options and several liner foam options. Signature-Fit custom cushions are tailored to fit each customer's requirements, and feature firm and soft foam for a soft feel with more support, maximum pressure relief, increased sitting tolerance, postural support, and comfort. Cushions can be fabricated to enhance the mold shape and/or facilitate attachment to wheelchairs, and feature options such as pressure relief soft spots, rail-cuts, footrest removal notches, and rear seat notches. The Web site features detailed product information, price lists, and order forms.
---
Quantum Rehab
Quantum Rehab, a division of Pride Mobility Corp, Exeter, Pa, designs, develops, and manufactures products for those with highly specialized and advanced rehabilitation needs. Established in 2000, its Web site features manual and power wheelchairs, power bases, electronic devices, seating options, accessories, dealer locator, resource center, videos, and ample RTS/Clinician resources.
---
Restorative Care of America Inc
Since 1975, Restorative Care of America Inc (RCAI), St Petersburg, Fla, has manufactured prefabricated orthopedic and rehabilitative orthoses used in the treatment of joint and soft-tissue injury or disease, arthritis, contracture, pressure sores, repetitive-stress injury, ACL repairs, postsurgical procedures, and functional-fracture management. The company's product line includes bracing for the feet, hands, hips, legs, arms, and torso, and features pediatric and bariatric sizes.
---
Ride Designs, a branch of Aspen Seating LLC
Ride Designs, Sheridan, Colo, features innovative wheelchair seating products, including custom cushions, which are designed to help maintain a healthy and active lifestyle. These versatile, lightweight cushions are adjustable (Ride CAM™ technology adjusts the cushion contours to accommodate weight change, tissue atrophy, and postural change), and offer skin protection by off-loading at-risk bony prominences, reduce heat and moisture build-up (the patented Brock™ composite material that allows air to circulate), reduce risk of overuse syndromes and chronic pain, and are easy to clean.
---
The ROHO Group
The ROHO Group, Belleville, Ill, specializes in aiding healing and prevention of pressure sores. ROHO DRY FLOATATION technology incorporates soft, flexible, interconnected air cells, yielding adjustable, customizable products that facilitate blood flow. The technology comprises six degrees of freedom, low surface tension, constant restoring forces, and low friction and shear. The Web site features wheelchair seat cushions, medical mattresses, back support systems, XSensor pressure mapping systems, custom and specialty items, accessories, and replacement parts. New products include a heavy-duty cover, SelectProtect safety enhancement system, Merlin Proximity Sensor, MID PROFILE QUADTRO SELECT cushion, and the JetStream Pro back system.
---
Sore No More
Sore No More!, Moab, Utah, is a fast-acting, natural pain-relieving gel blended from six natural plant extracts and menthol, capsaicin, and witch hazel to temporarily relieve pain associated with arthritis, body aches, headaches, simple backaches, tendonitis, workouts, and sprains. It can be rubbed in the skin or dissolved in a warm bath, and is offered in jars, as a roll-on, and in a pump bottle. The Web site provides instructions for application, describes the function of each ingredient, and lists distributors. A free sample is available on request.
---
Stott Pilates
The curriculum, equipment, and video lines furnished by Stott Pilates, Toronto, a division of Merrithew Corp, are continually evaluated and updated to ensure they comply with modern exercise science and meet the needs of fitness professionals, facility operators, and retail clients. The Web site features an online store, 120-plus professional and at-home instructional DVD video titles, power packs and combos, Reformers, light equipment, commercial equipment, bundles, apparel, educational materials, information on the Toronto facility, corporate training centers, licensed training centers, distributors/resellers, and more.
---
Stretchwell Inc
Stretchwell Fit-Lastic Therapy Products from Stretchwell Inc, Warminster, Pa, include therapy bands, therapy tubing, fit-loops, assist straps, fitness balls, and discs. The products offer a system of progressive resistance used in exercises for physical therapy for rehabilitative and therapeutic purposes. They are made from natural rubber latex in a process that helps to eliminate latex allergens so they are more than 99.998% free of soluble proteins (latex allergens). The Web site features photos and detailed descriptions of the products, which also include exercise tubing; range of motion products; hand exercisers; balance products; foam rollers; mats; weights; evaluation devices; instructional videos, books, and charts; and accessories.
---
Supracor Inc
Supracor Inc, San Jose, Calif, is the originator of fusion-bonded honeycomb technology, a flexible form of aerospace honeycomb used in products that promote health and safety. Stimulite honeycomb is the basis of a line of wheelchair cushions and mattresses for prevention and healing of pressure sores. The site features photos and product information on cushions, covers, lumbar support, and pillows; a suggested retail price list; product care information; and information on HCPC codes.
---
Symmetric Designs
For 22 years, Symmetric Designs, Salt Spring Island, BC, Canada, has been designing and manufacturing medical products that improve the lives of people with disabilities, spanning arthritis, torticollis, brain injuries, ALS, and spinal cord injuries. The Web site features cervical collars, knee and elbow orthoses, wheelchair headrests, a device that helps wheelchair headrests rotate, wheelchair trays and accessories, custom-forming wheelchair backs, and a worldwide distributor list.
---
TherAssist Software LLC
TherAssist Software LLC, Highland Park, Ill, is a leading provider of document and management solutions for therapy and rehabilitation practices. The team includes implementation, clinical training, and technical support consultants, and a programming staff that specializes in product development and interface capabilities. The company installs and maintains its products, and offers on-site consultation, training, and installation, and online training and support. It uses a relational database that can be easily modified and allows the creation of daily notes, initial evaluations, schedules, reports, and more. It is used in more than 400 rehabilitation facilities nationwide.
---
Thought Technology Ltd
Founded in 1975, Thought Technology Ltd, Montreal and Plattsburgh, NY, produces instruments that monitor surface electromyography, electroencephalography, electrocardiology, skin conductance, temperature, blood-volume pulse, respiration, inclination, pressure, and bend. The company designs specialized equipment that interfaces third-party sensing devices, such as goniometers and force sensors. Its Web site features the FlexComp Infiniti, ProComp Infiniti, and ProComp2 with BioGraph Infiniti advanced Windows software, MyoTrac, MyoTrac Infiniti, MyoTrac 3, U-Control, and GSR2 handheld trainers, sensors, cables and electrodes, and accessories.
---
TiLite
TiLite, Kennewick, Wash, produces titanium wheelchairs sculpted to fit the user's body and suited to a wide range of needs. Titanium is lightweight and strong, it absorbs vibration to convey a smooth ride, and it is rustproof. Most manual models can be adapted to accommodate add-on power systems. The Web site features rigid and folding models, youth and sport series, a color configurator, a parts e-store, a dealer locator, and more.
---
Townsend Design
Townsend Design, Bakersfield, Calif, is among the leading manufacturers and distributors of orthopedic braces. Since 1984, the company has served certified orthotists, physical therapists, athletic trainers, and other medical professionals. Townsend braces are designed for patients who have had injuries, surgeries, or medical conditions that create functional or mobility challeng