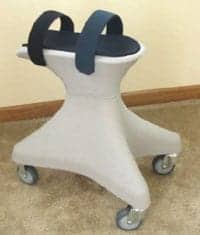 To provide hands-free mobility and improved quality of life during rehabilitation, Step Dynamics LLC markets an assistive device designed as an alternative to crutches. The RollerFoot Knee Walker is engineered to accommodate users with foot/ankle injuries or who require non-weight-bearing on the foot/ankle as a result of surgery, including Achilles rupture, Jones Fracture, and bone spur.
Step Dynamics notes that its product aims to allow users to continue to work and stay productive by providing stimulation to upper leg muscles in the injured leg and offsetting atrophy due to inactivity. The product is also height and weight adjustable and designed to be maneuverable and compact.
For more information visit www.rollerfoot.com.
[Source: Step Dynamics LLC]