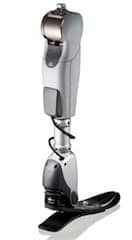 Össur's bionic leg is engineered to blend a microprocessor knee and a powered microprocessor foot with proactive ankle flexion for transfemoral and knee disarticulation amputees. The SYMBIONIC LEG targets user safety through powered toe lift and stumble recovery to reduce the risks of trips and falls.
The product's automatic terrain adaptation is engineered to adjust the ankle angle in response to the steepness of the slope, allowing for better ground contact and optimized knee response when ascending or descending ramps. The product also offers users heel height adjustment, providing the ability to change shoes or go barefoot without compromising the alignment of the prosthesis.
With a weight of 6 pounds with foot cover, the SYMBIONIC LEG is designed to a maximum weight of 275 pounds and a 120-degree knee flexion.
For more information visit www.ossur.com
[Source: Össur]