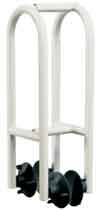 To promote bathroom safety, Graham Field (GF) Health Products Inc, Atlanta, markets bathtub safety rails that offer users two gripping surfaces in order to facilitate both entries and exits from the tub. The Lumex Heavy Duty Bathtub Safety Rail is designed to provide a good gripping surface from any direction, the company says, and is comprised of heavy-gauge steel, powder-coated for rust resistance. The product also features extra large suction cups for additional stability.
The Heavy Duty Bathtub Safety Rail is intended to accommodate tubs with walls 3 inches thick to 7 ¼ inches thick. GF Health Products notes that the product is not recommended for use with fiberglass tubs.
For more information, visit www.grahamfield.com.
[Source: GF Health Products]