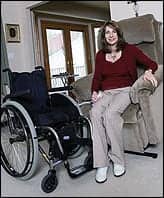 Author and Universal Design decorator Nancy S. Makay demonstrates a chair lift that enables her to more easily transfer to and from her wheelchair.
Whether you call it Design for Everyone, Inclusive Design, Lifespan Home, Design for a Lifetime, Transgenerational Design, Aging in Place, or Smart Home, these are just a few of the terms that describe Universal Design, a concept of home modification that is quickly becoming the preferable approach to domestic environmental accessibility in the United States.
The standards for Universal Design are accepted as a positive approach to promoting accessible living in the marketplace by individuals ranging from therapists to disability advocates to product designers. The term "Universal Design" was coined by Ron Mace, FAIA, an architect, product designer, and educator, who described it as "an approach that incorporates products as well as building features and elements, which, to the greatest extent possible, can be used by everyone." Mace's design philosophy challenged convention and provided a design foundation for a more usable world. Since he envisioned this concept, a gradual awareness of not only its desirability, but also its practicality has been evidenced in new construction, existing construction, and product development.
According to a general statement by the Center for Universal Design (www.design.ncsu.edu/cud), North Carolina State University, Raleigh, "The intent of universal design is to simplify life for everyone by making products, communications and the built environment more usable by as many people as possible at little or no extra cost. Universal design benefits people of all ages and abilities." It is "an approach to the design of all products and environments to be as usable by as many people as possible regardless of age, size or ability."
Universal Design focuses on making life easier for everyone. It focuses on the safety, beauty, and adaptability of the environment, as well as the rooms and products used. It provides individuals with disabilities and aging persons the option of remaining at home, as opposed to being forced to reside in an assisted-living facility or nursing home due to the inability to perform daily tasks. The bathroom may no longer be accessible or the kitchen may be too small, the counters may be too high, the bedroom may be on the second level, and the entrance/exit may be too difficult to use.
Universally designed products can be as simple as the use of thicker pens or as high tech as home automation control systems to control lights, heat and cooling, TV, and computers by voice or a button. There are many uses for many users.
HOME MODIFICATION
Home modifications are making an existing home easier to live in as a result of changing a structure(s) to reduce the barriers one may encounter now and in the future. Ideally, when modifying a home, it is important to consider the future as people age for all who reside in the home. Modifying a home may be necessary due to an injury or trauma with special attention to the patient returning from rehabilitation. It may no longer be possible to access the bathroom, and it may be difficult to use the kitchen. Moreover and just as important, an easy path of travel into the home may be impossible without modifying the entrance, whether it is the front, side, back, or garage door. Modifying a home can be as simple and inexpensive as using plastic lever handles over the door knobs to increase function for someone who has limited hand use; or as complex as modifying the bathroom, adding a new room, or building a new house. Home modifications to meet these needs can be very expensive and time-consuming, and require help from knowledgeable architects, designers, consultants, and builders.
Health care professionals would like to ensure that when a patient is discharged, their well-being is not jeopardized in their home environment. It is not possible to guarantee this. However, it is possible to minimize the risk of injury. If the proper modifications are executed, the simplest of changes can influence the ease of living in the home environment while helping to increase safety.
PLANNING A UNIVERSAL DESIGN HOME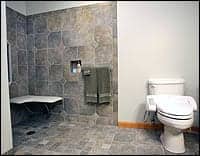 Tile floors, open showers, and elevated toilet seats are approved Universal Design modifications.
For a new construction project, I meet with potential clients of all ages, sizes, and abilities and discuss their individual needs, incorporating them into plans to build a custom home for a lifetime. My focus is on Universal Design. After interviewing the clients, I review an architectural plan of their future new home, and submit a report of recommendations and referral sources. This process often includes the contractor, architects, interior designers, occupational and physical therapists, life care planners, and, of course, the client. A general list of the specifications includes a no-step entry; wider doorways; no or low thresholds throughout the house; lever door handles; accessible yet esthetically pleasing bathrooms, with single-lever faucets and handheld showerheads; and a bedroom on the first level. Other design characteristics include spacious rooms and hallways, natural lighting, raised electrical outlets, and lowered light switches. Additional recommendations may include requested specifics for a particular family member. I recommend hallway widths of 44 to 48 inches to ensure an easy travel path. Not only should there be an easy path of travel inside the home, but another outside the home leading to the entrance.
Universal Design Recommendations
Side-by-side refrigerator
Microwave at counter height
Wall-mounted oven
Front load washer and dryer
Toilets 17″ to 19″ from floor
Fold-down shower bench
Swing-clear hinges to increase door width
Clear path of travel throughout home environment
Stepless entry
36″ doorways
Minimum 44″ hallways
Lever door handles
Rocker switches
Single lever faucet
30″ x 48″ clear floor space in front of appliances and fixtures
5´ x 5´ turning radius in rooms
Curbless shower with adjustable handheld shower
Reinforced bathroom walls
Multilevel counterspace
—N.S.M.
When discussing home modifications for existing construction, a common request is creating access into the home using a ramp and widening the doorways. As the population ages and injuries occur, it may be more difficult using steps to a home's entrances. There are a variety of layouts for ramps used in conjunction with the landscape. The ideal access into a home is not a ramp of 1 foot :1 foot but rather an entryway of 1 foot :2 foot. One client needed a ramp for a wheelchair-bound friend who visited only a few times a year. This client was not interested in a permanent ramp, which could have been easily constructed to the front door. The solution was ordering a portable ramp by the side door adjacent to the driveway.
Falls commonly occur in the bathroom and the kitchen. A frequent request is adapting bathrooms and kitchens for safety and usability. A client e-mailed from Texas seeking advice for modifying the master bathroom for his wife, whose paralysis prevented her from using their spa tub and the toilet. The client e-mailed pictures and floor plans of the bathroom they shared. Through a series of e-mails and phone calls, we came to a solution: the spa tub was removed. The bathroom was adapted by reinforcing the walls for grab bars and laying tile on the floor and walls to create a wet room with no threshold, allowing plenty of space for her and her caregiver. The existing toilet was replaced with one that was 17 to 19 inches from the floor, and plenty of space was provided around each fixture to give her caregiver room for transfers. In many design assignments, other professionals—such as occupational and physical therapists, designers, builders, and Universal Design consultants—are often consulted to complete a project with their valuable input.
One of the most recent project collaborations involving our design team—a builder, two architects, one interior designer, and myself (a Universal Design consultant)—was a surprise home makeover for a young family; as it is a surprise, they are not involved in the process. The family includes a widowed mother with four young children, the youngest being a 2-year-old with an undiagnosed disability. The floor plan of the house has been a challenge to the team, as each member has unique but pertinent suggestions. The ultimate goal is to create a functional, comfortable, and esthetically pleasing home of Universal Design, where the entire family can live and grow for many years to come.
Remember, when home assessments are performed and modifications are recommended, the goal is to maintain and/or increase independence and a better quality of life. We all want to live in a safe, functional, and comfortable environment. A pleasing appearance is also important to many people. Universal Design solutions can help increase functionality, independence, and comfort and, ultimately, result in better quality of life.
(Editor's Note: Learn more about home modification, Universal Design protocols, and author Nancy S. Makay's first person account of modifying her home.)
Nancy S. Makay, is an Erie, Pa-based home modification and Universal Design consultant. Makay owns and operates Live With Ease Universal Design Consulting (www.universaldesignconsulting.com).
Creating Adaptive Environments
There are three areas in the home that present barriers to safety and independence: steps and doors in and out of the home; stairs inside the home, and the bathroom. Modifications to the home can be as simple as installing grab bars, hand-held showerheads, lever door handles, and improving lighting, or as complex as widening doorways to accommodate wheelchairs, lowering countertops, and installing ramps or elevators. The following companies offer products and resources that help physically-challenged and aging individuals create an environment to live safely in their homes.
• Activeaid Inc • www.activeaid.com
Product: Bathroom Mobility Products
Activeaid has been manufacturing rehabilitation equipment for more than 40 years with a focus on bathroom mobility and accessibility. The company manufactures more than 30 models of rehabilitation shower chairs, bath transfer benches, and raised toilet seats and can custom modify the products to accommodate difficult situations.
• AlumiRamp Inc • www.alumiramp.com
Product: Armada Modular System and portable ramping
AlumiRamp offers the welded aluminum ramp, which has been improved with the Armada System. The Armada System is lighter and more flexible, and makes installation easy. The system is all-aluminum, completely anodized, and ADA-compliant. Armada provides a full line of ramping, from threshold ramps and curb ramps, to multi-fold ramps, where portability and compactness are required.
• Bruno Independent Living Aids • www.bruno.com
Product: Vertical Platform Lift
Bruno Independent Living Aids introduces the Vertical Platform Lift, which makes a porch or deck accessible. With an automatic self-lowering ramp, weather-protected controls, and a lifting capacity of 750 lbs, the Vertical Platform Lift gives patients their independence. Reliable and affordable, the platform lift comes with a maximum floor-to-floor height of 53 inches and 75 inches.
• Duralife Inc • www.duralife.com
Product: PVC Health Care Furnishings
Duralife offers PVC health care furnishings, including a complete line of wheeled shower and commode chairs, transfer systems, bath seats, laundry hampers, and linen carts. The company bends the PVC into graceful shapes to eliminate sharp corners and edges in order to provide safer products for the patients and the caregiver.
• Guldmann Inc • www.guldmann.com
Product: GH2 Patient Lift-Ceiling Mounted
For more than 25 years, Guldmann has manufactured Patient Lifts for lifting and transferring patients in homes, hospitals, and rehabilitation institutions. The lifts improve the daily life of the disabled and protect their caregivers from injury.
• Mellen Air Manufacturing Inc • www.mellenair.com
Product Name: Rem Air Low Air Loss Mattress
Mellen Air Manufacturing offers Rem Air Low Air Loss Mattress. Rem Airs are ready for use by simply securing the built-in straps to the bed frame, plugging it in, and turning it on. It inflates in 20 seconds and deflates in less than 20 seconds for CPR positioning. Rem Airs are available in many sizes, some of which support up to 750 lbs.
• Mobility Transfer Systems Inc • www.mtsmedicalsupply.com or www.mtsmedequip.com
Product Name: Security Bed Rails
Mobility Transfer System's Security Rails for Home Beds prevent rolling out of bed, and provide safety and mobility for the user. A security rail may be attached on one or both sides of the bed. The rails are available in two sizes: 18 inches and 30 inches. The 18 inch model provides security as well as a patient-assist handle that allows transfers. The 30-inch model provides additional side-rail security for more protection. Both models easily adjust up and down. They are made of steel and powder coated in white.
• Neuropedic • www.neuropedic.com
Product: Support surfaces, mattresses, pillows, and electric beds
The Neurological Research and Development Group has conducted extensive research on pressure sore prevention, back pain, spinal cord injury, rehabilitation, and proper rest. The result of this research is a full line of products marketed under the Neuropedic® trademark.
• Open Sesame Door Systems Inc • www.opensesamedoor.com
Product Name: Door Operator Systems
Open Sesame Door Systems offers door operating systems that easily attach to existing residential doors. The system uses a low voltage, plug-in transformer. It can be operated from a wheelchair mounted remote control for easy entry and exit. Special activation devices are available for individuals with little hand function. The door remains locked and secure. Attendants may use exterior keypad or existing keys. It continues to operate during a power outage.
• Power Access Corp • www.power-access.com
Product: Model 2300 Residential Door Opener
Power Access Corp's Model 2300 Residential Door Opener is designed specifically for the home. Its installed cost is 1/3 less than the current model. It is also less than half the size of the current model and even weighs less. Its arm attaches to the door or frame. The door mount application needs only 3.5 inches behind the door when it is open to 90°. The door can be used manually and may be interfaced with an electric strike for door security.
• SUREHANDS Lift & Care Systems • www.surehands.com
Product: Overhead Track System
SUREHANDS® Overhead Track Systems provide the necessary tools to overcome physical and architectural barriers, while saving floor space. They provide the means to safely and effortlessly transfer a patient from one environment to another. The system accommodates SUREHANDS® Body Support or fabric slings.
—Rima Bedevian
Universal Design expert Nancy S. Makay shares an account of her first-hand experience modifying her own home.
After the first semester of college while studying occupational therapy, I was diagnosed with multiple sclerosis (MS). At that time I was living in an apartment on the second floor that had no elevator. I was experiencing mild symptoms, such as double vision and weakness on my left side. During the following year, I experienced weakness in my bilateral upper and lower extremities. This was apparent and frustrating as I would drop kitchen utensils, and grooming aids and stumble up and down the stairs while moving with fatigue. I needed to take into account where my prognosis might lead to in regard to mobility, activities of daily living, and my social, emotional, and mental well-being.
A first level condominium became available within the same apartment/condominium complex where I was residing. I purchased the condominium and then determined some modifications would be necessary so I could continue my independent living. The laundry facilities for the condominium were located on the second floor with no elevator. Because I purchased a two-bedroom condo, I converted the extra bedroom into a laundry room using the closet for a stackable washer and dryer. The rest of the room became my computer and study room.
Two grab bars were installed in the shower/bath, and one grab bar was installed directly in front of the toilet. Before acquiring MS, I used a handheld shower. This product is used universally.
Although the condominium was on the first floor, there was a 3-foot set of steps at the entrance of the building. I needed to explore funding sources for a ramp for easy access. The National Multiple Sclerosis Society (NMSS) paid for a 7-foot cement ramp.
My first exposure to Universal Design was from a weekly occupational therapy magazine published by the American Occupational Therapy Association (AOTA) with an article and pictures about a concept known as Universal Design. My personal needs and unknown prognosis created a had-to-know-more situation. I spent multitudes of hours completing research and educating myself on many resources available, including the Americans With Disabilities Act (ADA), Visitability, and Universal Design. I also contacted the Center for Universal Design at North Carolina State University. In 1996, there was not a lot of information about Universal Design on the Internet. I kept this article in hopes of someday building a home using these features.
During college we were taught the fundamentals of home modifications, for example, if the bathroom door is too narrow, remove the door jambs; install grab bars by the toilet and in the shower; recommend a commode chair to increase the height of the toilet. We were also taught about the valuable adaptive equipment available to make life easier.
Technology has advanced, and new equipment and methods have been introduced. Rather than removing the door jambs, a narrow door may be widened with swing-clear hinges. This adds approximately 2-inches. This was the solution to gaining access into the bathroom for a client needing the use of a walker in a previous case I evaluated. Other recommendations were to increase the size of the bathroom for the future. However, this was not the clients' priority at the time.
After earning my occupational therapy degree, my illness progressed, leaving me in a wheelchair. The time came for me to search for an accessible place to live. My family and friends helped me search for an accessible condominium or house. Due to the lack of accessible housing in the area and the increased cost of modifying a home, I decided to look into new construction.
BUILDING A HOME FOR LIFE
Fortunately, I purchased a lot through a contracting company in a prime location—close to a mall, grocery stores, a fire department, a police station, and local hospitals. Under the contract to purchase the land, the specific contractors maintained the right to build the new construction. I was still new to the concept of Universal Design, but made a list of the design protocols I read about in Products and Plans for Universal Homes (published by Home Planners LLC, January 2000). I gave this list to the general contractor before construction of what I knew would be necessary to make this a home for a lifetime.
To remain functional for life, the house needed to be adaptable. Certain areas could be easily adjusted at a later date, if necessary, without extensive modification and with little expense. Adaptable features include reinforced walls—especially in the bathroom for grab bars; wiring for security; and a telephone line in the bathroom (no longer a luxury, but a necessity). Also, I did not want my house to be referred to as an "accessible" house, as this term targets a specific population. (As a result, my home does not look like an "accessible" house that was built for someone with a disability.)
Unfortunately, due to the contractor's inexperience in Universal Design, the bathroom has had to undergo recent modifications. The original master bath, built 4 years ago, had a 5´ x 3´ prefabricated shower with a stainless steel railing and a small threshold (a fold-down transfer bench and adjustable handheld shower were also installed). Initially, I was able to operate the shower independently, until the disease progressed. Hence, the shower was too big to transfer and too small for a wheelchair, and I fell two times too often. Another modification made to the bathroom was the location of the toilet, which was too close to the door, limiting the area for a grab bar. Also, the door would swing into the bathroom, interfering with assistance when I fell. The door swing was easily reversed. However, the major changes (such as the placement of the toilet and changing shower features) required a contractor, an electrician, and a plumber to create an accessible bathroom.
After months of searching for estimates and referrals, I was able to locate a contracting team. The contractor was given a floor plan and a list of necessary modifications. The bathroom now features a roll-in shower, with the original fold-down transfer bench and adjustable handheld shower with a 7-foot hose; designer tiles on the floor and walls (tiles must be antislip with a specified coefficient of friction); and mold and mildew resistant epoxy and paint. The walls have also been reinforced (blocking is fine, but I prefer the installation of reinforced walls, creating a more adaptable bathroom and providing flexibility for the future placement of grab bars). Grab bars have already been installed in my bathroom—they are decorative and can also serve as towel bars.
—N.S.M.
7 Principles of Universal Design
Principle One: EQUITABLE USE
The design is useful and marketable to people with diverse abilities.
GUIDELINES:
Provide the same means of use for all users: identical whenever possible; equivalent when not.
Avoid segregating or stigmatizing any users.
Provisions for privacy, security, and safety should be equally available to all users.
Make the design appealing to all users.
Principle Two: FLEXIBILITY IN USE
The design accommodates a wide range of individual preferences and abilities.
GUIDELINES:
Provide choice in methods of use.
Accommodate right- or left-handed access and use.
Facilitate the user's accuracy and precision.
Provide adaptability to the user's pace.
Principle Three: SIMPLE AND INTUITIVE
Use of the design is easy to understand, regardless of the user's experience, knowledge, language skills, or current concentration level.
GUIDELINES:
Eliminate unnecessary complexity.
Be consistent with user expectations and intuition.
Accommodate a wide range of literacy and language skills.
Arrange information consistent with its importance.
Provide effective prompting and feedback during and after task completion.
Principle Four: PERCEPTIBLE INFORMATION
The design communicates necessary information effectively to the user, regardless of ambient conditions, or the user's sensory abilities.
GUIDELINES:
Use different modes (pictorial, verbal, tactile) for redundant presentation of essential information.
Provide adequate contrast between essential information and its surroundings.
Maximize "legibility" of essential information.
Differentiate elements in ways that can be described (ie, make it easy to give instructions or directions).
Provide compatibility with a variety of techniques or devices used by people with sensory limitations.
Principle Five: TOLERANCE FOR ERROR
The design minimizes hazards and the adverse consequences of accidental or unintended actions.
GUIDELINES:
Arrange elements to minimize hazards and errors: most used elements, most accessible; hazardous elements eliminated, isolated, or shielded.
Provide warnings of hazards and errors.
Provide fail-safe features.
Discourage unconscious action in tasks that require vigilance.
Principle Six: LOW PHYSICAL EFFORT
The design can be used efficiently and comfortably and with a minimum of fatigue.
GUIDELINES:
Allow user to maintain a neutral body position.
Use reasonable operating forces.
Minimize repetitive actions.
Minimize sustained physical effort
Principle Seven: SIZE AND SPACE FOR APPROACH AND USE
Appropriate size and space are provided for approach, reach, manipulation, and use regardless of user's body size, posture, or mobility.
GUIDELINES:
Provide a clear line of sight to important elements for any seated or standing user.
Make reach to all components comfortable for any seated or standing user.
Accommodate variations in hand and grip size.
Provide adequate space for the use of assistive devices or personal assistance.
This list was compiled by advocates of Universal Design, including Bettye Rose Connell, Mike Jones, Ron Mace, Jim Mueller, Abir Mullick, Elaine Ostroff, Jon Sanford, Ed Steinfeld, Molly Story, and Gregg Vanderheiden.
—N.S.M.