Just in time for back-to-school activities, an array of therapeutic play products for kids with a broad range of physical, sensory, developmental, and emotional needs are available from PunkinFutz.
The following products in PunkinFutz' sensory play line, created using universal design, focus on the therapeutic value of creative play for children while promoting individual expression, creativity, and fun, the company notes.
PunkinHug Compression Vest – This fully breathable vest provides a deep compression while also delivering endless play options. The vest comes in three color variations (blue, green, pink) and has two interior and two exterior pockets for therapeutic weights or treasures (weights not included).
MonktoCape – It attaches to the PunkinHug Compression Vest using Velcro, and is designed and tested to a 5lb tear-away strength. One size fits all, it comes in two color variations: pink and green.
Monktopus Pouch – This wearable bag comes with a universal adapter and D-Ring attachment option. The universal adapter is a super-soft stretch loop fabric. It is lined with EU-approved, antimicrobial PUL to discourage bacteria growth.
PunkinPak Bundle – A bundle set that includes the PunkinHug Compression Vest, MonktoCape, and Monktopus Pouch.
PunkinPitch – This product is designed to turn the PunkinHug Compression Vest into a fun and interactive play accessory. The PunkinHug Compression Vest and six PunkinPitch Velcro balls are included.
PunkinPitch Expansion Pack – Each expansion pack comes with a set of six Velcro balls in two different color options: blue and orange.
PunkinPals – Two styles are available: the Crabster and Zuggey. Both come with six brightly colored emoji patches and are backed with Velcro.
PunkinStars – This reusable awards system comes in a set of six star patches backed with Velcro, along with an easy carry pouch.
Scratchy Square – The scratchy fidget is designed for children who need sensory input, for either soothing or desensitization. It is sized to fit in small hands and has a slight weight, which supports focus and promotes self-regulation.
Marble Maze – Made with bright colors and engaging textures, the Marble Maze is dual-sided to provide multiple sensory play options. It is also designed to provide therapeutic play benefits such as building fine motor skills, and increased hand strength and finger articulation. It is made from six layers of durable fabric.
PomPoms Bigs 4-Pack – Made with a soft elastic center, they provide multiple options for sensory interaction including catch and release, hand and upper extremity exercise, calming and focus.
PomPoms Littles 4-Pack – PomPoms made in a smaller size, designed for smaller hands.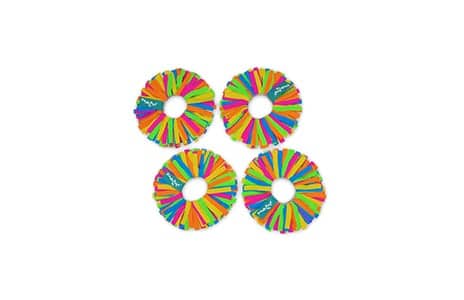 For more information, including pricing, sizes, and additional images, as well as how to order, visit PunkinFutz.
[Source: PunkinFutz]