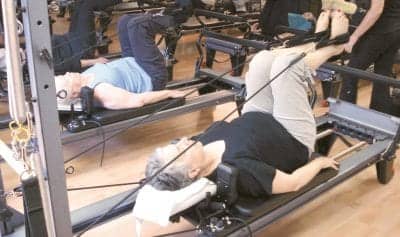 The emphasis seniors put on their own health is one reason this segment of clients at Beyond Physical Therapy has been easiest for the practice to convert from therapy to Pilates.
When I opened Beyond Physical Therapy (BPT) in Marina del Rey, Calif, in 2000, Pilates was being marketed as "yoga on springs." Although yoga was a must in my practice from the very beginning, the more I learned about Pilates and observed how effective it was as a treatment method, adding it to BPT became a no-brainer for several reasons. On the physical therapy side, Pilates is effective in postinjury or postsurgery rehab because it allows you to do an entire strengthening program in whatever position is safest for the client. On the post-therapy side, Pilates allows fitness services to be available on a cash basis for patients once they complete physical therapy. It keeps them in balance, it's great fun, and clients are more likely to come back if, and when, they have a physical therapy need. Each side of the business feeds the other.
SPRINGBOARD TO CASH-PAY CLIENTS
The key fundamental in attracting clients to Pilates classes is to understand what it is you are trying to sell. What you say to clients about the classes and the benefits those classes will provide has to come from the heart. The first step an existing practice must take to successfully incorporate Pilates is to get the practice's owner and therapists to gain an understanding of Pilates through first-hand experience. The best way to do this is through Pilates training. A therapist who is properly trained in Pilates will be able to minimize clients' risk of injury and maximize the health benefits the program provides.
I found my own Pilates training by working a second job at an outpatient physical therapy clinic that offered Pilates-based rehab and a handful of Pilates services. In my time there, I worked alongside the owner/PT, and learned the principles of Pilates, the hundreds of exercises, and the many applications.
Clinics that want to incorporate Pilates should understand that PTs provide the functional applications of Pilates, but that qualified Pilates instructors typically make better teachers. At my own clinic, I only hire certified Pilates instructors to teach classes. Clients who have taken Pilates previously appreciate the expertise and experience of a highly qualified instructor, and new clients learn how to do the exercises correctly from the beginning.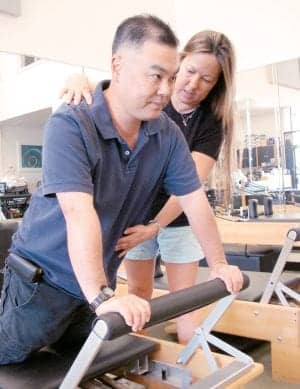 Cynthia Wood, RPT, notes that Pilates-based exercises may be incorporated into a patient's treatment program with a therapist's direction and guidance.
BUILDING ENTHUSIASM BUILDS SUCCESS
Our clinic has grown to offer more than 70 different classes per week, with a lot to choose from in categories that include Pilates, yoga, Barre, Zumba, TRX, Tower, and others. We motivate our clients to come in for Pilates by trying to offer them the best deal in town. We have created all kinds of programs to make Pilates affordable, including a special program we developed that allows a client to take unlimited classes each month. This program brings clients into the practice every day. The enthusiasm among many of our clients for this type of program has been strong, and is reflected among the clients we now have who take anywhere from one class to three classes per day. They may begin the day with Pilates or TRX suspension training, and then continue on to a yoga or Zumba class.
Beyond Physical Therapy's Pilates services are not part of insurance-billed physical therapy services. Pilates-based exercises may be incorporated into a patient's treatment program, but always at the therapist's direction and guidance.
Offering cash-based services can help any practice that is at the mercy of an unregulated insurance industry. A Pilates class can help offset the impact of what is sometimes called the "deductibles syndrome," which occurs typically during the month of January. Attracting cash-pay fitness clients at this time of year by offering classes packaged as a "New Year's Resolution Offer" can help minimize the dip in physical therapy revenue. Clients have the option of paying for services on a per-use basis, or can buy packages in quantity that reduce the per-use cost.
GATEWAYS TO PILATES
Many orthopedists say patients are at their best when they're doing physical therapy three times per week, postoperatively. Often after discharge, they fall off the wagon and become "deconditioned," even independent of their previous injury. Then patients are back with a different issue. While this may be good for orthopedic medicine in general, it's not a great model for living. Pilates is beneficial to postoperative cases because you can do an entire strengthening program in whatever position is safest for the client. A knee surgery patient can do a complete routine in supine with the lower extremities elevated, thereby reducing some of the swelling that can occur with activity. With postsurgical candidates, there's a fine line between increasing the patient's strength and activity while controlling the side effects of increased activity by icing and elevation.
A variety of conditions can be helped by Pilates. For example, back and neck patients who may not be able to tolerate a full gym program can start with basic but efficient strengthening and stretching, whereby the back or neck can be supported safely as they build up their core. Pilates can also help patients who need strength training with its controlled way of integrating range of motion with strengthening. For patients with balance issues, I developed an exercise that uses a Pilates device called the Wunda Chair. You can test a patient's balance, put them through this exercise, and then retest them. The results are surprisingly immediate and the proprioceptive carry-over is dramatic. This not only makes the therapist happy, but lights up the patient as well. They have renewed confidence, which curbs the fear of having their freedom and independence taken away. These patients are often elderly. Not only are we creating change in their bodies, but we do the same thing for their attitude and confidence.
PROGRAM IDEAS THAT WORK
Our practice has created a number of programs that make Pilates affordable. Our pricing strategies make it attractive for clients to take a couple of private Pilates sessions per week, or combine a single private session per week with group classes. Many boutique gyms and studios may offer programs that appear similar but actually have significant limitations. The fine print of these offers sometimes restricts clients to one class per day, or five classes per week. The unlimited class pass program offered by BPT has no such limitations.
To build interest and enthusiasm for our cash-pay programs, we recently ran a contest to see who could take the most Pilates classes in a single month. The contest's top three winners were older women, all of whom took well over 30 classes in the month the contest was conducted. The second-place winner was a woman in her late 80s—who took 39 classes.
CONNECT WITH SENIORS AND GROW
Seniors are the easiest clients to convert from physical therapy to Pilates, largely because of the extremely high value seniors put on their own health. A perception that prevails among many seniors—which sometimes is also reality—is that their quality of life is diminishing. They may feel as if their bodies are breaking down, which raises a question in their minds about how to maintain their health and their fitness levels. In short: how to "keep going."
I have a special place in my heart for seniors, and what impresses me among my own senior clientele is how they have made feeling better such a primary goal. They want to prevent anything from going wrong and they embrace the prospect of wellness enthusiastically. All it takes is for one person to see their friend or neighbor improve dramatically, and that person will want the same thing. Seniors are savvy consumers who are becoming increasingly sophisticated about what is important in choosing a fitness program. It's not the style, hype, or trend that seniors value. What matters most to them is results, and if they're not getting their money's worth, they won't continue. It's important for a clinic to develop special pricing for seniors as well as programs and incentives. To make a Pilates program successful, you have to make sure there's something financially accessible for everyone.
Cost, however, is probably not the most important consideration to seniors when they choose a fitness program. The one thing seniors tell us is indispensable in getting them to reach their fitness goals is finding people who care. A common thing we hear at BPT is that our clients feel like our staff members are their family. No matter what service our clients subscribe to, and which member of our team they work with, our clients feel like that person knows them. This, our clients say, creates a feeling of trust.
CHANGE THE EXPERIENCE, CHANGE THEIR OUTLOOK
In the early 1930s, Joseph H. Pilates opened his studio and began treating individuals with conditions related to postural deformities, polio, and other orthopedic impairments, with a method of exercise that addressed their mental and physical well-being, increased their flexibility, and strengthened muscles. Done properly, with highly skilled instructors, Pilates sells itself. When I meet someone new and they tell me they tried Pilates but didn't like it, I know exactly what happened: they took a free mat class at their gym, which can be similar to going into a level 3-4 yoga class when you've never done yoga before. You end up struggling more than you're benefiting. With those clients, I encourage them to take a private session with a certified instructor using Pilates equipment. They end up seeing and experiencing what it's all about and then saying, "Wow. NOW I get it!"
---
Cynthia Wood, RPT, owner of Beyond Physical Therapy, received her advanced Bachelor of Science degree in physical therapy from California State University, Long Beach. She is certified in manual lymph drainage and complete decongestive therapy (MLD/CDT) and specializes in treating breast cancer patients. Her experience includes outpatient orthopedics, occupational medicine, sports medicine, biofeedback training, MLD, Pilates, and yoga. Wood has worked in pediatrics, geriatrics, and neurology, and has done extensive study in manual therapy. For more information, contact .