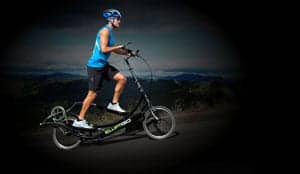 The ElliptiGO is engineered to be a high-performance, effective tool for the treatment of a wide range of orthopaedic conditions, such as overuse/degenerative cases or injuries of the ankle, knee, or hip. Riding the ElliptiGO is a weight-bearing exercise, which reportedly helps the patient to prevent muscle atrophy and maintain bone density.
In addition, a news release from the company of the same name, headquartered in Solana Beach, Calif, states that the ElliptiGO is designed to be easy to ride as well as balance on, and provides an excellent core workout for the rider. The bike is also made to be a versatile piece of equipment that can be used either outdoors or indoors for patients not yet ready for the road.
For additional information on the ElliptiGO, go to www.elliptigo.com.
[Source: ElliptiGO Inc]