Since August 2014, the Centers for Disease Control and Prevention (CDC) has seen an increasing number of young patients across the United States with Acute Flaccid Myelitis (AFM), a polio-like condition that affects the nervous system, specifically the spinal cord, and causes weakness in one or more limbs.
From August 2014 through September 2018, the CDC has received information on a total of 386 confirmed cases of AFM across the United States. There are 62 confirmed cases of AFM so far in 2018, and these occurred in 22 states across the US. These cases are among the total of 127 reports of patients under investigation for the condition.
According to CDC data, there were 120 confirmed cases of AFM in 34 states from August to December 2014, 22 confirmed AFM cases in 17 states in 2015, 149 cases in 39 states in 2016, and 33 cases in 16 states in 2017.
CDC stresses that AFM still remains a very rare condition, with an occurrence rate of less than one among a million people.
"This remains a rare syndrome, but the similarities to poliomyelitis, polio-like illness, are concerning and bear close monitoring," says Dr Todd Ellerin, director of infectious diseases at South Shore Hospital in Weymouth, according to Yahoo! News. "Now is it going to be as widespread as that? Hopefully not. And that's why we have to keep our eye on this."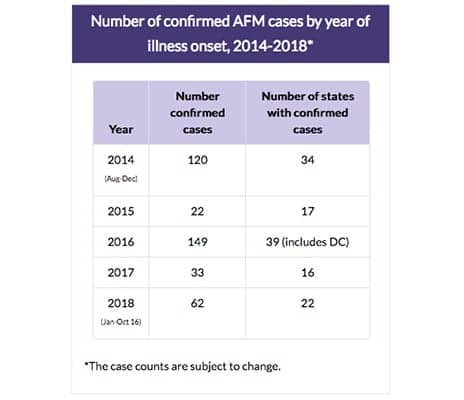 AFM tends to affect children and young adults—among the confirmed cases, the average age of those afflicted is 4, and 90% of those with the condition are age 18 or younger. All of the AFM cases have tested negative for poliovirus.
Possible AFM causes include environmental toxins, genetic disorders, or viruses such as poliovirus, West Nile virus, or adenovirus. Another cause could be a type of enterovirus called EV D68, Ellerin suggests.
"That's important because enteroviruses cause the common cold," he adds. "It causes fever illnesses in the summer and fall, often associated with rashes. It causes hand, foot and mouth disease. It causes a lot of what [are] typically very mild sort of nuisance type diseases."
To date, however, according to the CDC, no pathogen or germ has been consistently detected in a patient's spinal fluid that indicates the cause of AFM.
Typical symptoms of AFM are similar to those of a severe respiratory illness, along with a fever, but those often progress into neurological symptoms. Some with AFM will feel weakness in their arms or legs, a loss of muscle tone or slower reflexes. The most severe symptom is respiratory failure.
To protect against contracting AFM, the CDC recommends that people stay up to date on their vaccines, wash their hands, and protect against mosquito bites.
In addition, Ellerin encourages hospitals and medical centers to train their employees to recognize the symptoms of AFM.
"We want to see that education," he comments, "in order to have early recognition and detection."
[Source(s): Centers for Disease Control and Prevention, Yahoo! News]