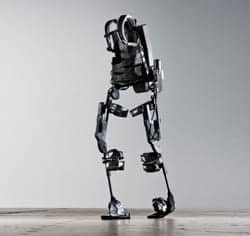 Ekso Bionics has reported the first delivery of its robotic exoskeleton Ekso GT, engineered to allow individuals with lower-extremity paralysis or weakness to stand and walk, to the Rehabilitation Institute of Chicago (RIC).
The Ekso GT is the next generation of Ekso, the company states, and is a wearable bionic suit engineered to enable individuals with lower-extremity paralysis to walk over ground with a fully weight bearing, reciprocal gait.
According to a news release from the company, the Ekso GT offers users new advancements intended to make it easier for clinicians to provide therapy to a wide range of patients and to offer new opportunities to explore therapeutic interventions. This is particularly relevant, the company says, for individuals who have maintained some preservation of motor ability, such as stroke patients.
Nathan Harding, Ekso Bionics chief executive officer, explains that the device is the "fourth product in the evolution of Ekso technology in less than 2 years, demonstrating not only how quickly the technology is advancing, but how rapidly the clinical community is adopting it into their rehab programs."
The Ekso GT is reportedly RIC's second Ekso, and will be used to study post-stroke gait training and rehabilitation under a National Institute on Disability and Rehabilitation Research (NIDRR)-funded grant. Ekso Bionics states that it will collaborate with RIC to share data under a newly signed research agreement.
W. Zev Rymer, MD, PhD, adds, "The results we've seen using the previous Ekso among our stroke and spinal cord injured patients have demonstrated we have every reason to embrace and explore this technology further."
The release notes that additional mechanical advancements for the device includes faster adjustment capacity between patients, and releasable hip abduction and thigh rotation in order to provide patients with appropriate strength and motor function and more freedom. The device also provides adjustable foot/ankle stiffness and angle to enable a more stable gait, as well as a new composite foot design engineered to encourage improved weight shifts and software advancements, including a feature for turning in place and the ability to adjust software settings while patients walk.
[Photo Credit: Ekso Bionics]
[Source: Ekso Bionics]