"Home, sweet home" is taking on new meaning for Baby Boomers, the aging population, and those with disabilities. Research conducted by Focalyst (www.focalyst.com)—a leading source of data, analysis, and advice about Baby Boomers and the over 50 population—indicates the majority of adults wish to remain in their current homes during their maturing years and 65% plan on remodeling their homes in the near future to make them more accessible.
With 54 million Americans living with disabilities and aging Baby Boomers representing 20% of the population, the building and health care industries have recognized the need for universal home accessibility. To that end, the National Association of Home Builders (NAHB), in collaboration with the NAHB Research Center, NAHB 50+ Housing Council, and AARP, have created a special breed of professionals called Certified Aging-in-Place Specialists (CAPS) to satisfy this growing need. They are remodelers, general contractors, architects, designers, and health care consultants. These individuals have been trained with the necessary technical, business management, and customer service skills needed to properly assess a home's longevity and form plans to make it more livable by catering to people with disabilities and older adults.
There are currently more than 1,100 CAPS professionals in the United States according to NAHB's Web site. However, only 35 of them are also health care professionals. Occupational and physical therapists with a CAPS qualification have a more comprehensive knowledge of what a client's needs might be because of their understanding of the physical requirements of a person with disabilities. They also can plan for the progression of a physical condition as well as the physical impact of the normal aging process.
When most people think of modifications to make homes more accessible, they think of building ramps for a wheelchair user, or remodeling the bathroom, or changing to a first floor living arrangement. These are typical examples of home modifications. However, home modification is putting an increased focus on the needs of aging individuals experiencing cognitive decline.
In many instances, caregivers—often the sons and daughters of these individuals, or other relatives—want to help their loved ones in the best way they can. Sometimes individuals with cognitive deficits are still trying to live on their own, in which case there are concerns about safety when there is no supervision. This is a growing concern for many people with aging parents.
Good Shepherd Rehabilitation Network, based in Allentown, Pa, sees many patients who have either fallen at home or been admitted with another medical diagnosis, such as CVA, because they may have forgotten to take their blood pressure medication for a few days or they may have fallen due to weakness from dehydration or poor nutrition because they may have forgotten to eat.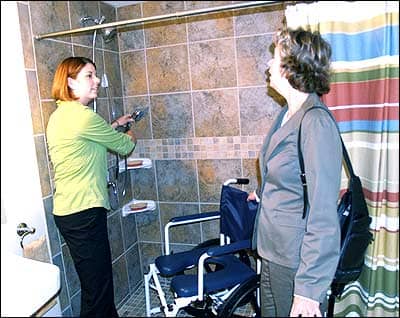 Author and certified aging-in-place specialist Samantha Bogert, OT, CAPS (left), demonstrates the key features of an accessible shower design to a client.
Photos courtesy of Samantha Bogert, OT, CAPS
Good Shepherd therapists treat these patients for their primary diagnosis only, to often discover through assessments that they have a form of dementia or another cognitive debilitating disease. With this knowledge, discharging them to a home alone situation is not recommended and there is a growing need for alternatives. Many individuals who have mild dementia lack insight into their own deficiencies and do not understand why they should not return home alone. When this situation is coupled with other family members who are in denial about their relative's condition, it makes matters very difficult.
It is at this point that home modification becomes an important option. Good Shepherd's Design for Life program and its CAPS provide a comprehensive design plan for individuals looking to function safely and independently in their homes. Their modified environment needs to support and compensate for the skills that are deteriorating. It is also important to individualize the changes—they should not be "cookie cutter." While standard measurements are provided by the American National Standards Institute and the Americans with Disabilities Act, everyone has different capabilities. CAPS professionals provide a personal and customized modification plan that goes beyond implementing standard disability measures. Care also needs to be taken to minimize the adaptations and changes—too much change to the individual's environment can be overwhelming and create more disorganized processes for them.
Here are some examples of modifications recommended by Good Shepherd in instances where cognitive decline is evident: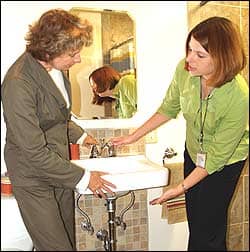 Bogert (above right, and below left) discusses the advantages of adding home modifications, such as adjusting wash basin heights and grading tile floors, to ensure accessibility for both able-bodied and physically challenged individuals.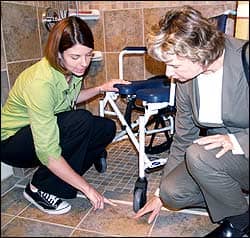 Install a home alarm system: There are companies that install home sensor monitoring systems that place small sensors in certain areas of the home such as the doorway to the bedroom and bathroom, the refrigerator door, and the medicine cabinet. The number of times the sensor is triggered is registered into a computer system that a caregiver can access at any time from a PDA or computer. This information can be averaged so when, for example, a decrease in use of the bathroom is observed, it might be a key indicator that an individual has not been using the bathroom and a medical status change might be developing. It can tell a remote caregiver that their family member may not have been out of bed that day. This information enables the caregiver to monitor basic daily tasks remotely and respond when routines are broken.
Install bells or buzzers on exit doors or add additional locks at higher points on the exit doors. This is helpful for caregivers who might have exit-seeking loved ones. This will alert the caregiver that they are trying to exit the home. This typically happens at night or when a caregiver is not in the same room.
Other steps include simplifying the environment, removing distracting objects, marking doors to reduce confusion, using a contrasting colored toilet seat, placing decals on glass sliding doors and windows to prevent them from being walked into, outlining steps with brightly colored paint or nonskid tape to prevent falls, installing a separate power switch for the stove that can easily shut down the stove when its use is not supervised, and removing control knobs from the stove or oven and inside the refrigerator.
Increasingly families are looking ahead and planning for advancing age, recognizing that older individuals might become disabled but still want to be able to stay in their homes as long as possible. In other instances, a sudden change in the physical condition of a loved one such as a debilitating stroke, the onset of MS, or a severe spinal cord injury means that changes need to be made to the family home to continue to allow the disabled person to be as independent as possible.
A recent example encountered by Good Shepherd involved a male client in his 50s who was diagnosed with ALS. His ability to ambulate was declining, and he already had a power wheelchair designed and ready to go. The problems he faced with his home included the fact that it was a split level, had several steps from the front entrance, and had one small step on the side/back entrance of the home. The back entrance led into a sunroom and family room with a narrow hallway leading to a small bathroom with a tub and a small bedroom in the corner. The client accepted Good Shepherd's recommendations and hired a contractor to implement the following:
Moved the walls to increase the width of the small hallway to allow for enough room to drive the powered wheelchair.
Rearranged and removed furniture in certain areas to allow for a more open concept and easier maneuverability with his wheelchair.
Extended the wall along the tub side of the bathroom into the family room by about a foot as well as the adjacent wall into the laundry room area to increase the width of the bathroom and provide better wheelchair access.
Replaced the tub and graded the floor to accommodate a roll-in shower, providing more space for the shower commode and access to his caregiver for assistance.
Replaced the vanity with a wall-hung sink, which allowed him to fit his wheelchair under the sink.
Simple projects can have a big impact on the longevity of a home. Light switches and electrical outlets should be moved so they are easily reached from a wheelchair but also are usable by a person without disabilities. This means they should be located 48 inches from the floor for a front approach and a maximum of 54 inches for a side approach. In addition, hardware should be lever or D-ring style to enable someone with arthritis, decreased strength, or lack of motor control to open cabinets and doors. The lighting in and out of the home should also be considered. Special consideration should be given to adding lights under kitchen cabinets, in bathrooms, and in hallways for night lighting. Consider creating a contrast in light, as lighting is a huge issue for people with failing vision.
Another simple home modification is adding a package shelf by the entrance door for mail deliveries and a place to rest groceries, making an easier transition into the home. Also look into utilizing universal design hinges called swing free or recessed hinges, which can add an additional 1 inch to 1.5 inches to a doorway. Other beneficial investments are French-style doors, which allow easy access by opening one or both doors.
Flooring material is a crucial considertion. Floors should have good traction to prevent falls, but should also be wheelchair friendly. This means flooring should be both nonskid and nonslip, which can be nonwaxed wood flooring, linoleum flooring, or a simple Berber rug. It also helps to avoid distracting or loud patterns because they can cause difficulties for aging individuals with vision deficits.
The valuable advice of CAPS professionals can act as a safeguard for the future. Whether a grandparent moves in, a child breaks a bone, or a friend with a disability visits for a weekend, having an accommodating home is a valuable asset for family and guests. Also, the safety of one's own home is of utmost importance. However, a home's aesthetics usually overshadow its accessibility. CAPS professionals are trained to find a balance between the two, and there are infinite options for attractive and practical home modifications.
When thinking about remodeling or building a home, consider a life within it for years to come. Adaptive solutions for the future do not need to look institutionalized, as there are endless attractive alternatives to ensure the longevity of a home with a custom feel. Understanding and building on the present and future should be the foundation of any person's home design.
Samantha Bogert, OT, CAPS, is an occupational therapist at Good Shepherd Rehabilitation Network, based in Allentown, Pa. She works as a CAPS professional within Good Shepherd's Designs for Life Home Modification Program. For more information, contact .