ONWARD Medical NV, the medical technology company creating innovative therapies to restore movement, independence, and health in people with spinal cord injury (SCI), announces it has been awarded a grant from the European Innovation Council (EIC) to support the development of an innovative Brain-Spine Interface technology for restoring mobility and upper limb function.
The EUR 3.6M grant was awarded to ONWARD and its research partners: EPFL, one of the world's preeminent neuroscience research institutions; CEA-Clinatec, the Edmond J. Safra Biomedical Research Centre co-founded by Professor Alim-Louis Benabid, a leader in medical devices for the diagnosis and treatment of neurodegenerative diseases and motor disabilities; and Sint Maartenskliniek, a leading rehabilitation center for SCI in the Netherlands. The project is entitled, "Brain-Spine Interfaces to Reverse Upper- and Lower-limb Paralysis." Under the terms of the award, ONWARD will receive EUR 1.2M.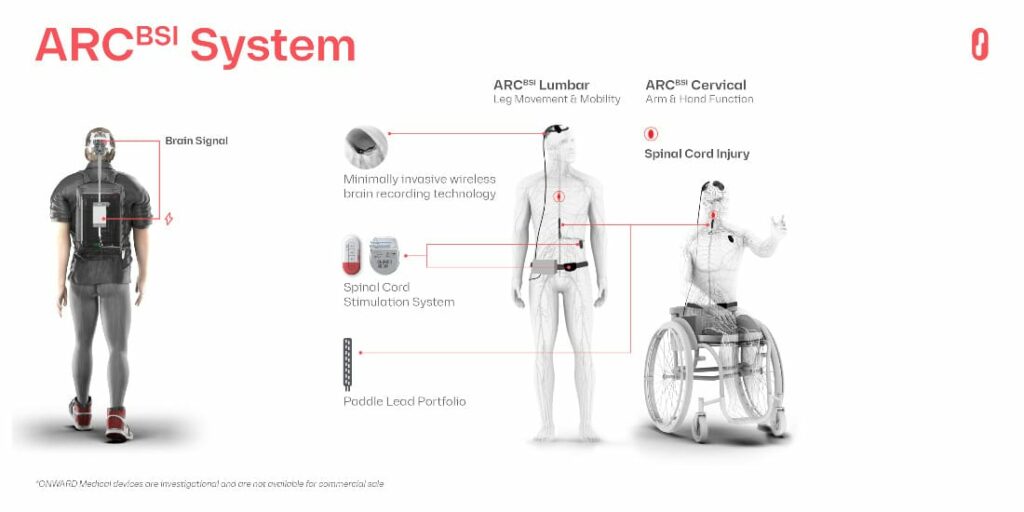 The consortium will use the grant proceeds to fund integration between ONWARD's ARC Therapy, which delivers targeted, programmed stimulation of the spinal cord, and Clinatec's WIMAGINE, a fully-implantable device approved for chronic use in clinical trials in two European countries, which records and decodes the brain's cortical signal to predict a person's desired movement intentions. The consortium will also conduct two clinical feasibility studies using their BSI system, assessing its use for upper- and lower-limb control and rehabilitation, and including two participants per study. Lastly, clinicians from Sint-Maartenskliniek will provide feedback on the usability of the system. The final deliverable is a set of system specifications for a commercially-viable BSI system for people with spinal cord injuries.
"This grant from the EIC validates ONWARD's position as a leader in the fast emerging realm of Brain-Spine Interface technologies", said Dave Marver, CEO of ONWARD. "In combination with the IP rights option obtained from EPFL in March, we now have foundational elements in place to develop and pioneer the use of BSI technology to help people with spinal cord injuries."
[Source(s): ONWARD, Business Wire]