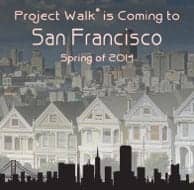 Project Walk reports that it will open a new San Francisco-based recovery center. The organization, which was founded in 1999, offers SCI patients activity-based recovery programs based on leading research, training, and advanced technology in an effort to increase mobility. According to Project Walk, thanks to the opening of new locations and a variety of home recovery options, SCI patients now have access to more options in their community.
Carrie Heieck, spokesperson for Project Walk, articulates the organization's excitement in bringing a Project Walk Franchise to San Francisco. "This is one of the premier cities in the world and we look forward to offering our world class programs and training services to the local spinal cord injury community," Heieck says.
The organization notes that patients can begin the program once they leave the hospital, and can continue full-time at a center or at home through a comprehensive integrated home care model. The organization also uses the Dardzinski Method, which is reported to have the support of published research, with some results indicating that 71% of patients improve function below the level of injury.
Heieck states the San Francisco location is slated to be opened in the spring of 2014. The facility will mirror other locations, in that patients will have access to the newest training techniques and state-of-the-art technology based upon research conducted at Project Walk Headquarters in Carlsbad, California.
Project Walk is comprised of a global network featuring francized and licensed locations that encompass both for and nonprofit businesses. Each location offers highly qualified SCI specialists who treat patients from more than 30 countries and 6 continents.
Source: Project Walk