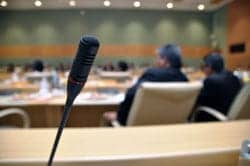 The Paralyzed Veterans of America's Cal-Diego Chapter reports that it will be participating in a panel discussion on January 23, intended to address current medical research for individuals with disabilities.
The panel discussion is slated to follow a film screening of the documentary Sea of Change, which follows Cody Unser and nine wheelchair-dependent veterans during a weeklong pilot study designed to explore the neurological, psychological, and pulmonary effects of scuba on individuals with spinal cord injury (SCI).
According to a news release from the Paralyzed Veterans of America, event attendees include Cody Unser, The Cody Unser First Step Foundation, Paralyzed Veterans' National Senior Vice President, Al Kovach, principle investigator Adam Kaplin, MD, PhD, Johns Hopkins Hospital, Assistant Professor of Psychiatry and Neurology, co-investigator Daniel Becker, MD, Assistant Professor of Neurology, Johns Hopkins, School of Medicine and director of International Neurorehabilitation Institute, and the Operation Deep Down Dive Team.
The release notes that the study featured in the documentary was conducted in May 2011. The Cody Unser First Step Foundation, in partnership with the Johns Hopkins University School of Medicine and the International Center for Spinal Cord Injury, sponsored the study. Study results indicated that scuba diving might assist in improving muscle movement, touch sensitivity, and post-traumatic stress disorder symptoms in SCI patients.
At 2:30 p.m. PST an introduction and the film screening will be held at the VA Medical Center in San Diego. The Q&A panel discussion is slated to following the screening at 3:30 p.m.
Source: Paralyzed Veterans of America