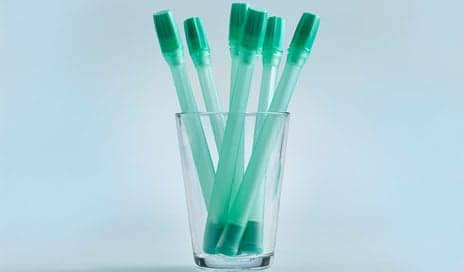 Coloplast, Minneapolis, recently launched SpeediCath Compact Male, a compact catheter for men, designed to be less than half the size of a standard male catheter and may be stored, carried, used, and disposed of more discreetly. The SpeediCath Compact Male all-in-one design is built to be instantly ready to use, featuring "no touch" insertion and withdrawal that provides a level
of convenience and is usable anywhere, anytime.
Many men age 50 years and older face problems emptying their bladder due to various health conditions. According to a media release from Coloplast, this is a challenge they share with the growing number of people living with spinal cord injury. Not being able to urinate naturally, many men have to insert a catheter through the urethra four to six times each day. These catheters reportedly can be up to 15 inches long.
Storing, using, and transporting catheters this size can be difficult to do discreetly. SpeediCath Compact Male comes in a discreet and compact package
that is made to be easily concealed. The new device also reportedly comes prelubricated with a unique, hydrophilic coating and polished eyelets designed for comfortable and simple catheterization no matter where they are.
"Coloplast is focused on developing products that make life easier for people with very personal and private
medical conditions," says Erik Greene, Coloplast product manager, continence care. "When we designed SpeediCath Compact Male, we listened to and learned from the people who use our products that discretion was the most important feature. This product is a solution that meets their personal need, and comes ready to use for even greater convenience and discretion. SpeediCath Compact Male gives men a level of comfort and ease that they can use it at home or on the go."
[Source: Coloplast]