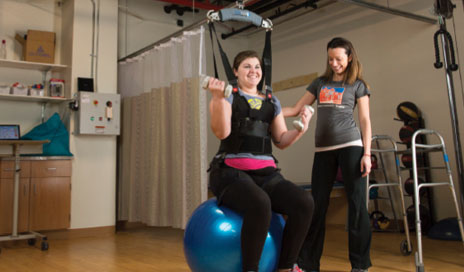 The SafeGait body weight support system, manufactured by Victor, NY-based Gorbel Medical, is the subject of a collaborative, multisite study to evaluate its therapeutic effects for patients who are neurologically involved. The study is a joint effort among Nazareth College, Monroe Community Hospital, University of Rochester Medical Center (URMC), and The Ohio State University (OSU), according to a media release from Gorbel.
"Gorbel is facilitating a collaboration between our three local partners and the Ohio State University for research using a standardized approach that studies the impact of using SafeGait in therapy with patients who have neurological and neurodegenerative diagnoses," says J.J. Mowder-Tinney, PT, PhD, NCS, C/NDT, CSRS, Nazareth College physical therapy.
Mowder-Tinney adds that the study will begin with a look at individuals affected by stroke, spinal cord injury, multiple sclerosis, and Parkinson's disease. "We will also look at the possibility of reducing the financial burden on the healthcare system by focusing on how this equipment can assist in decreasing the risk of injuries to both patients and healthcare professionals," she adds.
The Gorbel media release reports that Nazareth's Wellness Clinic in Pittsford, NY, was the site of the first installation of SafeGait252.
Bradford C. Berk, MD, PhD, director of Rochester Neurorestorative Institute at the University of Rochester Medical Center, says now is the most exciting time for the field of neurorehabilitation. "New treatments involving stem cells, nerve stimulation, and exoskeletons have made the dream of walking again a reality to thousands of patients with spinal cord injuries," Berk says. "The development of SafeGait, a state-of-the-art device for overland walking therapy, complements perfectly these other advances," he adds.
Brian Reh, president and CEO of Gorbel Inc, says the company has moved to leverage its technology in the medical field after 37 years of serving the industrial material handling market."We believe this revolutionary body-weight-support system will improve the lives of patients and therapists worldwide," Reh says.
[Source: Gorbel Medical]