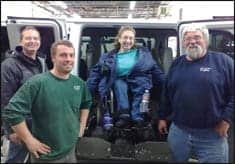 Tally Russell, second from right, demonstrates her new van and lift. She is accompanied by, from left, her father, Fletcher Russell, and technicians Nathan Kemf and Mike Kimberling.
People who live with severe, life-changing injuries or conditions often need secure lift and transfer systems that will meet their present and future needs and are user-friendly for caregivers—but securing suitable devices and equipment may strain the foresight of the crystal ball and challenge the pocketbook.
Neurologically involved patients who can no longer transfer themselves independently from one place to another often need an assistive device to facilitate the action. For many who have sustained a traumatic spinal cord injury, a brain injury, or a stroke and were fully functional before, choosing a lift system is unfamiliar and guidance from a physical therapist is needed. "If we're looking at someone who is completely dependent for mobility—meaning they have very limited or no use of their extremities—we're usually looking at some sort of lift system for them to be able to get in and out of their wheelchair and to get in and out of their bed," says Paul Wilkie, PT, ATP, with United Seating and Mobility, Kansas City, Mo. "A sling lift is probably the most common." The device slides under the patient, and a caregiver activates a hydraulic system that lifts the patient out of bed and into a wheelchair.
Heftier clients may pose a challenge for caregivers attempting manual lift transfers, and since transfers happen many times each day, the lift provides a safer alternative for all. "The negative is that even though you don't have to physically lift clients using a lift system, a lot of times, to be able to properly position them in the wheelchair, it takes an extra set of hands," Wilkie says. Caregivers must multitask, turning an on-off knob and engaging a hand-pump system. "If the caregiver doesn't get the client positioned well in the wheelchair, often they have to lift the client or slide them back in the wheelchair to get them positioned properly, and that defeats the purpose of the lift," he says.
Therapists can help out by giving caregivers tips about positioning. Power lifts are available, but they are often costly and hard to get funded, Wilkie says. Unlike hydraulic lifts, power lifts decrease the need for an extra set of hands, because the caregiver can help position the client properly in the wheelchair while using a controller to lower the client into the chair. Different models handle varying weight capacities. A hydraulic lift usually accommodates patients weighing up to 400 pounds, while bariatric lifts are suited to patients who weigh more than that, often up to 1,000 pounds. Most bariatric lifts are power operated.
A useful aid for those who need assistance with sit-to-stand at home is lift chairs, which resemble lounge or recliner chairs—with the addition of a power-operated lift component. Patients who have weakness or arthritis and cannot stand up from a seated position hit a button and the chair lifts up for them.
Transfer boards—which serve as a bridge from where patients are situated to where they are going—can be beneficial for those who are performing some or all of the transfer on their own. In some cases, a patient does not have the balance or strength needed to perform an independent transfer, or the gap from here to there is too wide. The patient may assist, while the caregiver uses the board to help with balance and stability. "A lot of times people will use them in the car, due to the difficulty with getting the wheelchair in an ideal position for a transfer," Wilkie says. Some transfer boards have cutouts for the wheels, to help patients avoid hitting the wheels during transfer. Some boards have disks that slide back and forth with the board to aid patients who cannot slide or lift up easily.
Monitoring patients' skin integrity during transfers is essential, as many patients are at risk for developing pressure sores. Shearing force can wreak havoc with pressure sores, and, often, sliding over the board can exacerbate the problem. Care must be taken to protect the skin and guard existing affected areas. "You see this in a lot of people who have a new paraplegic injury," Wilkie says. "With shorter rehab stays, people are discharging without the balance or strength to independently transfer without the use of a transfer board. The board allows the client to be independent with transfers at an earlier stage in their rehab progression. One of the challenges is being able to get the transfer board underneath them independently."
Many manufacturers specialize in serving the bariatric population—whose numbers are increasing—and are developing products specifically for them, Wilkie says.
PAY TO PLAY
Obtaining financial assistance to purchase the often-costly equipment can be complex, and application processes and benefits vary from state to state. And no one wants to be saddled with buyer's remorse.
Often, during the qualification process, the full extent of the disability is not yet known. "Sometimes it may be an onset of some sort of disability, or it may be [the result of] an accident. There are a lot of things we don't know from the initial stages," says Tony Cruise, a general manager for United Access, a Lenexa, Kan, company, who regularly fields queries from OTs, PTs, case workers, and rehab programs. Cruise's company provides wheelchair-accessible vehicles, driving systems, mobility seats, and vehicle modifications. "Once we figure out that portion of it, the next challenge is, can we adapt [customers'] current vehicles, and then go from there to fit their needs?"
POTENTIAL RESOURCES FOR
FUNDING MOBILITY AIDS
—J.O.
Qualifying criteria applied by state and federal agencies often include whether a patient is working, has held the job for a certain period, or is attending school. Some states offer programs through vocational rehab and Social and Rehabilitation Services to help fund mobility products such as seating systems. The agencies often will not pay for the vehicle, but help pay for the mobility assistive elements. Qualifying for financial assistance can be a lengthy process, and those who participate in a waiver program affiliated with Medicaid may sit on a wait-list for years.
Cruise deals with a company called KATCO, which works with the Kansas Assistive Technology Cooperative (www.katco.net), and helps pay for most types of medical equipment for individuals or family members who are disabled—for the home or vehicle, wheelchairs, and lifts. The cooperative also provides loans for up to 10 years at minimal interest for Kansas residents, he says.
The Veterans Administration often subsidizes mobility equipment, whether or not patients are service-connected. "If they're service-connected, the VA will help fund the mobility portion and possibly the vehicle if they are a driver," Cruise says. "For those who are not service-connected, the VA will not pay for driving equipment but will help pay for adaptive equipment to allow the veteran to become mobile as a passenger."
BACK TO THE FUTURE
Buying a new vehicle with adaptive equipment can be expensive, so the best cost-cutting strategy for many is adapting their current vehicle with used equipment, Cruise says. "If a customer cannot afford a brand-new lift, we can do it for a quarter or half the cost of new, and they have something that can work for what they need." A buy-back program allows for trade-ins or eventual upgrades.
NOT IN THE MANUAL
Many Automotive Companies have established a mobility section on their Web sites to inform customers about cash assistance provided for adaptive equipment— which may be up to $1,200, depending on the company.
"So if you buy a new car that just needs simple hand controls, the manufacturer reimbursement could cover the cost and you'll get those hand controls free," says Dave Hubbard, CEO of The National Mobility Equipment Dealers Association. "Many of the automotive dealers don't know about that."
In many cases, local dealers don't know because, in a year, they may work with only two customers who need it. A couple of the manufacturers have set up certified mobility dealer programs, and have trained specific dealers in each market to deal with people with disabilities, Hubbard says.
CHECK IT OUT:
—J.O.
It may be hard to envision how a disability will progress in the future—whether it will sink into remission or progress less than expected—but it can make sense to at least consider potential needs 5 to 10 years down the road. "For a child, we know they're going to grow, and they're going to get out of this power chair or a manual chair they currently have, and upgrade to something heavier," Cruise says. "We know at some point we need to make sure that the lift can adapt to that. You try to get something that works for them many years down the road so they don't have to buy something twice. By taking a long-term investment approach, we can assist greatly in making the cash outlays as effective as possible."
Cost is an issue for many people who adhere to a budget. To help ease this burden, United Access has done complimentary inspections of the mobility equipment for the first year after purchase to ensure long-term longevity, he says.
The company has reached out to the virtual community with a MySpace page, which includes Tally Russell. The link is: profile.myspace.com/index.cfm?fuseaction=user.viewprofile&friendid=398747879.
WATCHDOG AT THE GATE
The National Mobility Equipment Dealers Association (NMEDA, www.nmeda.org), Tampa, Fla, aims to ensure its members provide the best service in supplying transportation and transportation needs for people with disabilities. The organization's Web site contains a dealer directory categorized by location, and the dealers are members who adhere to the organization's guidelines. Those in the Quality Assurance Program are bound by an even higher set of standards and are audited annually.
Dave Hubbard, NMEDA's CEO, tells PTs, OTs, and customers to call a mobility dealer before buying a special vehicle or equipment. "The worst thing you can do is buy a car that you think you like and then try to put some adaptive equipment on it, and it won't fit, or it doesn't work," he says.
Mobility dealers should be informed about resources available to customers in their area and may help buyers tap financial assistance. Most dealers also work with the VA, whose programs differ from region to region, Hubbard says. "Some states will buy your first mobility vehicle, your first ramp van. Other states go the other way, and you're hard pressed to get a driving control out of them—each state has to be checked out individually. It's a challenge," he says.
He often fields questions from PTs and OTs, and the organization is developing a class on automotive mobility and available solutions that would offer continuing education credits for therapists. It will tie in physical ailments and diseases that affect mobility and prognoses, and teach therapists how to match the expected progression to products. "For example, for a person with MS, we know they're going to progress at a [certain] rate, but we don't know what that rate's going to be," Hubbard says. "We do know they don't have to buy a ramp van right out of the box to drive from a wheelchair because only 25% of MS patients are going to end up in a wheelchair."
NMEDA plans to seek approval from the state of Florida, and then plans to pilot the class—so it could take a year before the information is posted online.
---
Judy O'Rourke is the associate editor for Rehab Management. For more information, contact .