The Exercise for Life fitness program addresses the gap in post-rehabilitation services for people with paralysis and other disabilities.
by Kimberly Levesque, PT, DPT, and Philip Silverio, PT, DPT, OCS
Maintaining a regular and effective exercise routine can prove to be a complicated and even daunting endeavor for people with paralysis and other disabilities. As a result, this population is less likely to engage in recommended physical activity than their able-bodied counterparts and are therefore less likely to reap the associated health benefits.
Therapists at Gaylord Specialty Healthcare, a nonprofit rehabilitation-focused healthcare system headquartered in Wallingford, Conn, addressed the problem by developing and launching Exercise for Life (EX4L), a welcoming and challenging exercise program to bridge the often-overlooked gap between rehabilitation services and independent healthy living for people with paralysis, spinal cord injury, and other disabilities.
Exercise for Health and Injury Prevention
The health benefits of regular physical activity and exercise for people with spinal cord injuries and other forms of paralysis are numerous and include weight control; improved strength and endurance to perform activities of daily living; decreased anxiety and depression; enhanced feeling of well-being; protection against development of chronic diseases such as diabetes; prevention of secondary conditions such as cardiovascular disease, pressure sores, hypertension, and respiratory distress; increased cardiac and pulmonary function; and lowered blood pressure and cholesterol.1
The Centers for Disease Control (CDC) and the American College of Sports Medicine (ACSM) recommend aerobic activity and strength training for all individuals, regardless of disability. The recommendation for aerobic activity is at least 150 minutes per week of moderate-intensity aerobic physical activity or 75 minutes per week of vigorous-intensity aerobic physical activity. For strengthening purposes, it is recommended that people with physical disabilities spend one to two days per week participating in activities of moderate- or high-intensity that involve all major muscle groups. Such activities could include working with resistance bands, adaptive yoga, weight lifting, etc.2
Wheelchair users work continually with their hands, fingers, wrists, elbows, arms, and shoulders, increasing the risk of pain and debilitating injuries due to a lack of strength, proper posture, and endurance.3 Because of this, at some point in their lives, half of wheelchair users are expected to experience severe pain in their hands, wrists, elbows, or shoulders.4 High-intensity exercise can be an effective tool to help mitigate the risk of future injury.
Identifying Barriers
Despite the myriad evidence pointing to the benefits of exercise, the CDC and the ACSM reports that most individuals with disabilities, particularly those with spinal cord injury, do not exercise at a high enough intensity level or participate in an appropriate and beneficial amount of exercise to reap health benefits.2
In Connecticut, data from a July 2019 market analysis of 10 people with disabilities conducted by physical therapy students from Sacred Heart University in Fairfield, Conn, reveals that there is a significant lack of post-rehabilitation exercise resources available to individuals with physical disabilities, especially those with paralysis.
Jay, an avid "gym rat" before his spinal cord injury, says the EX4L program "helped me to realize that my accident won't stop me from doing what I love. It has helped me to see that I am still capable of pushing the limit on things and pushing my body to new heights."
One-hundred-percent of the survey respondents reported that they either do not exercise at all or are only doing mild exercise one to two days a week. Survey participants also expressed that they do not often get the opportunity to independently exercise at a high intensity at home or in a community setting due to the lack of appropriate equipment for their needs.
Peer interviews with adaptive athletes from the Gaylord Sports Association, Gaylord Specialty Healthcare's adaptive sports program, revealed that many do not have the self-confidence to go to a traditional gym and exercise in a group setting.
With this information in hand, Gaylord outpatient physical therapy staff researched existing local options for people with physical disabilities and discovered two fee-based programs in the state, another program that was shuttered during the pandemic, and one more located more than an hour away from the central part of the state.
Quality of Life, Inclusion, and Integration
With the need identified, Gaylord physical therapy staff envisioned the creation of a program that would bridge the gap between rehabilitation and exercise programs in the community by providing individuals with disabilities the opportunity to continue their therapeutic gains through high-intensity training and monitoring by trained exercise professionals and physical therapists.
After months of careful planning, the Exercise for Life (EX4L) program was launched in July 2019 in Gaylord Specialty Healthcare's outpatient physical therapy clinic in Cheshire, Conn, to provide a space for individuals with physical disabilities to exercise at a level that is appropriate, safe, and customized to their needs and their abilities.
The program centers around three main goals:
Improve participants' quality of life and increase independent living.
Promote inclusion.
Support integration into the physical, social, and cultural communities by addressing each individual's strength, endurance, power, and flexibility through high-intensity circuit training developed by trained exercise and movement specialists.
The team applied for—and received—generous grants from The Christopher & Dana Reeve Foundation and Craig H. Neilsen Foundation, ensuring that the program is made free and inclusive to participants of all ability levels. The funding also covered the costs of staffing, the purchase of specialized gym equipment, program marketing, and stipends for guest speakers chosen by participants.
After months of planning, the EX4L program's first season successfully launched in 2019.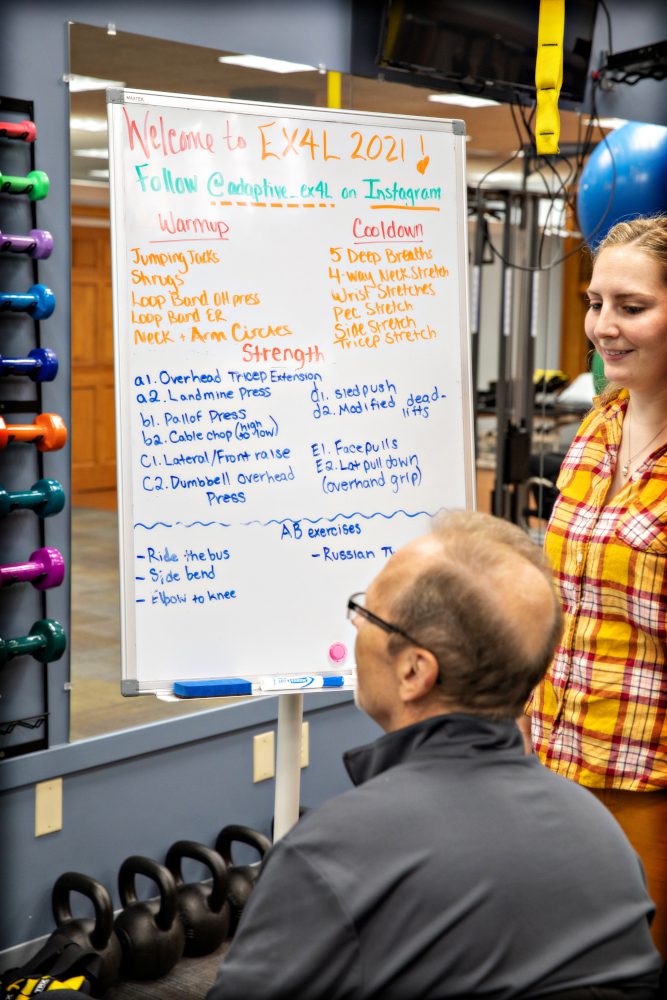 Program participants attend exercise class twice a week for eight weeks in a fully equipped gym. Each class is approximately 1.5 hours long.
As part of class, EX4L offers participants ways to think about what they do and how they do it to lessen the amount of strain on their upper limbs. Forming good habits minimizes the risk of injury and is key to protecting and preserving mobility and function. EX4L encourages people with these health concerns to address them through nutrition, exercise, education, and healthy living. The program also strives to improve each individual's strength, endurance, power, and flexibility through high-intensity circuit training and activities including seated yoga, dance, functional mobility, and Pilates.
The program is led by exercise specialists and physical therapists and is supervised by Gaylord's program director. Participants exercise at a level that is appropriate and safe for their ability.
Each session includes a warm-up and a cool-down. Participants have access to a range of exercise equipment including a wheelchair treadmill, resistance bands, exercise and medicine balls, sand bags, slide boards, an adaptive rowing machine, barbells, boxing equipment, and more. All exercises can be adapted to each individual's functional level. A participant with limited hand strength, for example, may use a gripping aid to help them hold a barbell or other piece of equipment.
The EX4L program hosts weekly group discussions on topics ranging from interpreting body cues during exercise, choosing clothing to prevent chafing and wounds, and tips for exercising at home, to ways to reintegrate into community sports, gyms, and daily activities.
Guest lecturers—including doctors and specialists in the fields of nutrition, neurology, rehabilitation, exercise, and physical medicine—often provide on-site educational programs and question-and-answer sessions to arm participants with resources for healthy living and quality community experiences.
Although the EX4L program was originally developed for persons with paralysis and spinal cord injury, the program grew to include people with a range of disabilities who wished to become more physically self-reliant, some even years after their initial injury. Participants who decide to discontinue the program are given an individualized at-home exercise program so that they continue to make gains in building strength and endurance on their own.

Measuring Qualitative and Quantitative Outcomes
Since launching in 2019, Gaylord Specialty Healthcare's EX4L has had 29 participants, many of whom have been with the program since its inception.
At the first and last session of each eight-week program, staff measured quantitative outcomes through strength measurements using a hand-held dynamometer. Shoulder flexion, extension, internal rotation, and external rotation measured for each participant assessed overall shoulder strength since the program focused on upper body strengthening for wheelchair users. Shoulders are the most important aspect for monitoring and assessing improved strength and carryover to daily activities and quality of life.
The group, on average, demonstrated an increase in shoulder external rotation, flexion, and extension bilaterally with the greatest gains in the first half of the program. Participants demonstrated an increase in internal rotation and extension bilaterally, with the greatest gains in extension during the second half of the program.
Staff also used the Patient-Specific Functional Score (PSFS) to address the participants' individual goals as well as the World Health Organization Quality of Life scale (WHOQOL-BREF) to assess how the individual feels about quality of life, health, and various other areas of life.
Improvements in scores of at least 90% of participants were seen on both assessments. Participants' goals involving transfers, exercise participation, propelling their wheelchair, lifting, and decreased shoulder pain showed improvements on the PSFS scale. The WHOQOL-BREF results showed that participants had improved feelings about their support in life, health, pain, energy, enjoyment in life, and ability to sleep and perform activities of daily life.
At the end of each eight-week session, participants additionally filled out a survey to rate their satisfaction with the program and provide feedback to improve the program.
"The well-executed program at Gaylord by their knowledgeable staff had profound results for me," wrote one participant. "I have had improved stamina and mobility strength for transfers and daily living needs. I live alone at this time and had been having a struggle."
Another reported, "I came to the program with minimal exercise experience and therefore a predominantly sedentary lifestyle. My favorite part of the class is the variety of exercises and their ability to target different muscle groups; strengthening for me has made a big difference in my ability to perform ADLs."
Exercise for Life staff observed how the participants grew socially within the group and became closer as the weeks progressed. They cheered each other during classes, and began to socialize with each other outside of class times.
One example of such friendship and competition developed between participants and wheelchair users Jay and Jillian. Their participation in EX4L inspired both of them to train during the sessions to compete in the adaptive division of the World CrossFit Open.
EX4L for Improved QOL
Gaylord Specialty Healthcare's Exercise 4 Life program has successfully filled the local gap in post-rehabilitative services for people with paralysis and other disabilities with the goal of reducing participants' risk of injury and improving their health, quality of life, and ability to perform ADLs independently. High-intensity, group exercise programs can be a fun and social way to engage participants and keep them motivated to continue an effective exercise routine for life.
For more information about the program, you can watch a short video overview of the EX4L program and follow EX4L on Instagram at @adapative_ex4l
Kimberly Levesque, PT, DPT, is an outpatient physical therapist for Gaylord Specialty Healthcare, headquartered in Wallingford, Conn. She is a certified adaptive and inclusive trainer as well as program director of the Exercise for Life Program. She received her doctorate degree in physical therapy at Springfield College. She has a passion for working with patients following complex orthopedic injuries and poly traumas as well as getting individuals back to activities following life-altering events.
Philip Silverio PT, DPT, OCS, is an outpatient physical therapist and outpatient clinic supervisor for Gaylord Specialty Healthcare. He is a certified adaptive and inclusive trainer and serves as the program supervisor for the Exercise for Life program. He received his doctorate degree in physical therapy from Sacred Heart University and has a strong passion for helping patients achieve their individual goals.
Main Photo Caption: Jillian, an EX4L participant since the program's inception, prepares for a sled push, an exercise used to improve wheelchair propulsion in daily activities and cardiorespiratory fitness. Photos: Jennifer Lani Photography
References
1. Gaylord Spinal Cord Injury Education Manual, (2021, pages 97 – 113, Gaylord Specialty Healthcare) https://www.gaylord.org/Portals/0/PatientsFamilies/Hospital/PDFs/SCI%20Manual%202021.pdf?ver=GtPOi4Eavg5KHsMHZa_dFA%3d%3d
2. Physical activity guidelines resources, (n.d.). Retrieved November 27, 2021, from https://www.acsm.org/read-research/trending-topics-resource-pages/physical-activity-guidelines.com

3. Hammond MC, Burns SC, & Paralyzed Veterans of America. (2000). Yes, you can!: A guide to self-care for persons with spinal cord injury.Washington, D.C: Paralyzed Veterans of America.
4. Paralyzed Veterans of America Consortium for Spinal Cord Medicine. "Preservation of upper limb function following spinal cord injury: a clinical practice guideline for health-care professionals" J Spinal Cord Med. 2005;28(5):434-470. doi:10.1080/10790268.2005.11753844