Technological advances help truly "fit" consumers to their manual and power mobility devices.
by Mary Shea, MA, OTR, ATP, and John Hartnett, ATC, LAT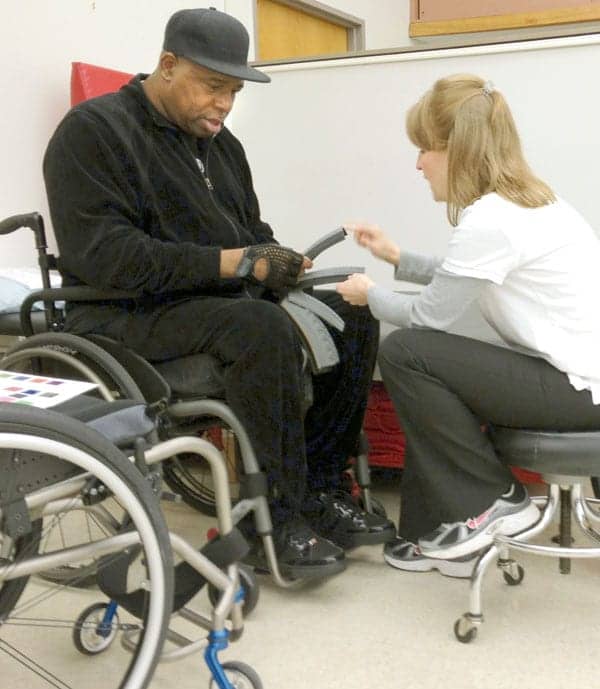 Over the past 20 years, wheelchair technology has advanced with incorporation of new industrial technologies, increased performance capabilities with a wider range of wheelchair and seating system product options, a greater ability to "fit" a person's specific body dimension and support needs, increased responsiveness of the motors, and more electronics flexibility. The potential for wheelchair technology growth is endless; however, it is limited and slow due to diminished traditional medical funding for wheelchairs for individuals with disabilities. In this funding environment, insurance funding sources are more focused on providing the "least costly" item rather than providing an optimally fitted wheelchair that maximizes an individual's ability to function.
ENGINEERING A TRUE FIT
Despite limitations with funding, the wheelchair industry hobbles forward. For ultra-light manual wheelchairs and power wheelchairs, there have been significant advances with the ability to truly fit a person to the wheelchair configuration. We now have the capability to order a back support narrower or wider than the seat component of the wheelchair to provide individuals with a true fit to their body dimensions. This translates into being able to order a "medium" size for the top and a "small" size for the bottom. The process is, of course, much more specific than that, with every inch being accounted for.
Manual wheelchairs in general are becoming more maneuverable and more customizable as manufacturers compete to offer the consumer more performance. There have been design changes to help make folding chairs more rigid and make rigid chairs more maneuverable for that "dialed in" fit.
Some folding chairs have incorporated a more rigid design by allowing the seat tube and the frame tube to lock in next to each other instead of one frame on top of the other. This design allows the seat and frame to move as a more unified unit, leading to more efficient energy transfer for the consumer for increased overall efficiency with mobility.
Rigid wheelchair frames are now being manufactured with a smaller caster placement profile and are able to incorporate a wider range of components that have true performance characteristics. First and foremost, a smaller caster placement profile brings the caster closer to the consumer and increases a chair's maneuverability by narrowing the space needed to turn. In addition, there is a much wider range of caster options, smaller for more maneuverability or larger for overcoming obstacles. The specific hub material, height, and width can be selected to meet a consumer's specific environmental needs. This is further enhanced with a single-sided fork, which provides a consumer with the ability to negotiate the wheelchair closer to cabinets, book shelves, and other surfaces.
Cantilever (mono-tube) rigid frames have become popular since they can be easily manufactured to meet the needs of the consumer using less material while increasing performance. For instance, with a standard box frame, as you squeeze the frame past a certain degree, you end up tilting the front frame angle forward, increasing the overall footprint of the wheelchair. Since a cantilever frame has one singular frame bend, you can more effectively keep your front frame angle independent of seat squeeze. This provides the consumer with a smaller footprint of the chair for increased maneuverability. In addition, the cantilever frame has less material under the seat frame and is less cumbersome than a traditional box frame. This translates into a more open frame design that provides the consumer with increased clearance to load and unload the wheelchair into and out of a car. This difference with the more open frame configuration provides a consumer with the ability to transfer the wheelchair over the steering wheel and into the passenger seat for car transport with less upper extremity strain.
The number of available component options has increased to give the consumer a greater amount of custom-ability. Everything from abundant color options to fit an individual's personality to a plethora of component parts and materials to maximize performance needs is available from most manufacturers. This article will focus primarily on wheel, tire, hand rim, caster, and metal material technology changes.
BORROWED BENEFITS
Ultra-light manual wheelchair technology tends to benefit directly from advances in the bicycle industry. This includes lighter weight, more durable wheels, a wide range of pneumatic tire options that have a higher level of puncture resistance and a higher pressure per square inch, hand rim options that offer a more ergonomic fit and rubberized materials that require less force grasping the hand rim, better quality of rubber coating to minimize slippage in inclement weather, and smaller but wider casters to minimize the incidence of getting stuck on door saddles and sidewalk cracks.
Just as in competitive cycling, more wheel options are available that provide lightweight construction yet maintain an exceptional level of durability. With these types of wheels, spoke tensions can be optimized to provide a truer, more consistent roll for the consumer. Tire choice also has improved, integrating different materials and tread patterns for pneumatic (air) and solid tires as well as a higher level of air pressure per square inch for more efficient propulsion. Consequently, the consumer is more likely to find the best fit for specific lifestyle needs. The hand rim of the wheel is the surface that an individual grasps to move the wheels. There are now an increased number of ergonomic designs available with the concept of increasing the surface area of the grasp surface to reduce joint and muscle strain. In addition, there are a larger number of grip materials now available to provide friction with the hand as it contacts and grasps the hand rim for propulsion. The grip materials decrease the grasp strength and muscle strain required to push the wheel forward and subsequently minimize a consumer's risk of repetitive strain injuries from propulsion.
COMPOSITION AND TECHNOLOGY
The last technology we will address is changes to the metal material in the wheelchairs. Manufacturers are always looking to reduce product weight to give their design an edge. An obvious way to do this is to reduce the weight of the frame by using less material. In order to accomplish this, though, a stronger material must be used. Most of the industry has made the switch from 6000 series (magnesium and silicon alloy) aluminum to 7000 series (zinc alloy) aluminum that can be hardened to greater strengths.
Numerous research studies and the Paralyzed Veterans of America Clinical Practice Guidelines for Upper Limb Preservation for Individuals with Spinal Cord Injury have indicated a strong need for ultra-light wheelchair technology that can increase the fit of an individual to their wheelchair, minimize the overall weight of the wheelchair, and decrease propulsion force and strain to minimize the high level of repetitive strain injuries and secondary complications, and enable consumers to increase the ability to safely function at a wheelchair level. All of the above technology advances directly address this essential need to enable consumers in wheelchairs to actively participate in home, work, school, and community environments.
For power wheelchair technology, there also have been numerous advances with respect to electronics, modular seating frames with increased flexibility with size and ability to better fit seating systems on power wheelchair bases, increased range of motion with power tilt and recline seating systems, greater articulation of power elevating largest mechanisms, and an increased number of drive base options.
Power wheelchair electronics are becoming more integrated. Most manufacturers now have the capability to provide Bluetooth and infrared connectivity. This means consumers can have the ability to wirelessly control Bluetooth-enabled devices, such as their phone or computer, directly from the chair's input device such as the joystick or sip and puff control method. Infrared signal transmission is the remote control technology that most of us use to operate our televisions. With infrared capabilities, consumers can activate and control any infrared device, such as a TV or environmental control, as long as they are within the receiver's line of sight. This significantly increases their ability to control the environment and function from the wheelchair.
In the past, when a consumer's needs changed, a completely new different seating system or full power wheelchair needed to be ordered to meet those changes. This has evolved with design and manufacturing of wheelchair seating systems becoming more modular. If a consumer's needs change, this design concept provides the clinician and supplier with some capability to modify the configuration of a wheelchair seating system in the clinic or shop to ensure a tailored fit for the consumer. In the past when an entire seating system may have needed to be changed, now the desired result may be achieved with parts and labor. Modular design also should lead to decreased manufacturing costs and increased availability of parts.
In addition to the actual power seating system size configuration, power seating functions have progressed. Most power wheelchair seating system manufacturers now offer at least 50 degrees of tilt and some offer as much as 175 degrees of recline. This extra range may not seem important; however, this extra range is often the difference in providing a consumer with the ability to achieve a full pressure relief from sitting to minimize the incidence of pressure ulcers when used frequently. Despite postural supports and pelvic belts being used appropriately, many consumers still slide out of position in their wheelchairs due to the environment. This additional seating system range provides consumers with the ability to independently reposition themselves back into the seating system for adequate support.
ELEVATED SEATING RANGE
Another major seating system advance is that elevating leg rest mechanisms have begun to improve on articulation and provide a smoother, more accommodating range that allows the consumer's legs to fully extend. This results in much less stress on the hip and knee joints. The increased largest articulation combined with the greater degree range of tilt and recline now truly allows a consumer to position the feet above the heart to better manage edema in the lower extremities.
Lastly, competition also has driven power base availability and performance for the consumer. At one point, wheelchair manufacturers offered only one type of power drive base. This was either a front wheel drive, a rear wheel drive, or a mid wheel drive base. The drive base label is directly related to a larger wheel that is connected to the motor. Now, the major manufacturers all have at least two power wheelchair drive base options with some manufacturers providing products across all three drive base styles to truly meet a consumer's positioning, driver control, and environmental access needs. This gives the consumer more choice and ensures that manufacturers must continue improving their products to put themselves ahead of the competition.
As this article indicates, there has been a wide range of technology advances for power and manual products over the past 15 years. These advances result in an increased ability to truly fit a consumer to their mobility device to maximize postural support and increased ability to function at a wheelchair level. RM
Mary Shea, MA, OTR, ATP, is the clinical manager of wheelchair services at Kessler Institute for Rehabilitation in New Jersey. She is also an adjunct professor at NYU and Mercy College.
John Hartnett, ATC, LAT, is the equipment coordinator in the outpatient wheelchair services department at Kessler Institute for Rehabilitation. For more information, contact [email protected]