Making sure documentation hits the bull's eye on insurance requirements keeps mobility product orders moving toward success.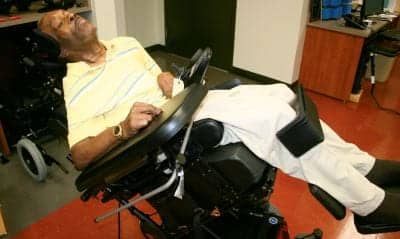 Assessment of head and neck position when tilted back in a power wheelchair is performed on a patient at Roosevelt Warm Springs' Seating and Wheeled Mobility Clinic. Tilting is a classic cause of weight shift issues associated with power wheelchairs.
In today's economy, almost everyone is watching how their money is spent, including insurance companies that fund clients' mobility and seating needs. It seems as if every few months something new is added to the list of prerequisites funding sources demand before they will grant reimbursement requests for equipment. In this struggle to obtain the vital equipment clients need, the most important thing a therapist can do to ensure that equipment is funded is to provide strong, supportive documentation.
As with all documentation, it is essential that basic rules are followed including such practices as limiting abbreviations, dating and signing all entries, documenting legibly, and demonstrating skilled care and medical necessity. Furthermore, each piece of documentation should be able to stand alone while also supporting all other pieces.
A critical point for therapists to remember is that the person who reviews the therapy notes, prescription, and letter of medical necessity associated with the equipment order may not have medical training. Many reviewers are given a list of criteria that must appear in the documentation. If those items are not prominently displayed, a reviewer may miss them, ultimately leading to the denial of an order. The guidelines set forth by Medicare are often the tool by which many other funding sources establish their protocol for coverage. While meeting these guidelines, documentation needs to demonstrate each client's condition and individual functional abilities and limitations on a typical day. This documentation must be as objective as possible.
Individuals who are able to walk into an appointment for a wheelchair evaluation should not be deemed automatically ineligible based on perceived ambulation. Medicare measures medical need for equipment by the information provided that concerns each client's ability to perform Mobility Related Activities of Daily Living (MRADL). Each client will be perceived as having mobility limitations by Medicare if they are unable to accomplish a MRADL, are at an increased risk for injury when attempting to perform a MRADL, or are unable to complete the MRADL within a reasonable time. These activities of daily living should not be viewed as isolated activities in the home. For example, clients may be able to feed themselves, but can they go to the kitchen to get the food? They may be able to manage their hygiene, but can they get to the restroom in a safe and timely manner?
STEP-BY-STEP APPROACH FOR EVALUATION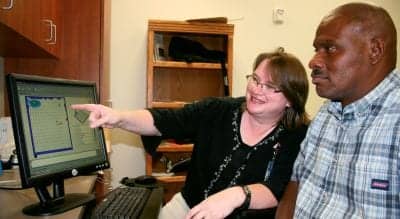 Trina Ouzts, PT, ATP, manager of Roosevelt Warm Springs' Seating and Wheeled Mobility Clinic, uses computerized pressure mapping to educate a patient about how high pressure areas affect wheelchair seating.
Medicare has an algorithm it follows when reviewing a request for Mobility Assistive Equipment (MAE). It is a step-by-step approach to assessing a client's mobility needs. The approach begins with gait aids and progresses through manual wheelchairs, scooters, and power wheelchairs.
During an evaluation for equipment, the first two steps involve the assessment of a client's ability to ambulate safely, independently, and in a timely manner, with or without the use of a cane or walker. This involves measuring the client's standing balance using Timed Up and Go (TUG), functional reach, or the Berg Balance Scale, as well as gait speed, gait deviations, and level of assist required. If a client requires assistance to safely ambulate, has limited activity tolerance, or is not able to safely and independently perform MRADL during a regular day, the next step is to assess whether the client can safely and independently propel an "optimally configured" manual wheelchair. Since Medicare focuses on providing the most cost-effective alternative to meeting a client's needs, this step has several elements to be assessed and ruled out. Medicare recognizes several grades of wheelchairs, ranging from the standard weight "pharmacy" wheelchair (K1) to the ultra-lightweight rigid frame wheelchair (K5). Any documentation the therapist submits must support the reason given for why a lower level or less expensive model is not appropriate for a particular client. Areas to address in the evaluation that can influence decisions and recommendations include:
Trunk Control
Items to Consider:

Can a client sit unassisted?
Does the client sit in a slumped posture?

Activity Tolerance
Items to Consider:

How far can the client propel one wheelchair versus another wheelchair?
How rapidly does the client fatigue when propelling a heavier wheelchair with limited positioning options?
What is the client's oxygen saturation and pulse with propulsion?

Propulsion Speed
Items to Consider:

Is the client able to propel one style of wheelchair faster than another style?
The weight, configuration, and positioning of the wheelchair all affect which, if any, manual wheelchair is appropriate for each client.
If a client is not able to propel a manual wheelchair, that person needs to be assessed for a scooter or Power Operated Vehicle (POV). In order to qualify for a POV, a client will need to be able to safely transfer on and off of a POV, safely operate the tiller, and maintain their postural stability when using a POV in the home. Documentation needs to address all of these areas to support the provision of a POV or explain why the device is not appropriate for any given client. If a client is not able to perform these requirements, that client is not appropriate for a POV.
Power wheelchairs are the next and last option if a POV does not meet a client's mobility needs. As with manual wheelchairs, there are certain grades of power wheelchairs ranging from the transportable lightweight (Group 1) wheelchairs to the power wheelchair with multiple seat functions and motor options (Group 3). Unlike manual wheelchairs, power wheelchairs are designated more by each client's diagnosis than by functional needs. Group 1 wheelchairs are for clients who need a power wheelchair less than 3 hours per day. Group 3 wheelchairs are considered for clients with neurological conditions, myopathy, or congenital spinal deformity. Group 2 wheelchairs are reserved for patients who do not fit the designations covered in the two previous categories.
OTHER CONSIDERATIONS
To accommodate this equipment, a client's home must be accessible, the client must be willing to use the equipment, and the ability to perform MRADLs must have significant improvement with use of the equipment. For any type of equipment, it is important to state why lower cost pieces of equipment are not appropriate, even if obvious from a therapy standpoint. If a therapist recommends power mobility for a client without including a statement about that individual's inability to use a cane or walker, or to use a manual wheelchair, that order will likely be denied by the funding source.
When ordering any of this equipment, it is important to document why the equipment that has been recommended is medically necessary. For example, when it comes to seating and positioning, Medicare focuses more on diagnosis than on physical presentation; however, that does not mean a therapist cannot get a particular cushion or chair back for a client if that individual does not have one of the listed diagnoses. If a wheelchair provider is willing to attempt to obtain coverage, and if a therapist has the ability to demonstrate the equipment is medically necessary and the least costly alternative (through use of pressure mapping, photos, or use-of-trial equipment), the desired equipment can be obtained for the client.
It is vital during this process to remember the client's needs. Educate clients about what may not be funded, but also provide them every opportunity to pursue those options. Consider whether a client needs a power seat to elevate to transfer or drive. Medicare may not pay for that component, but the client may have other resources to achieve the goal.
If therapists support their recommendations through proper documentation, it is possible many items that have not been covered in the past may be covered in the future by virtue of demonstrating the functional need for those items.
LETTERS OF MEDICAL NECESSITY
Letters of medical necessity are an essential tool in supporting the medical necessity for all mobility equipment and all its components. Where evaluations and therapy notes establish the base that anchors decisions concerning what is appropriate, the letter of medical necessity is the supporting frame for the prescription.
The letter of medical necessity must contain the following elements:
A description of the client's current medical and mobility limitations and function that . . .

Paints a picture of what a client is able to do and unable to do, so that a reviewer may infer why a particular type of equipment is needed.
Lists diagnoses as well as comorbidities with ICD-9 codes (don't forget comorbidities such as scoliosis, pelvic obliquity, and wheelchair dependence).
Addresses impairments, especially impairments that affect the ability to be safe and independent with mobility in the home.

An explanation why a client needs something new or different from what they currently use by identifying the following . . .

Any changes in medical condition, size, functional mobility, or status of current equipment. In other words, why does the client now need a wheelchair?
Why this affects a client's equipment needs. In other words, is a client no longer able to safely perform a functional activity?

What equipment is needed and . . .

If the client already has equipment, can the equipment be repaired?
The type of wheelchair needed and its components (add HCPCS numbers where possible).
Why other lower cost alternatives do not meet a client's needs (ie, client is not able to propel an optimally configured manual wheelchair due to…; client is not able to safely and independently transfer onto a POV…; client is unable to functionally ambulate due to decreased balance and safety as demonstrated by…).
Support recommendations by listing each item, why it is needed for the client, and what will happen to them if the item is denied.
---
Trina Ouzts, PT, ATP, is manager of the Roosevelt Warm Springs' Seating and Wheeled Mobility Center. She is a Georgia-licensed physical therapist, a RESNA-certified Assistive Technology Professional, and an APTA-credentialed Clinical Instructor, and is Pin Dot certified for Silhouette and Contour U Seating Systems. For more information, contact .
ROOSEVELT WARM SPRINGS DRIVER REHABILITATION PROGRAM
Kathleen Corpus, ORT/L, CDRS
In today's society, mobility is an important part of daily living. Mobility can mean the difference between dependence and independence. When a person is or becomes disabled, it is important to consider that individual's community mobility needs, especially if they are confined to a wheelchair. Being able to get out of the home and to a place of employment, take care of shopping needs, attend church, or simply socialize is central to an individual's self-esteem and well-being.
During an evaluation for mobility devices, the wheeled seating and mobility specialist must consider whether the client intends to drive and/or be transported while in a wheelchair. After discussion with the client, an evaluation with a driving rehabilitation specialist will help address what type of mobility device will best fit the client's overall needs. The driving specialist can provide insight into whether the client has the potential to drive, and the best choice of mobility device specific to the client's personal vehicle. The driving specialist can also make recommendations about what type of vehicle would best suit the mobility device recommended by the seating specialist.
An important part of the evaluation is for the driving specialist to consider the client's goals through answers to several important questions: Will the client be a driver or just a passenger? Is the client returning to work, or do they only need transportation to attend to personal needs? Does the client currently own a personal vehicle or will one be purchased in the near future?
Other questions to consider include: does the client intend to transport the mobility device and can that be done using the client's current vehicle?; can the client load and unload the device without specialized equipment?; will the client need to purchase a lift or a separate trailer to transport the mobility device?; what are the financial considerations that will influence the client's choice of vehicle? All of these factors must be taken into consideration prior to prescribing a mobility device for any client.
Unfortunately, most insurance does not typically cover a driving evaluation. Medicare does not consider mobility in the community a "medical necessity," and Medicaid does not cover this type of evaluation. Private insurance will often cover an evaluation and possibly some training, but will not cover the purchase of specialized equipment a client may require in order to drive independently. However, Vocational Rehabilitation and Worker's Compensation will often pay for adaptations, as it is an important part of getting the client back into the workplace and functioning as independently as possible. Certain parameters must be met prior to approval being given. The client must be able to drive independently and able to load and unload the mobility device. It is also important that the client is able to financially support the maintenance and insurance required to own and operate a personal vehicle.
Driving is an important part of an individual's ability to remain independent. When a person's disability interferes with mobility and a mobility device is required, before any decisions are made regarding a wheelchair prescription, the seating specialist and the driving rehabilitation specialist must work together to achieve the best possible result for the client.