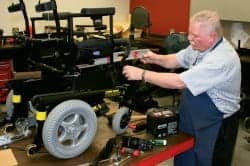 Customization and adjustability are key facilitators behind the evolution of manual wheelchairs, and driving forces behind simplifying manual wheelchair fittings and meeting a wide variety of patient needs.
The newest innovations emerging from the manual mobility device arena stem not from the addition of behemoth technologies poised to electrify the industry, but rather modest, sensible changes geared toward enhancing existing equipment and maximizing reimbursement. Bulk and brawn translate to excessive weight, something that no longer holds a place in manual mobility.
SMARTER, LIGHTER, FASTER
Wheelchair manufacturers are now targeting their efforts toward the production of lighter weight materials for manual wheelchairs. Over the last year and a half, this trend among wheelchair manufacturers has grown to include the addition of lightweight aluminum manual wheelchairs, lighter than some of the heavier titanium chairs, and reimbursement-friendly. "They're trying to be as innovative as they can, keeping it within the guidelines of what insurance is willing to pay," Robin Folland, PTA, ATP, explains. Folland works in the wheelchair clinic at Good Shepherd Rehabilitation Network, based in Allentown, Pa.
The change comes in response to a reduction in reimbursement by insurance companies of additional features and in what they now allow or consider medically necessary. In turn, "It seems that the wheelchair manufacturers are polishing what they have and what they already know that insurance will reimburse," adds Amy Kirkner, MPT, ATP, wheelchair clinic coordinator at the Good Shepherd Home and Wheelchair Clinic.
Several existing components of manual wheelchairs are being "polished" and enhanced by manufacturers from the ground up. These components include a range of tires developed to offer manual wheelchair users multiple upgrades, including flat free inserts, and clincher tires. The addition of power assist wheels also has exerted a positive impact in the manual mobility arena, providing users with motorized mobility to accommodate their needs in specific environments such as a school campus or work, and pairing it with the option to convert back to a manual wheelchair when necessary. Other enhancements found on the latest generation of mobility devices include legrests designed to swing in to assist patients in bathroom settings or other tight situations in which the patient does not have the luxury to swing them out, and eliminate the need to remove the legrests completely. Transportation brackets placed on the front and rear of the chair are another component that add to ease of transport.
MOVING FORWARD
Twenty years to 30 years ago, manual wheelchairs were much heavier and the options to customize them were much slimmer. Manufacturers offered patients fleets of chairs with generic features, including lower weight capacity, and 16-inch and 18-inch seat widths.
The greatest contrast between the manual mobility devices of today and those manufactured 20 years to 30 years ago centers around a clear-cut concept welcome in any product line: adjustability. "The first thing that came to mind since I've been in this field is the adjustability form for the manual wheelchairs. You've got different settings for seat-to-floor height, for positioning purposes, and also the tilting space in the manual chairs has improved over the years," says Gerald Erkhart, NRRTS, Retech Production manager at Roosevelt Warm Springs, headquartered in Warm Springs, Ga.
Customization and adjustability are two key facilitators behind the evolution of manual wheelchairs. These two factors are also the driving force behind simplifying manual wheelchair fittings and meeting a wide range of patient needs. "Everybody's needs are so unique, in their sizes, and shapes, and functional abilities, and because we have the opportunity to pick those different options, it certainly makes it easier as clinicians to have the chairs fit them optimally and be safe and protect their skin. And, on the other hand, provide them with a system that they can manage hopefully independently, and fits into their home environment, their work environment, and transportation. It's easier to make those kinds of things happen with all those options," Kirkner says. The availability of options and adjustability also translates into better quality of life for patients, providing them with the ability to be as independent and functional in their chair as possible.
INNOVATING FUNCTION AND INDEPENDENCE
Customized seating and backs are also integral parts in providing independence, protection against pressure-related issues, and functionality to manual wheelchair users. While off-the-shelf backs can be key in helping clinicians develop manual mobility solutions, "everything that comes off the shelf is not for everybody," Erkhart points out. As a result, custom molding systems have emerged as a vital development in keeping with these goals, particularly for patients who may not be able to use off-the-shelf backs. Molding systems can assist in providing cushions that provide more customized support to patients with severe deformities or severely decreased trunk control. The development has opened up many avenues for patients who, in the past, may not have had the capability to obtain this type of positioning situation, Erkhart explains.
Tension adjustable backs are also a part of function-based developments among manual mobility devices. The adjustable back's strap system allows users to maintain an upright posture and provides the ability to adjust the straps and enhance the life expectancy of the chair's upholstery. The tension adjustable backs also have grown to accommodate older adults who may exhibit significant kyphosis and cannot tolerate a hard shell back or the tightness in conventional seat upholstery.
The addition of customized components to manual wheelchairs, from footrests to frames, has given way to new developments in optional equipment. Optional environmental controls, while often associated with use in power wheelchairs, also play a key role in manual mobility. Devices operating through a simple, self-contained battery, including door openers, elevator openers, or augmentative communication devices, can potentially be mounted onto the chair through Velcro on the armrest or via an attachment through the chair's frame.
FIT FOR SUCCESS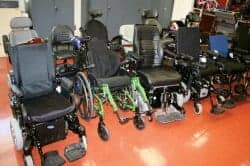 Codes, quotes, and documentation are key in obtaining coverage for added features to manual mobility devices.
Patient recommendations for manual wheelchairs—like innovations in manual mobility devices—stem from a modest, sensible origin. Erkhart and Kirkner suggest that the simple act of listening is key for clinicians when recommending a new manual wheelchair to a patient. Listening to the patient about their goals and listening to individuals involved in caring for the patient who will assist them in meeting their goals can help forge a vital collaboration between all parties involved. The collaboration between patient, caregiver, and clinician provides the potential to establish the kind of environment in which the equipment will be used; the type of back support necessary for the patient; and the cushion, seat-to-floor height, and other requirements to meet the patient's needs. The next step can potentially eclipse even the latest and greatest additions to manual mobility devices: insurance coverage.
Collaborating with patients can be particularly important in addressing insurance issues for mobility systems used by individuals who have long-term degenerative conditions. "One of the other things we look at is if someone has a diagnosis that's progressive…. Often we get people who have multiple sclerosis, spinal muscular dystrophy, amyotrophic lateral sclerosis (ALS), and we know over the lifetime of the chair they're going to change significantly. Because of funding and the chair needing to last as long as possible, we need to take into account what their functional status is now but also as best we can, project it out for the next 5 years to 6 years and choose a chair that we know might be able to be somewhat adjustable to meet their needs," Kirkner explains. The need to maximize the life of a manual wheelchair relates directly to the increasingly lengthy process involved in creating letters of medical necessity (LMNs) to ensure funding approval from Medicare and insurance companies.
INSURING MEDICAL NEEDS
Insurance coverage that hinges on thorough justification and excess paperwork has become a backdrop throughout the current manual mobility landscape. The steady decline in what insurance companies now opt to pay for has also translated into heftier LMNs. These larger LMNs must document not only the intended use of the chair and the patients' activities of daily living (ADLs) within the home, but also how the chair will impact these ADLs. The mushrooming of paperwork required to obtain funding has become twofold, requiring more participation from both patient and doctor.
In some insurance situations, patients may be required to meet face to face with a physician to obtain confirmation that the patient requires a mobility system. In other instances before the LMN can be signed, the physician may be required to review and sign multiple forms in addition to the forms they have been required to sign in the past. Simply to have the chair considered, physicians also may be required to provide chart notes and additional paperwork stating that mobility has been discussed between themselves and the patients. Under these scenarios, chairs may sometimes be denied under the terms of medical necessity. "Sometimes they don't qualify for that type of chair because of their diagnosis. Maybe they have never had skin breakdown, or they may not need the chair all the time and would not warrant getting that expensive a chair," Erkhart explains. In other cases, however, the denial may not have to do with medical necessity at all. Kirkner notes in some situations that if a patient needs to follow up with a doctor within a certain number of days and the dates fall out of line, the LMN may be denied. Codes, quotes, and documentation are also key in regard to obtaining coverage for added features to manual mobility devices. "If it doesn't have a code, it's harder to get it paid for," Erkhart adds. This may also lead insurance companies to approve the chair, or frame, but deny an integral, customized component of the chair.
The impact of coverage denial can also be twofold, not only preventing patients from receiving a mobility system that meets their needs, but leaving them unable to understand the letter of denial or what the next step is to appeal it. Educating the patient regarding insurance communications can assist in pinpointing alternate funding sources if the initial request is denied.
TAPPING INTO ALTERNATE FUNDING CHANNELS
For patients who require additional device features that insurance will not cover, the possibility of finding alternate funding may feel intimidating. "There are other options out there, sometimes you just have to tap into them," Erkhart assures. To tap into these options, clinicians can set their focus on gathering information about the patient and their affiliations. If the patient is a veteran, working, attending school, if any family members are veterans, this can help spotlight specific organizations, including disability-related organizations that could potentially provide funding. Low-interest loans and church donations are other routes patients can explore to obtain funding. Individuals who have primary insurance but lack secondary insurance also are urged to become as involved with all the insurance coverage as they are able.
Ultimately, it may be the balance between necessity and invention, between reimbursement and technology, that optimizes quality of life, that proves to be the greatest innovation yet to emerge from the manual mobility arena.
---
Brittan West is associate editor for Rehab Management. For more information, contact .