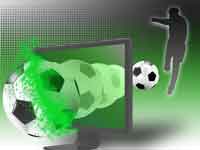 The AbleGamers Foundation reports that it has chosen the PC version of the soccer simulation game FIFA 13 as its 2012 AbleGamers Accessible Mainstream Game of the year. The PC version of FIFA 13 is engineered to allow users with cerebral palsy (CP), multiple sclerosis (MS), muscular dystrophy, and those missing an upper extremity to play using simple controls that can be handled by a trackball or mouse. The game, the foundation adds, allows users to play sport simulation games such as soccer, baseball, football, or hockey, which they may have been unable to previously.
The AbleGamers Foundation notes that a key reason that FIFA 13 received top honors is the ability it provides users to manipulate the game's AI and PC settings in order to tailor it to their needs. Individuals with conditions such as cognitive disorders and motor impairments can slow the game, set the computer to perform slower and with less efficiency, and use player-controlled avatars for additional speed, accuracy, and shot power. The game also offers users features including remappable keys, the ability to customize color options, high contrast and intuitive menus, visual cues for all audio input, and high socializing re-playability.
According to its website, AbleGamers Foundation aims to provide greater accessibility in the digital entertainment space for individuals with disabilities.
For more information, visit www.ablegamers.com.
[Source: AbleGamers Foundation]