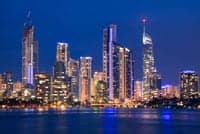 The Neurological and Physical Abilitation (NAPA) Center, Los Angeles, reports that it will be traveling to Australia to present a wide range therapies for families impacted by cerebral palsy (CP) during two 3-week sessions from April 8 to 26, in Manly, and the second May 20 to June 7 on the Gold Coast.
NAPA's decision to travel to international locations, such as Australia and Singapore, reportedly comes in response to high demand for the treatment techniques. NAPA's specially trained and certified therapists travel abroad to conduct the sessions using treatments such as Neurosuit Therapy and Cuevas Medek Exercise (CME), which are currently unavailable in Australia.
Lynette LaScala, founder, CEO, NAPA, explains, "Neurosuit Therapy was first used with Russian cosmonauts in space to prevent atrophied muscles from zero gravity and then with Russian and Polish children with cerebral palsy to develop muscle strength, balance, and reflex integration." LaScala adds that she originally sought the treatment for her son, the inspiration for NAPA's establishment.
A recent news release notes that CME, created by Ramon Cuevas, Chile, is designed to help infants and children with motor delay develop gross motor skills, in order to achieve maximum independence when sitting, standing, and walking.
"Many parents aren't aware of the alternative therapies available when it comes to treatment for cerebral palsy," LaScala says, "It's imperative for parents to understand that therapy should begin as soon as the first signs of delayed motor function appear."
For more information about the NAPA Center, visit www.napacenter.org
Source: NAPA Center