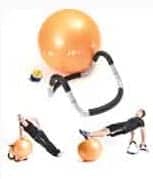 Merrithew Health & Fitness, headquartered in Ontario, Canada, now markets a device that features an ergonomic handlebar and Stability Ball combination, targeting core and strength work as well as physical and occupational therapy applications.
The product's design is engineered to assist in altering the angle of inclination to provide the user with a stable platform and control stability challenges. The company notes that the product can be used in multiple positions and planes, allowing for increased or reduced difficulty to meet each user's individual needs. According to a recent news release, the ergonomic bar can also be used alone, without the Stability Ball, as a support for the hands to ensure optimal wrist strength and positioning, and as a stability tool for both the upper and lower body.
For more information, visit www.merrithew.com.
[Source: Merrithew Health & Fitness]