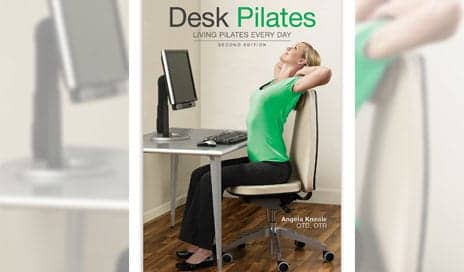 The deleterious effects of sitting are gaining notice in healthcare media headlines. A section that deals with issues related to excessive sitting are included in the a second edition of Desk Pilates: Living Pilates Every Day, published by author Angela Kneale, OTD, OTR, and Orthopedic Physical Therapy Products (OPTP).
Desk Pilates was created to provide participants a chance to increase movement, improve posture and alignment, deepen breathing patterns, utilize core muscles to support the spine, and decrease muscle tension. Its exercises address the latest research and health concerns regarding excessive sitting.
The Pilates exercises are designed to be performed as an entire sequence or as individual, focused movements throughout the workday — all from the participant's desk. According to a media release from OPTP, all exercises feature step-by-step instructions accompanied by full-color photographs that demonstrate the correct form.
The second edition is also reported to feature several updates, including a revised introduction, refined exercise instructions, new ergonomic workstation ideas, and a checklist for comfortable positioning while at a computer. OPTP's media release notes the updated edition also includes 22 exercises and is 50 total pages in length.
Kneale is described by the OPTP release as an occupational therapist, integrative health coach, Franklin Method educator, and certified Stott Pilates instructor. Her professional experience is said to include employee wellness and industrial rehabilitation as well as treatment of individuals with chronic pain, physical disabilities, and neurological issues. She is also reported to be the author of seven books and specializes in the integration of movement, breathing, postural alignment, and relaxation techniques for optimal health and well-being.
[Source: OPTP]