The Medically Complex Rehabilitation Unit at Memorial Rehabilitation Institute, part of Memorial Regional Hospital South, located in Hollywood, Fla, officially opened its doors recently.
The CARF-accredited, 15-bed facility features private rooms, an 8,000-square-foot-gym with specialized equipment, and technologies designed to treat patients who are recovering from various complex medical conditions. It also features telemetry capabilities designed to get patients back on their feet and in the most optimal level of functionality, according to a media release from Memorial Healthcare System.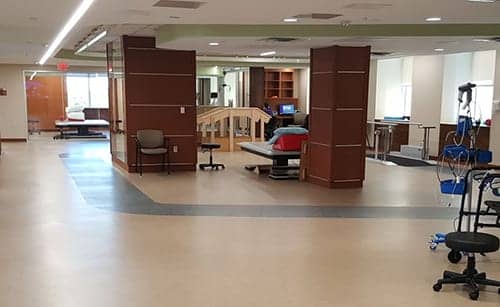 "This unit represents an expansion and yet another milestone in our commitment to serving South Florida as a world-class destination rehabilitation unit," says Doug Zaren, CEO of Memorial Regional Hospital South, in the release. "Our team of physicians, therapists, nurses, social workers, case managers, administrators, and other healthcare professionals will work directly with patients and families to set and Go Beyond their goals and expectations for recovery."
Among those the unit treats are cancer patients, bariatric patients, cardiac patients, post-transplant patients, and patients with chronic obstructive pulmonary disease (COPD), as well as individuals who have had prolonged hospitalizations. Additional patients may be those who require telemetry monitoring while undergoing a comprehensive rehabilitation program.
"This is about connecting with the patient and establishing a rapport with the patient that provides them with the motivation to go beyond what they think they are unable to accomplish in their rehabilitation," states Benjamin Leubitz, occupational therapist at the unit.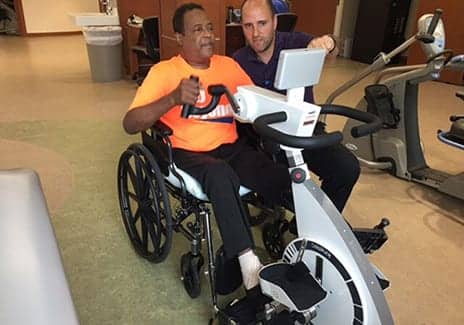 Patients continuing their rehabilitation at the center include Michael Paul Walker, 44, who experienced acute respiratory distress syndrome attributed to pneumonia; and heart transplant patient Terry Butler, 57, who needed help moving around after experiencing a below-the-knee amputation of his left leg.
"I lost more than 50 lbs in just two weeks of having my episode with pneumonia and then needed surgery to have cardiac surgery from just getting sick," Walker shares. "The staff gave me the confidence and therapy I needed to gain my strength, agility and motivation to move forward."
For Butler, the process was just as impactful. "I am the kind of person who likes to be active at all times," he states in the release. "Going through this surgery set me back a bit but after working with a physical therapist, he got me moving, working out and providing me with the motivation that I needed."
[Source: Memorial Healthcare System]