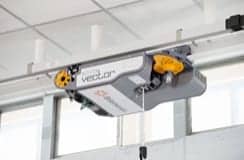 Magee Rehabilitation Hospital recently reported that it is the "first in the Northeast US" to install a new robotic gait training system by Bioness. The Vector Gait & Safety System is engineered to offer patients a safe environment to practice standing and walking without an assistive device earlier in rehabilitation.
Deb Kucera, PT, MSPT, director of Therapies, Magee Rehabilitation Hospital, emphasizes the impact of the technology, explaining that, "The Vector allows our patients to practice walking on solid ground without an assistive device or risk of falling—something that would not be possible this early in therapy without it. The system promotes recovery over compensation, and we are thrilled to be able to offer our patients this new technology."
The Vector Gait & Safety System features a robotic trolley on a conductive rail designed to sense the patients' movement and follow along. A news release from Magee Rehabilitation notes that the technology's software interface allows healthcare providers to set parameters such as body weight support and fall detection limits to meet individual patient needs. The device is also engineered to track patient data, providing the ability of analysis, session comparison, and electronic medical record documentation.
The system was installed on Magee's third floor and, according to the hospital, offers its patients opportunities for extended walks and space for practice.
Source(s): Magee Rehabilitation Hospital, Bioness Inc