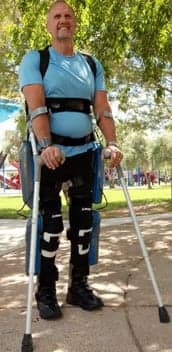 ARGO Medical Technologies, Marlborough, Mass, recently publicized the newest generation of its ReWalk Rehabilitation exoskeleton. The company announces that the 2.0 system is engineered to smooth the process of treating multiple individuals daily and also provides new software features to support beginner users and new sizing that allows each system to fit a wider range of patients.
Larry Jasinski, CEO, ARGO, articulates his excitement in launching the new generation of the exoskeleton technology. "We have learned from everyday use by clinicians and the experience of their patients, and believe as a company it is essential we continue to enhance this technology to meet the needs of those working with it," Jasinski says.
In a recent news release, the company offers users a list of the ReWalk Rehabilitation 2.0 enhancements, which include a new slider adjustment mechanism intended to accelerate and simplify the process if sizing for individuals users with a new sizing scale and a "click" that indicates the alignment of joints.
The latest generation of the ReWalk Rehabilitation device also allows clinicians to easily adjust the unit to fit users between 160 centimeters to 190 centimeters in height, and is comprised of an enhanced software to improve the learning process and smooth the transition for new users.
The release also notes that ARGO markets two ReWalk models: the ReWalk Personal, currently available in Europe and pending FDA review, and the ReWalk Rehabilitation, available for purchase in Europe, Israel, and the US.
[Source: ARGO Medical Technologies]