UnitedHealthcare reports that its value-based care program for knee, hip and spine procedures has demonstrated fewer hospital readmissions and complications following surgery, while generating total savings of nearly $18 million for participating employers.
The Spine and Joint Solution—a bundled payment reimbursement option—helped reduce hospital readmissions by 22% and led to 17% fewer complications for joint replacement surgeries, as compared to nonparticipating facilities. For spine surgeries, hospital readmissions were reduced by 10%, and there were 3.4% fewer complications, as compared to nonparticipating facilities.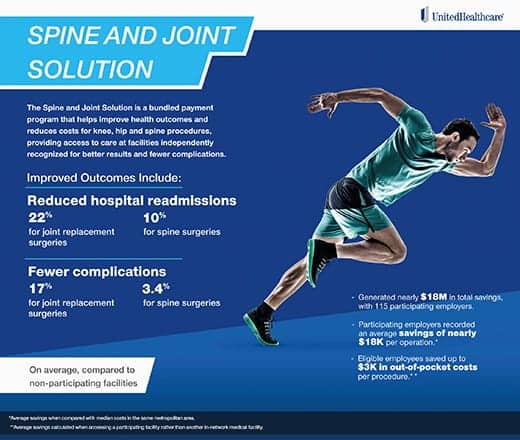 Since the program's introduction, participating employers have realized an average savings of $18,000 per operation when compared with median costs in the same metropolitan area. Eligible employees saved more than $3,000 in out-of-pocket costs per procedure when accessing a participating facility rather than another in-network medical facility, with incentives such as cash, gift cards, additional vacation days for recovery, and health savings account (HSA) contributions, explains a media release from UnitedHealthcare.
"This program is one example of the ways we are reshaping how health care is delivered, helping enhance care coordination, improve outcomes and deliver greater value," said Sam Ho, MD, chief medical officer of UnitedHealthcare, in the release.
"The initial results and nationwide expansion demonstrate the value of this program to health care providers, employers, and their employees, helping to improve health outcomes and make care more affordable for more people."
The Spine and Joint Solution—developed in collaboration with Optum, a UnitedHealth Group company—has expanded nationwide to 46 participating health care facilities, with more than 115 employers enrolled and 3 million employees. The program, available to companies of any size with self-funded health plans, provides employees with access to surgeons and facilities that qualify as UnitedHealthcare Centers of Excellence and accept bundled case rates for knee and hip replacement, spinal fusion, and spinal disc repair. All participating health care facilities have been independently evaluated for providing quality patient care and better outcomes.
[Source(s): United HealthCare, Business Wire]