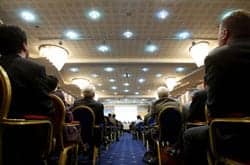 During the 90th Annual American Congress of Rehabilitation Medicine (ACRM) Conference, Progress in Rehabilitation Research (PIRR), attendees will have the opportunity to earn continuing education credits in nine disciplines and explore content for brain injury, stroke, spinal cord injury, neurodegenerative disease, and pain.
The PIRR is slated for November 12 to 16 and is intended to offer attendees the opportunity to expand their professional network and learn and share with peers. Participants have the opportunity to delve into interdisciplinary, evidence-based, cutting-edge nonstop content. This content includes 30 hours of content for brain injury, 15 hours of content for spinal cord injury, 12 hours of content for neurodegenerative diseases, and more than 15 hours of content for stroke and pain.
The conference runs in tandem with a 2-day course, "Cognitive Rehabilitation Training," for occupational therapists, speech-language pathologists, neuropsychologists, and other professionals who treat brain injury. The cognitive rehabilitation course will be held prior the conference November 12 to 13 in Orlando, Fla, at Disney's Contemporary Resort/Walt Disney World Resort.
The course is based upon the ACRM Cognitive Rehabilitation Manual: Translating Evidence-Based Recommendations into Practice. Course content, according to a recent news release, is intended to allow participants to choose proven interventions for the effective treatment of various cognition impairments. The live introductory training offers evidence-based strategies recommended in the scientific literature and operationalizes them into step-by-step guidelines for immediate use in clinical practice.
To register for the cognitive rehabilitation course, click here.
For additional information about the ACRM Annual Conference, click here.
[Source: ACRM]