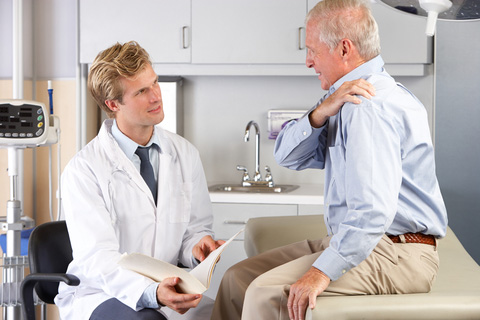 Shoulder surgery and nonsurgical treatment finished virtually in a dead heat as researchers compared invasive treatment for proximal humeral fractures involving the surgical neck with sling immobilization. The study sought to answer the question about why the use of surgery is increasing for most patients with displaced proximal humeral fractures. Results were taken from patient-reported outcomes.
The Oxford Shoulder Score was used to assess the treatments that were part of a study based at The James Cook University Hospital, Middlesbrough, United Kingdom. Surgical intervention for the trial consisted of either fixation or joint replacement, while nonsurgical management used sling immobilization.
Patients who qualified for the study were male and female, age 16 years or older, who presented to the study's trauma center within 3 weeks of injury. The 261 patients (average age of 66 years) who were included in the trial were required to have had radiologically confirmed displaced fracture of the proximal humerus involving the surgical neck. Patients responded to the Oxford Shoulder Score at 6 months, 12, months, and 24 months after treatment.
An abstract of the study, which appears in The Journal of the American Medical Association (JAMA), states that there was no significant mean treatment group difference in the Oxford Shoulder Score averaged over 2 years. Nor were those same differences reflected at individual time points. The abstract also reports that 10 medical complications occurred in the surgical group during the postoperative hospital stay. Among those complications were two cardiovascular events, two respiratory events, and two gastrointestinal events.
Other statistics about the study reported by MedPage Today showed that shoulder-related complications were reported among 24% of the members of the surgical group, and 18% of the nonsurgical group. Also, according to MedPage Today, second surgeries were performed on 9% of study subjects in both groups, while 6% of surgical patients required increased or new shoulder-related therapy compared to only 3% of nonsurgical patients.
The study authors succinctly conclude: "These results do not support the trend of increased surgery for patients with displaced fractures of the proximal humerus."
[Source: JAMA, BioMed Central, and MedPageToday.com]