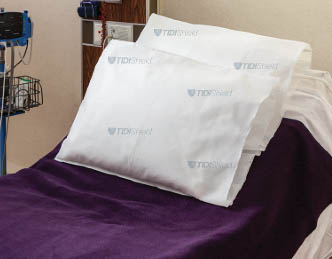 A recent announcement from Indanapolis-based company EHOB, a provider of products devoted to the prevention and treatment of pressure ulcers, confirmed an agreement with Neenah, Wis-headquartered TIDI Products that positions EHOB as the sole provider of TIDI Products' TIDIShield Pillow Barrier.
According to a media release from EHOB, the TIDIShield Pillow Barrier is a product developed to minimize the risk of bacterial transfer between patients, while providing the cost benefits of a disposable barrier. The release states that what primarily makes the TIDIShield Pillow Barrier an effective barrier against bacteria is its design of premium layered poly-backed material. The material can also extend the life cycle of a facility's pillows by keeping them cleaner, according to the EHOB release. The company also reports that the disposable nature of the product ultimately can help decrease laundering costs.
EHOB reports that the TIDIShield Disposable Pillow Barrier measures 21″ x 30″ and is recommended for use as a stand-alone pillow barrier or under a linen case.
Scott Rogers, president and COO of EHOB, described the TIDIShield Disposable Pillow Barrier as a key solution to cover hospital pillows which, he says, are the primary treatment method for treatment of heel pressure ulcers. "It's a privilege to work alongside another reputable company in the industry, and we look forward to providing our sales professionals and consultants with yet another effective product for wound and overall patient care," Rogers says.
TIDI Products is a manufacturer of single-use, infection-prevention products. The company is said to develop simple and innovative disposable technologies to protect healthcare workers and patients from contamination as well as to improve safety and outcomes. The company's products reportedly aim help reduce contact and cross-contamination in healthcare environments.
EHOB offers a number of products for pressure ulcer prevention and treatment, including mattress overlays, seating cushions, day chair pads, lower-limb protectors, positioning aids and more.
[Source: EHOB]