Podcast: Software — key to award-winning patient care
Creating a practice infrastructure that operates smoothly and delivers award-winning patient care requires peak efficiency from the moment the doors open each day. This podcast explores how vital aspects of a clinical software solution can help identify those efficiencies, and turn them into real value for a practice.
Get insight about how to…
• Review data in easy-to-understand reports during valuable time between appointments to make important decisions about patient care and business.
• Increase patient satisfaction with user-friendly outcome data that can be provided almost immediately during the patient encounter.
• Save the expense of attending offsite education events by using educational resources such as blogs and webinars provided free by the software manufacturer.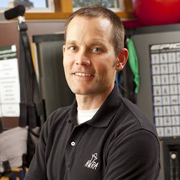 Mike Studer, PT, is owner of Northwest Rehabilitation Associates in Salem, Ore, where he is also a treating physical therapist. Studer was recently honored by the American Physical Therapy Association (APTA) as recipient of the organization's 2014 award for Geriatric Clinical Excellence. He previously was recognized with the APTA's 2011 Neurology Section Award for Clinical Excellence, which the APTA presents to its Clinician of the Year. Currently Studer serves as Chair of the APTA Geriatric Section Balance and Falls Special Interest Group.
Discover what Clinicient can do for you.