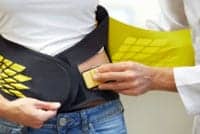 A device targeting lower back pain prevention and rehabilitation while at work and at home has been launched by FIK, Tecnalia, and BTS. The Lumbia device is engineered for use during patient assessment and for therapy during postural re-education, according to a recent news release.
The release notes that the device was originally conceived and designed by FIK and Tecnalia in collaboration with the Italian company BTS, and is intended to not only prevent pain in the lumbar region, but also rehabilitate the damage causes. The Lumbia device ultimately aims to remedy lumbago while also potentially removing the need for surgery.
The device is incorporated into a belt patients wear around the lumbar region and features a sensor designed to detect whenever posture is incorrect. If the posture is not correct, the belt vibrates to remind the user that they must change posture.
The sensor also sends all information gathered to a computer, allowing therapists to monitor the condition, the release notes. In this way, the device is intended not only to correct bad posture, but also to facilitate therapy doctors offer by providing data, allowing progression to be tracked and analyzed during the therapy process.
The release reports that the device's second objective encompasses the prevention of damage in health patients, re-educating the posture of lumbar regions.
The Lumbia technology is slated to be available on the market in 2014. BTS will reportedly be responsible for distributing it internationally.
[Photo Credit: Tecnalia]
[Source: Elhuyar Fundazioa]