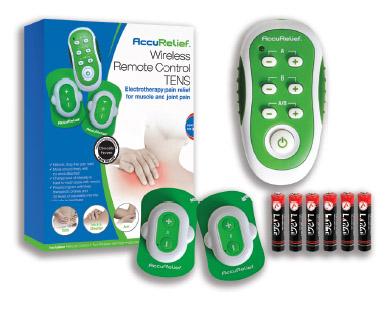 A new noninvasive, nonaddictive solution for pain relief has been introduced by Norwell, Mass-based company Carex. The firm recently launched its AccuRelief line of electronic treatment products, designed to provide pain relief for the whole body, and reportedly approved by the US Food and Drug Administration (FDA).
AccuRelief uses TENS technology to bring relief to individuals affected by pain symptoms without the drawbacks sometimes associated with injections or the risk of addiction. According to a media release from Carex, the new AccuRelief line draws on many years of expertise from developing and marketing prescription TENS and professional TENS units to doctors' offices.
"Our electrotherapy products are born out of a long history of prescription-only and professional TENS devices used and prescribed by physical therapists and chiropractors," says Jeff Swain, director of marketing at Carex Health Brands. He adds that because the FDA now allows over-the-counter sale of TENS devices without a prescription, the company is able to offer a nonprescription device that provides pain relief to the general public without surgery and risk of addiction.
Swain also points out that the AccuRelief line of TENS therapy devices has a "good, better, best" product offering, from economy to clinical grade units.
The AccuRelief family consists of four different devices that provide the consumer with a choice to target pain in order to obtain quick and accurate relief. These devices include:
(1) The AccuRelief Mini TENS Device: a compact TENS unit that delivers targeted and effective pain relief (MSRP: $29.99).
(2) The AccuRelief Single Channel TENS Device: allows the user to choose from six preset body programs (MSRP: $39.99).
(3) The AccuRelief Dual Channel TENS Device: offers dual channel functionality similar to prescription units that is designed to treat large, complex body parts such as the low back or shoulder. (MSRP: $49.99).
(4) The AccuRelief Wireless Remote Control TENS Device: a wireless compact electrical TENS unit for hard-to-reach areas using a remote control. (MSRP: $89.99).
Carex also offers a full line of AccuRelief replenishment supplies designed to work specifically with each of the AccuRelief products.
According to a statement from Carex, AccuRelief products can be purchased through both online and birck-and-mortar retailers.
[Source: Carex Health Brands]