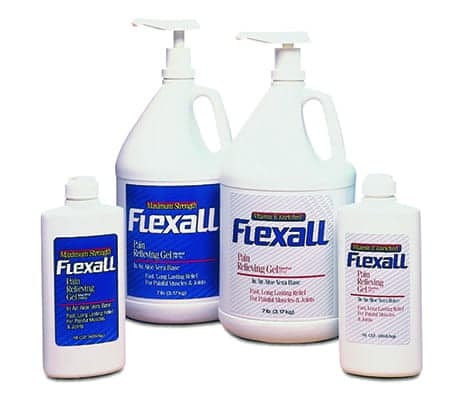 Topical Pain-Relieving Gels
Flexall topical pain-relieving gels with aloe vera, from Ari-Med Pharmaceuticals Inc, Tempe, Ariz, are formulated to help increase patient compliance and enhance ultrasound, cryotherapy, TENS, and massage therapies. In a recent study, a 25:75 Flexall and ultrasound coupling gel mixture allowed deep-heating results equal to 100% ultrasound coupling gel with the added analgesic sensation of warmth. Flexall (7% menthol) and Maximum Strength Flexall (16% menthol) are unique aloe vera gel formulas that provide fast, penetrating relief from painful muscles and joints due to arthritis, simple backache, muscle strains, sprains, bruises, and cramps. Flexall gels absorb quickly and completely, and are greaseless, non-staining, and gentle on the skin. Professional sizes are available.
For more information, contact Ari-Med Pharmaceuticals Inc, (800) 527-4923; http://ari-med.com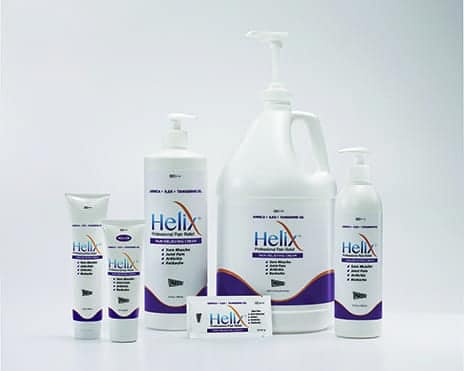 Topical Analgesic
Helix Professional Pain Relief, a topical analgesic from Parker Laboratories, Fairfield, NJ, is formulated to deliver cooling pain relief from sore muscles, joint pain, arthritis, and backache. It contains 7.4% menthol (7.4%), arnica, ilex, and aloe, as well as tangerine oil for a fresh citrus fragrance. The Paraben-free, fast-acting, and aesthetically pleasing formula is available in a 5 g pouch, 3 fl oz roll-on, 4 fl oz tube, 12 and 32 fl oz pump bottle, and 1 gallon sizes.
For more information, contact Parker Laboratories, (800) 631-8888; www.parkerlabs.com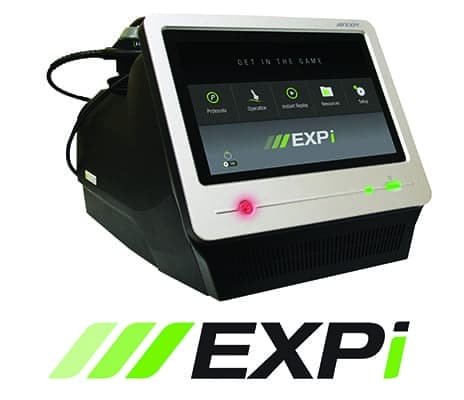 Deep Tissue Therapy Laser
LightForce Therapy Lasers, New Castle, Del, is a therapeutic laser manufacturer offering advanced rehabilitation solutions to healthcare providers. With excellent customer service and an ongoing investment in research, LightForce strives to provide its customers with superior products designed to improve therapeutic outcomes. The EXPi Therapy Laser is a high-power technology (0.5 W to 25 W) that allows clinicians to deliver treatments quickly and efficiently. Optimized for outcome improvement, the included influence technology is engineered to offer the flexibility of custom treatment options (both on and off contact) while ensuring consistent results.
For more information, contact LightForce Therapy Lasers, (877) 627-3858; www.lightforcelasers.com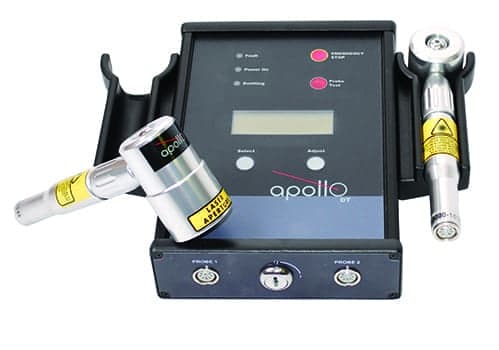 Apollo Cold Laser System
The two-channel Apollo Desktop Laser Unit from Pivotal Health Solutions, Watertown, SD, features two probes, enabling clinicians to work on two patients at the same time or two areas on the same patient at one time. The unit can also be customized with a variety of probes for deep tissue or more delicate treatment. The Apollo is used for the treatment of pain, wound healing, and musculoskeletal problems. The desktop unit features a user-friendly LCD display with probe status and treatment times, built-in safety and fault detection software, and a built-in power test to assess probe output.
For more information, contact Pivotal Health Solutions, (800) 743-7738; www.pivotalhealthsolutions.com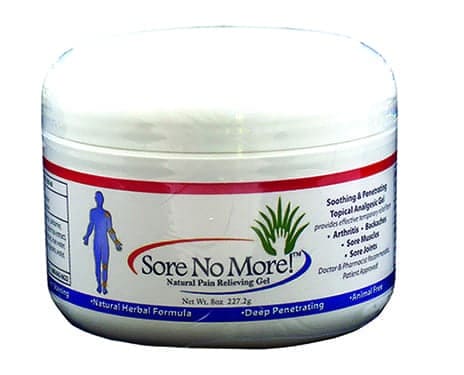 Fast-Acting Topical
Sore No More from Moab, Utah-based Sore No More, provides a blend of plant extracts formulated to offer effective relief for muscle aches, soreness, and more. The topical anesthetic effect of Sore No More depresses cutaneous sensory receptors. The product is made to absorb quickly and deeply, producing a synergistic effect that detoxifies tissues, relieves tight and tender joints, soothes muscle soreness, and reduces inflammation. Sore No More can provide effective pain relief for a variety of conditions, including rheumatoid arthritis, fibromyalgia, migraines, muscle aches and pains, muscle spasms, overexertion, fatigue, tendinitis, and diabetic neuropathy.
For more information, contact Sore No More, (800) 842-6622; www.sorenomore.com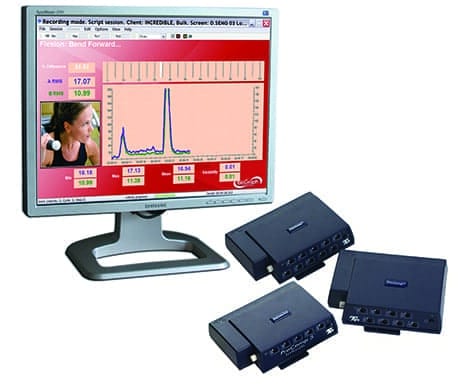 Assessment and Biofeedback Instrumentation
Thought Technology, Montreal West, Quebec, Canada, manufactures medical equipment that measures and provides biofeedback training on surface electromyography (SEMG), range of motion (ROM), muscle testing, algometry, respiration, heart rate variability (HRV), skin conductance, and peripheral temperature. The system includes BioGraph Infiniti software, Rehab Suite Add-on and a comprehensive clinical guide, and offers the following options: interface to isokinetic machines such as Biodex System; wireless transmission with Tele-Infiniti CF Bluetooth Card; and MyoScan-Z sensor, a unique EMG sensor with built-in impedance checking.
For more information, contact Thought Technology, (800) 361-3651; www.thoughttechnology.com