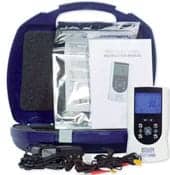 An electrotherapy modality that combines four waveforms intended to provide the flexibility to treat a range of musculoskeletal issues is available through the Tucker, Ga-based company American 3B Scientific. The InTENSity Select Combo, which the company designates as the flagship of the InTENSity Digital series, offers users four waveforms, which include TENS, EMS, Interferential, and Microcurrent. The product is 105 mA strong and is marketed with an AC Adapter.
The product is designed to promote ease of use and portability. Pulse rates for TENS are 1 to 150 Hz, for EMS 1 to 150 Hz, Interferential 4kHz, and Microcurrent 1 to 150. Outage voltage for each waveform is constant current, according to the company.
For more information, visit www.a3bs.com.
[Source: American 3B Scientific]