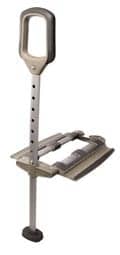 Stander, headquartered in Logan, Utah, now markets a new bed handle intended to be nonintrusive with compact folding ability during travel. The Metro Travel BedCane is engineered to individuals who may not require full-fall protection but seek added support and safety when getting in and out of bed. The product's contemporary design is also attended to blend in with the user's bedroom.
The 4.5-pound product offers adjustable height of 28 inches to 38 inches from the floor to the top of the handle. The product is comprised of hybrid structural-engineered plastic components with an alloy aluminum frame. The company adds that the Metro Travel BedCane's horizontal support structure under the mattress is 15 inches wide by 20 inches in diameter with a nonskid rubber surface.
For more information visit www.stander.com.
[Source: Stander]