Braskem, a producer of polyolefins producer and biopolymers, announces the launch of the Braskem e-NABLE Chapter. e-NABLE is a global community of "Digital Humanitarian" volunteers from all over the world who utilize 3D printing technologies to produce free and low-cost prosthetic upper limb devices for children and adults in need.
Following the successful completion of the e-NABLE prosthetic device certification process, the Braskem e-NABLE Chapter launch now allows the company's Pittsburgh Innovation & Technology Center to 3D print polypropylene (PP) based prosthetic upper limb devices for those in need.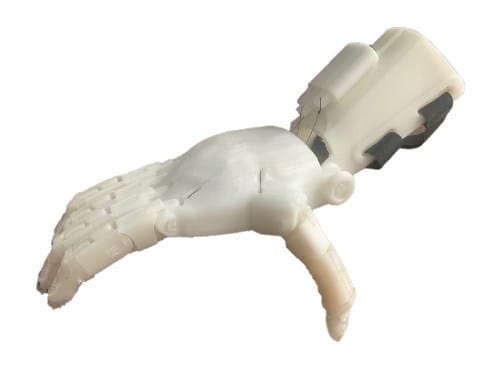 Free to Those in Need
Braskem is providing its manufacturing capabilities, materials and expertise involved in the production of e-NABLE Phoenix V3 prosthetic hands at no cost to deserving recipients in Pennsylvania and around the world, it notes in a media release.
"On behalf of the entire Braskem team, we are incredibly honored to be partnering with e-NABLE around launching the new Braskem e-NABLE chapter with our world-class innovation and technology team in Pittsburgh. The visionary founders at e-NABLE have created a global network of digital humanitarians that are leveraging the latest in material science and technologies to tackle some of the most pressing medical needs for prosthetic devices, particularly in underserved communities that often lack adequate resources and access to proper medical care.

"The Braskem team can now bring its polymer science expertise in polypropylene, the primary input to the 3D printed PP Phoenix V3 prosthetic hand, to the benefit of well deserving children and adults in Pennsylvania or anywhere around the globe. We couldn't be more excited to kick-off our new e-NABLE Chapter and to start helping change lives for the better."

— Jason Vagnozzi, Braskem Additive Manufacturing Leader, North America
"We are excited that Braskem has joined the global e-NABLE community as an official chapter. Indeed, Braskem's expertise in materials (specifically, polypropylene) and 3D printing will bring benefit to the entire community of some 8,000 volunteers and 177 chapters in 51 countries.

"We look forward to learning more about these materials, and having our volunteers use and maximize their application in helping underserved people and communities with upper body 3D printed prostheses."

— Bob Rieger, e-NABLE Chapter Coordinator
Looking forward, Braskem will seek to gain additional certifications to produce other 3D printed polypropylene based prosthetic models to expand the range of people who can be supported through the Braskem e-NABLE Chapter, per the release.
[Source(s): Braskem, PR Newswire]
---
Related Content:
Therapists Take 3D Printing to a New Dimension
3D Printing and Its Life-Changing Impact for Rehab Patients
Stratasys, Dassault Systèmes, and Easton LaChappelle Team to Power 3D Printing, Prosthetics Initiative