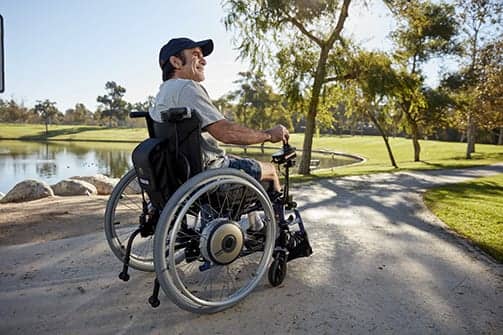 Yamaha Motor Corp USA (YMUS) announces the launch of the NAVIGO joystick power system for wheelchair riders. The NAVIGO is the second product introduction in the US market for YMUS after launching the product line in 2018.
The NAVIGO is designed to be added to manual wheelchair frames as a lightweight alternative to the bulk and lifestyle changes needed with a typical power wheelchair or scooter. Once attached, the NAVIGO adapts to the rider's individual manual wheelchair frame, which allows for optimal seating & positioning options. The system also has quick release wheels and is easy to transport, according to the company in a media release.
"We are excited to bring this new mobility option to riders in the US. Both of our NAVISERIES products are about giving wheelchair riders more efficient and easy to transport power mobility options," says Rob Trester, division manager of the Smart Power Vehicle Division at YMUS.
"Not all wheelchair riders want the size, weight, and costs that come with a large power wheelchair," he adds.
"The NAVIGO answers a need in the USA market for a lightweight joystick power system. ­ A plug and play power system to integrate with a manual frame could be considered by many different rider types," states Joe Klickna, JW Business Manager, in the release.
"Additionally the assistant controller option is an easy and controllable way to use Yamaha power to move loved ones or clients with less strain on the caregiver."
NAVIGO's pair of motorized wheels can also be used in free wheel mode without any resistance. Driving parameters can be adjusted through the joystick module without need for a separate remote or device.
[Source(s): Yamaha Motor Corp USA, GlobeNewswire]