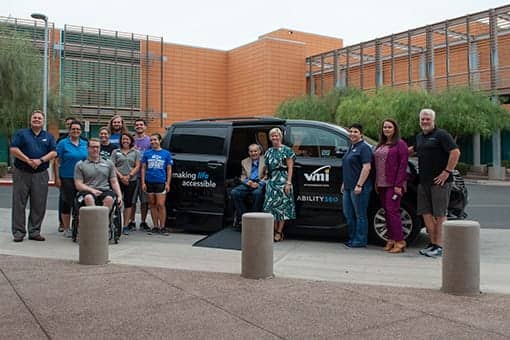 Vantage Mobility International (VMI) has recently provided a 2018 Toyota Sienna Limited Premium wheelchair-accessible van at no cost to Ability360, a Phoenix-based nonprofit for people with disabilities.
Ability360 staff will use the van to transport members and enable them to experience the Ability360 Sports & Fitness Center, which offers a variety of amenities including a fitness center with wheelchair-accessible weight machines.
"Ability360 as an organization does so much for our community and reflects Vantage Mobility International's values and mission to always remember the challenges our customers face and our desire to improve their independence and access to the greater community," says Steve Morris, COO of VMI, in a media release.
"We'd like to thank VMI for their generosity and ongoing support of Ability360," said notes Ability360 president and CEO Phil Pangrazio.
"The importance of community partnerships and collaborations with businesses like VMI are measured by their impact on empowering individuals with all disabilities to achieve and continue independent lifestyles.  That is our mission and VMI is helping us ensure it is achieved through the donation of this van. It will provide much needed transportation for many of our consumers," he adds, per the release.
The 2017 Toyota Sienna Limited Premium van features hand controls that were donated by Sure Grip, and a Northstar power conversion package specially designed for drivers and passengers who use wheelchairs.
Additional features include a power door and ramp with remote, a hydraulic system to lower the van for easy entry, and removable front seats for flexible seating options. It also includes Access360 Interior Space, which provides a 30-inch-wide side door opening, 61.8 inches of headroom, and enough space for a large power wheelchair to maneuver 360 degrees.
The van is black in color and features logos from Ability360, as well as VMI and AMS Vans, a division of VMI.
[Source(s): VMI, AMS, Ability360, AgilityPR]