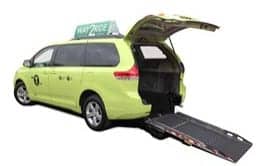 New York City mayor Michael Bloomberg's new HAIL program features Green Apple colored taxis and accessible vehicles, which will now be offered to five of the city's surrounding boroughs.
In a recent news release, MobilityWorks Commercial, headquartered in Akron, Ohio, notes that its wheelchair-accessible Toyota Sienna and Dodge Grand Caravan minivans have been approved for sale to owners and drivers in the five boroughs as an official Green Taxi.
The release states that that the city has provided a $15,000 up-front payment to individuals purchasing a new wheelchair-accessible taxi. The release also notes that some individuals may qualify for additional tax credits of up to $10,000 or a total of up to $25,000 off the purchase of a new accessible taxi.
The company notes that its representatives have also visited all the taxi bases in the boroughs to educate and assist base owners and drivers, while also providing training following purchase.
MobilityWorks reports that all its accessible minivans are rear-entry, to provide ease in picking up individuals from either side of the street. The company also designed its Flex-Flat Ramp specifically for the taxi industry. The ramp folds flat when not needed, allowing space for luggage and other items.
For more information visit www.MobilityWorks.com/taxi
[Photo Credit: MobilityWorks Commercial]
[Source: MobilityWorks Commercial]