Hands-free and voice-activated smart technologies are everywhere and designed to help make life easier. With the new Voice Assistant feature on the MyPermobil app, wheelchair users can access key wheelchair information verbally while at home or on the go with their Amazon Alexa* and Google* Assistant device or app, a media release from Permobil explains.
"For people with disabilities like me, we have limited hand function and I actually type with my nose or big toe. With Voice Assistant, it means we have more freedom and less work."

— Michael Huhn, a 25-year-old man with cerebral palsy from Connecticut, was a beta tester for the new Voice Assistant
Michael already uses Google Assistant at home to control his bed, TV, and lights. Now that he has synced Google Assistant with his MyPermobil app, he can easily check on his wheelchair's battery charge, how far he can travel, and how often he has repositioned each day to be proactive about his health.
"This app allows me to be more independent and frees up my parents from having to check on these things for me," Huhn adds.
Do More, Go Further
MyPermobil empowers users to do more and go further with these real-time wheelchair insights. The app communicates directly with the user's power wheelchair through an integrated SIM card to provide the most up-to-date information on individual battery range estimates, distance traveled, and power seating activity.
This connected wheelchair technology has been standard on all Permobil M & F-Series Corpus & Corpus VS wheelchairs for years. These models all come Connect-ready, and once the end user downloads the app and activates MyPermobil, the information is automatically transferred into the smartphone app for easy access.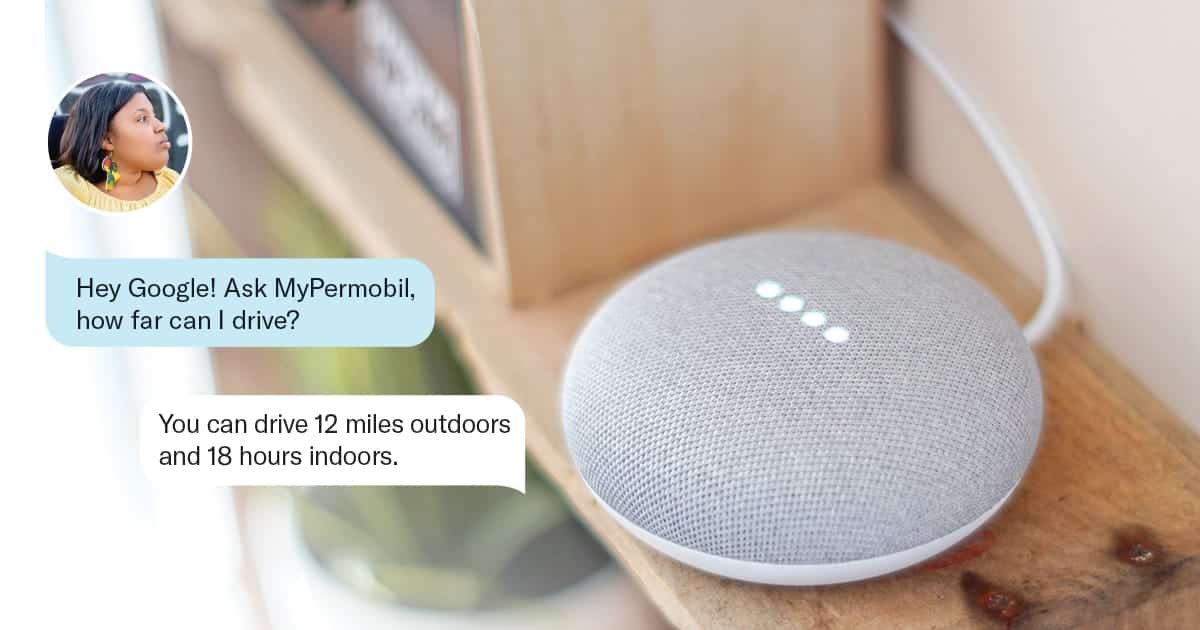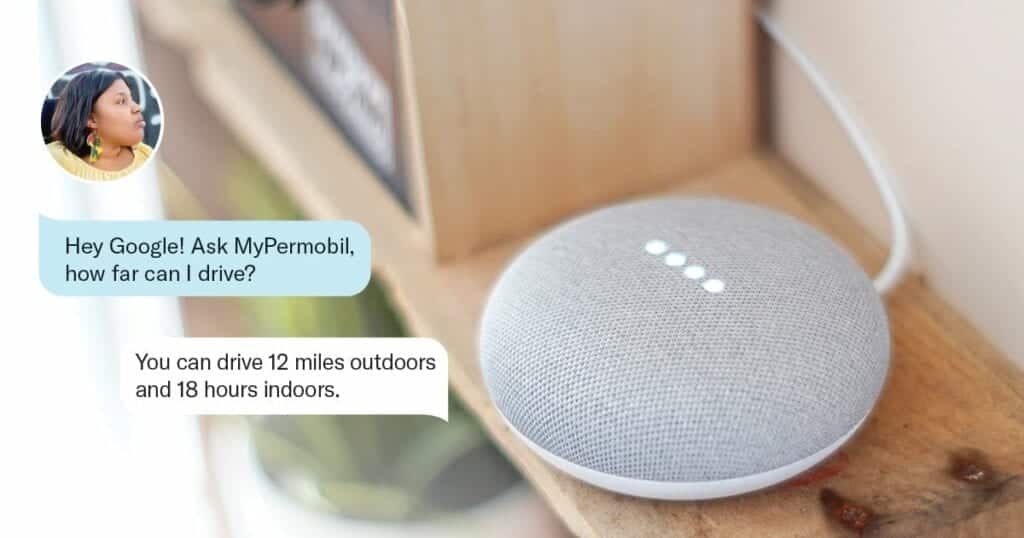 "Many Permobil users have conditions that impact their gross motor function to reach for their smartphone, and fine motor function to tap the screen. For users lacking this dexterity to use their MyPermobil app with their hands, they can now take advantage of the many in-app functions with their voice."

— Ginger Walls, PT, MS, NCS, ATP/SMS, director of clinical and technical education at Permobil
Walls has over 31 years of experience as a physical therapist in the area of neuro rehab and wheelchair seating and mobility.
"Permobil demonstrates our commitment to innovating for individuals as the only wheelchair manufacturer offering an end user smartphone app that has Voice Assistant. MyPermobil is the most comprehensive end user wheelchair app available, and it does not require the end user's data or Wi-Fi once activated."

— Chuck Witkowski, president of Permobil Americas
But even voice activated technologies can have their challenges for millions of people around the world whose speech is difficult for others to understand. Huhn took part in Project Euphonia, a Google initiative helping people with atypical speech be better understood by analyzing speech recordings to train speech recognition models.
"I helped by recording hundreds of words and phrases, so Google Assistant can understand people with a speech impediment like me," Huhn notes.
The Voiceitt app makes Alexa accessible for people with atypical speech, the release continues.
MyPermobil App Features
The MyPermobil app provides the following:
New Voice Assistant where, once linked to Alexa or Google Assistant, end users can ask:
when their wheelchair was last charged
current battery charge in %
available travel range estimates for indoors/outdoors
power seating activity
wheelchair serial number
Easy to enable or disable GPS; when enabled it shows places visited if user stayed more than 30 mins.
See daily distances traveled with mileage
Daily, 7-day, and 30-day historical data of power seating usage (tilt, recline, legrest, elevate); can also save up to two preferred positions
Provide feedback in app
In-app tutorials to help users get the most out of MyPermobil
[Source: Permobil]