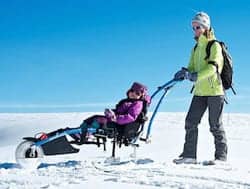 The Hippocampe wheelchair, marketed by France-based manufacturer VIPAMAT,
offers users accessories engineered to ease ventures into the snow. The company provides users a front and rear ski kit, respectively. The Hippocampe's front ski kit can be clipped under the wheelchair's front wheel to allow for leisurely activities in the snow.
The product's rear ski kit is designed to be interchangeable with the rear wheels and allows the product to be used as a sliding wheelchair on the snow.
The company notes that its standard beach/all terrain Hippocampe wheelchair features a frame available in sizes small, large, and extra large, rear wheels, and small front balloon wheel. The Hippocampe also features a seat in hydrophobic foam, inclinable backrest, push bar, and towrope.
For more information, click here
[Source: VIPAMAT]