What is worth changing?
by Ann Eubank, LMSW, OTR/L, ATP, CAPS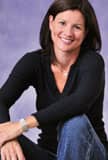 Remember therapy school? Remember how excited you were to change the world? Change the world: did you give up on that dream? Do you now think it is silly? Did the system get to you and drive you into submission and mediocrity? Or do you still feel inspired by the courage and determination of some of your clients or co-workers?
Clinicians are a creative bunch. Every person you touch, you change his or her life forever. You are an agent of change. With our busy lives and a cumbersome health care system, it may be a challenge to sustain inspiration and motivation. Let's be honest, the health care system has enough rules to choke out the last bit of creativity from the average clinician.
Without inspiration, hope, and vision, I begin to wither. Without those things, I can begin to feel overwhelmed, with my world becoming even smaller: I go to work, follow the rules, try my best to help my clients. Sometimes I feel as if no matter what I do, many leave my care still broken. To snap out of those feelings, I think to myself: "What is worth changing?" The answer to that question reveals the place exactly where I need to focus my passion.
I remember a lecture in college during which the professor explained that de-pression is passion not expressed, or the lack of ex-pression. Those words helped shift my perspective, and generated a new and refreshing point of view. I learned I must find what is worth changing and then be part of that change.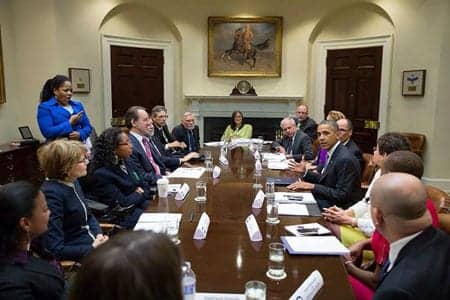 Paul Tobin (seated at far right), president and CEO of United Spinal Association, recently gathered with 11 other national disability leaders to meet with President Obama about issues related to the community.
My role, as the community initiatives professional at a large national nonprofit organization for people with disabilities, involves: listening, motivating, emoting, and embracing the hope, passion, and even frustration of the community in an effort to guide our focus on changing what needs to be changed.
There are some issues relating to the community of people with disabilities that stir great emotion. When our fellow citizens with disabilities are denied basic human rights (independent mobility and access to the community) as the result of insurance companies' greater concern for their record profits than the well-being and quality of life of people with disabilities, I am stirred. When I am faced with the onslaught of paperwork and arbitrary "guidelines" that chip away at our clinical judgment and challenge our professional ethics, I am quite stirred. Are you? Or have you surrendered to the "system" and decided not to make any waves?
As an occupational therapist and social worker, I have the privilege to be employed by a disability organization that has had a presence in Washington, DC for more than 60 years. Recently, the president and CEO of United Spinal Association, Paul Tobin (a wheelchair user), along with 11 other national disability leaders, met with President Obama to discuss issues related to the community. As an organization, we focus on providing resources and support and review any and all legislation affecting the community of people with disabilities. I love this job; I am able to concentrate my passion toward empowerment and advocacy to make positive policy change. I invite you to participate in this advocacy and feel empowered. I promise it should be easy to do—and possibly fun.
Have you have ever felt certain health care policies are ineffective, even detrimental to your clients? Here is a great opportunity to help empower wheelchair users and professionals by registering them for UsersFirst. With every registrant, our voice strengthens and our political influence increases. In some ways, it is a simple message: "With the right equipment and resources, people with disabilities will be more independent, healthier, and happier, resulting in decreased health care expenditures."
Here is how to be part of changing something that really needs changing. You can also take it a step further and get an ID code from UF to become a UsersFirst recruiter and register others. When you register yourself and hopefully others, you will be on my e-mail list. I protect it like it's gold. I promise not to be annoying by e-mailing too often, and when I do, it should be something interesting to you.
Always feel free to contact me at [email protected]; I would love to hear from you. RM
Ann Eubank, LMSW, OTR/L, ATP, CAPS, is vice president of community initiatives, UsersFirst, a program of the United Spinal Association. For more information, contact [email protected].