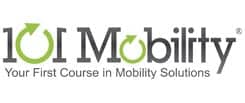 In what has become an annual event, 101 Mobility, a full-service sales, service and installation provider of mobility and accessibility products and equipment, and an elementary school teacher in Wilmington, NC collaborated in an effort to build wheelchair costumes for children in Codington Elementary School's Halloween parade.
101 Mobility reports that teacher Vanessa Bishop coordinated dates and times with its team for months in order to measure and build quality costumes for each of the children. According to 101 Mobility, every child in Bishop's class is non-verbal, and out of six children, only one is ambulatory.
Bishop explains that while the previous parade was great, this year's was, "Ten times better. Not only did we have more time to put it together, but we had more time to get excited for it."
A news release from the company notes that the parade featured a cowgirl, a mermaid with an illuminated scalloped shell, a construction worker with a life-like Bobcat tractor, Batman in his Batmobile, a flower child in blossoming flowerpot, and a pirate "sailing the seas" in a wood-planked ship.
"This day is a pretty big deal. The parade draws out everyone—students, parents, teachers, members of the community—to celebrate something incredible," says Eric Pfirman, principal in the release.
The 101 Mobility team notes that it worked several evenings and weekends, using cardboard, spray paint, tubing, and lights to create custom costumes with 3-dimesional elements.
During Halloween Day, the 101 Mobility staff also reportedly followed behind the SDA-DL bus and at each stop, showed parents how to properly secure costumes to their child's wheelchair and adaptive stroller for trick-or-treating.
Ben McCoy, 101 Mobility, notes that while many of the children may not be able play with the other at the school, the parade provided the opportunity to for them to be admired and looked up to by the other kids in the school, "and that's what really makes it all worthwhile," McCoy says.
To see the school's wheelchair costume parade click here
To learn more about 101 Mobility click here
Source: Mobility 101